Photographing Waterdrops: Exploring Macro Worlds
Photographing Waterdrops is a beautifully illustrated how-to photography guide that serves as both a technical tutorial and visual photography inspiration. Its collection of imagery explores the world within the tiniest droplets of water. Written by award-winning photographer Harold Davis, author of more than 30 books including the bestselling title, Photographing Flowers: Exploring Macro Worlds with Harold Davis, this photography book is intended to offer a fresh, creative perspective into the dynamic possibilities of natural waterdrop photography. Davis draws from his professional expertise and artistic perspective to offer advice on capturing extraordinary waterdrop compositions. Readers learn how to use light and reflections to their advantage, which tools and equipment work best for macro photography, and how to perfect their waterdrop shots both before and after shooting.
"The photographic opportunities offered by waterdrops are as unique as they are fleeting," said Davis. "Encapsulated inside each waterdrop is a movement of light, focus and shadow offering a fisheye view of the world that is both recognizable and recognizably abstract."—Liner notes supplied by the author/publisher.
Life Cycle Of A Waterdrop
Let's start with the premise that the pre-history of the waterdrop begins well out to sea where the great storms of the world originate.
Leave aside for the moment artificial waterdrops formed with a blast from a gardener's hose, or sprayed from a bottle wielded by a photographer's stylist. There's nothing intrinsically wrong with these more artificial drops, and the life cycle is essentially the same in all cases—but the picture is clearer if you stick to the natural droplets.
Using A Macro Flash
There are several different kinds of macro flash units you can use. All of them are designed so that the light that is generated doesn't seem to be coming directly from the camera's direction (which tends to produce unappealing results).
The two most popular kinds of macro flash units are:
* Ring lights—these are circular-shaped flashes that fit around a macro lens.
* Macro flash units—these are made up of several units that work together and are mounted at an angle using the threads at the end of a macro lens.
The most important thing to understand is that by replacing the natural light source (the sun) with an artificial light source (a macro flash), you are also changing the reflections you'll see inside a waterdrop. The contents of each drop change when the light source changes, and it is hard to know what the contents of a waterdrop will look like until you've made your photo since you can't see what the flash does until after the exposure.
Operating macro flash units can seem daunting, but it is usually pretty straightforward. These units are controlled by your camera, which should be set to Aperture-Preferred mode, and to a shutter speed at which the camera can synch with the flashes (normally 1/160 of a second or less).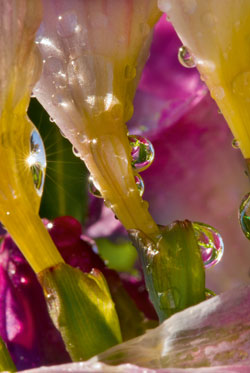 Sunbursts
Waterdrops usually follow wet and wild weather, or an extra heavy dew. Sometimes bright sunshine swiftly follows on the heels of a storm. To see this bright light reflected in a waterdrop makes my proverbial "sunshine on a cloudy day."
While this is not the most common of meteorological phenomena, it does produce a striking effect: the sunburst.
In a sunburst, the reflected rays of the sun bounce off the waterdrop in a star-like formation. If you look closely, the rays glisten with a spectrum of colors, just as a rainbow refracts white light and shows many colors. Like a rainbow, the condition is fleeting—because sunshine tends to evaporate waterdrops quickly.
To generate the strongest sunburst with the most rays of light, it is necessary to stop one's lens down to as small an aperture as possible. The exact appearance of the sunburst will also depend upon the design of the specific lens you are using.
Fortunately, it's common to take waterdrop photos using a small aperture in order to obtain enough depth-of-field. The spectacular sunbursts just come along for the ride.
Making Waterdrop Photos
What makes the compositional aspects of waterdrop photography unusual, and perhaps unique, is that one is dealing with specific, tiny objects with contents that seem mysterious.
The important thing is to create a visual structure for the waterdrops in your photos. My method of achieving this coherence is to create a metaphorical stage setting for the waterdrop. Here are some examples:
* Waterdrops are "orbiting" around the object they reflect, like planets around a sun.
* Waterdrops are suspended and floating, like denizens of the ocean.
* Waterdrops reflect a world, and in doing so create an entirely new world.
* Waterdrops show the sun in its glory, reflected on the surface of a waterdrop world.
With a visual metaphor in place, you can then consider how best to implement the formal elements of composition into your design. All this, of course, while the waterdrop is swaying in the wind before you, and you are waiting for exactly the right moment to make the exposure.
Author Bio
Harold Davis is an award-winning professional photographer and best-selling author of more than 30 books, including The Photoshop Darkroom: Creative Digital Post-Processing and Practical Artistry (2009), The Photoshop Darkroom 2: Creative Digital Transformations and Photographing Flowers (2011), and Photographing Waterdrops (2012). Davis writes and shares his work on his blog, www.photoblog2.com, and has been a regular photography and Photoshop columnist for Photo.net. In addition to writing and photography, Davis has been a software engineer, an enterprise technology consultant, and an Internet company executive. Davis's inspiration comes from the flowers in his garden, hiking in the wilderness, and the work of great artists and photographers, including M.C. Escher, Monet, van Gogh, and Edward Weston.
Where To Buy
Photographing Waterdrops (ISBN: 9780240820729, $29.95) is now available for purchase on FocalPress.com, Amazon.com, and BN.com.

FEATURED VIDEO