Photographing Canyon Splendors
You've probably seen the photos of these exquisitely sculpted sandstone buttes; like colorful waves set in stone. You may have assumed--as I once did--that this area was part of some out-of-the-way corner of a national park.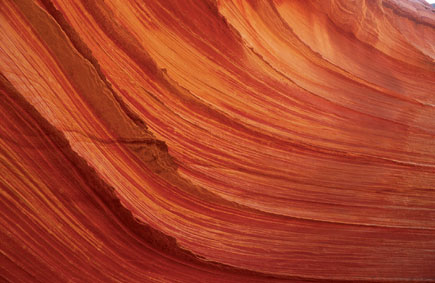 For a long time, I couldn't find much documentation on this region, nor any information in guidebooks of the southwest. But after asking a lot of questions and doing a little research, I found out that the photos were of a remote area known as "The Wave," a unique sandstone rock formation located on the slopes of Coyote Buttes North, in the Paria Canyon/Vermilion Cliffs Wilderness area that straddles the Arizona/Utah border.

The Word is Out
The vast acreage of land that comprises the Paria Canyon Wilderness is under the jurisdiction of the Bureau of Land Management (BLM), and requires a permit for hiking, which is currently $5 per person. Separate day-use permits are required for Coyote Buttes North, Coyote Buttes South, and Paria Canyon. Your best bet is to obtain a permit in advance by logging onto http://paria.az.blm.gov, and making a reservation online. This will be your first challenge, as permits are limited (one per person, with up to 10 issued each day). This area is restricted because of its fragile nature, but photographically, it's well worth the trouble it takes to get there.
The way that the changing light struck the striations in The Wave's surfaces was dramatic.
Although permits are sold up to seven months in advance, you'll find that the BLM reservation calendar for Coyote Buttes North fills up fast, even in this remote wilderness that most people seemingly haven't even heard of. Don't be surprised if the online calendar appears completely full for months in advance. Another alternative is to try to buy a permit the morning before your hike, from the BLM Paria Ranger Station between Kanab, Utah, and Page, Arizona, on US Highway 89 (during the winter months, these permits are sold through the BLM Field Office in Kanab).

After checking the BLM Website last fall, I found that there were available dates for hiking Coyote Buttes North in January. This sounded like a risky venture, given the dire prediction of an "El Niño" rainy season for the west this past winter. But as I had wanted to explore this area for such a long time, I decided the nominal permit fee of $5 per person was worth taking the risk. On the plus side, the sun is lower in the wintertime, which makes for better light for photography (and at the very least, we could be assured that it wouldn't get too hot in the desert at that time of year.)
A canine hiker enjoys the view. (Before you plan to take your pooch, be aware that beginning this year, dogs are no longer allowed in Paria Canyon.)
So I made reservations and paid for them, all online. The BLM promptly sent our permits and a topographical map, and my husband and I were all set for our photo trek to The Wave!

What You'll Need
First of all, you must be a hiker to get to "The Wave," or to any of the other highlights in Coyote Buttes North. There's no road access except at the southern tip of Coyote Buttes South, and for this, you need a four-wheel-drive vehicle. But the more photogenic (and well-visited) area is Coyote Buttes North.

Being a pretty experienced hiker, I would classify the trek to "The Wave" as moderate. It's only about three miles in each direction, but there are no defined trails. The BLM issued a topographical map along with our permit, but they also suggested that we visit their office in Kanab, or the office on US 89 between Kanab and Page, and they'd show us photos of important landmarks to look for on our hike. I also found a detailed description of the hike, which really came in handy for us. If you have a GPS device, you may want to use it.
I used a wide-angle lens to exaggerate the flowing lines coming towards me. The blue sky offered a striking contrast to the warm colors in the rock.
Invest in a sturdy pair of hiking shoes, as you'll encounter a variety of terrain on your way to The Wave, ranging from walking on a dirt trail to trudging through sand and climbing slickrock. Depending on the time of year you go, you'll need comfortable warm- or cool-weather clothing, and at least a gallon of water per person.