Photo Show; Andr Kertsz: On Reading, Works On Paper Gallery; Carnegie Museum Of Art, Pittsburgh, PA: October 23, 2010-February 13, 2011
Henri Cartier-Bresson once said of himself, Robert Capa, and Brassaï, "Whatever we have done, Kertész did first." He was referring to the legendary Hungarian photographer André Kertész, whose work will be featured in an exhibition at Carnegie Museum of Art from October 23, 2010 through February 13, 2011. André Kertész: On Reading includes photographs from the 1920s to 1970s that examine the power of reading as a universal pleasure and illustrate Kertész's ability to capture the poetry and choreography of life in public and private moments. Balanced between geometric composition and playful observation, these glimpses of everyday people and places show how Kertész forever changed the course of photographic art. This is the first exhibition of Kertesz's photographs to be shown in Pittsburgh.
(Left): André Kertész: Greenwich Village, New York (woman on rooftop reading), May 30, 1962. (Right): Andr Kertsz: Pont des Arts, Paris (man reading between trees), 1963.
"In the digital age that surrounds us, where people read from computer screens, cell phones, and electronic books of one sort or another, we sometimes forget that reading in the past always took place from a book, a newspaper, or a journal," said Linda Benedict-Jones, curator of photography at Carnegie Museum of Art and organizer of the Pittsburgh presentation of On Reading. "When André Kertész made these images, he was celebrating the love affair that people have with the written word as it exists within the soft pages of a book; little did he know how that would change. Not only is this exhibition fascinating for that reason, but it also engages us in his unique vision, a way of seeing and organizing visual information within a photographic rectangle. His mark is unmistakable in these photographs."

The images were made by Kertész during a 50-year period in Hungary, Argentina, Japan, France, and the United States. Kertész captured individuals immersed in the act of reading in a variety of settings, both public and private—in parks, cafés, and libraries; on rooftops, street corners, and trains; and standing at book kiosks or sitting backstage.

The catalogue, Andre Kertész: On Reading, will be for sale in the museum's gift shop for $29.95.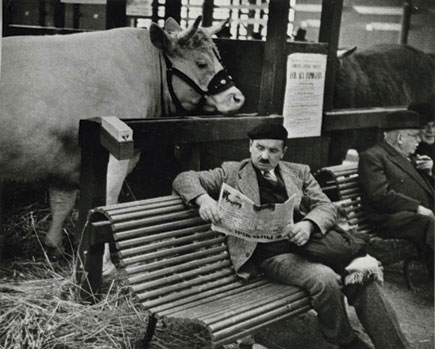 Photos © Courtesy Estate of André Kertész/Higher Pictures 2007
Support
André Kertész: On Reading is organized by The Museum of Contemporary Photography, Columbia College, Chicago. The exhibition tour is organized by Curatorial Assistance, Inc., Pasadena, California. The presentation of this exhibition at Carnegie Museum of Art is made possible by the support of The William T. Hillman Fund for Photography. General operating support for Carnegie Museum of Art is provided by The Heinz Endowments and Allegheny Regional Asset District. Carnegie Museum of Art receives state arts funding support through a grant from the Pennsylvania Council on the Arts, a state agency funded by the Commonwealth of Pennsylvania.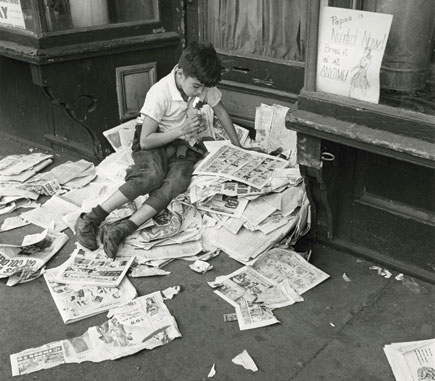 André Kertész: New York (boy eating ice cream on a pile of newspapers), October 12, 1944.
Carnegie Museum Of Art
Located at 4400 Forbes Avenue in the Oakland section of Pittsburgh, Carnegie Museum of Art was founded by industrialist and philanthropist Andrew Carnegie in 1895. One of the four Carnegie Museums of Pittsburgh, it is nationally and internationally recognized for its distinguished collection of American and European works from the 16th century to the present. The Heinz Architectural Center, part of Carnegie Museum of Art, is dedicated to enhancing understanding of the physical environment through its exhibitions, collections, and public programs. For more information about Carnegie Museum of Art, call (412) 622-3131 or visit our website at: www.cmoa.org.
André Kertész: Jardin de Lumembourg (man reading newspaper with feet on chair), 1928.

LATEST VIDEO