Photo Printers; Pigment, Dye Sub & Desktop Photo Labs
Times change. Last year, dye sublimation snapshot printers were all the rage. This year the focus on printers at PMA was on permanence with more and more printers available with archival image-printing capabilities. Many included the availability of multiple cartridges capable of using pigment-based inks for creating long-lasting, gallery-quality output. The upside is, of course, better output quality. The downside is more different cartridge types to stock and purchase. I guess that's the upside for the manufacturers.

HP, for example, holds 9000 patents related to imaging and printing, 4000 of them for consumable supplies such as ink and cartridges. According to CNET News.com, last year HP asked Cartridge World (www.cartridgeworldusa.com) to stop using inks with the identical chemical composition of its patented Vivera inks.

In other ink news, HP settled its false-advertising lawsuit against Rhinotek (www.rhinotek.com) who allegedly refills used HP ink cartridges with generic ink prior to resale. HP's suit alleged that Rhinotek's packaging failed to inform consumers that "compatible" products are used. While financial terms of the deal were not disclosed, Rhinotek denied any wrongdoing and agreed to modify its packaging.
Inkjet Printers
HP's Photosmart Pro B9180 is a 4800dpi printer that uses the company's Vivera pigment ink technology stored in eight individual high-capacity ink cartridges, outputting 4x6 photos in as fast as 10 seconds and 13x19" prints in 1.5 minutes. The inks produce waterproof photos that resist fading for more than 200 years and, in what is increasingly a trend, offers a plug-in that automatically synchronizes Adobe's Photoshop and the printer driver into a single user interface for color management. The printer should be available by the time you read this and carries a $699 price tag.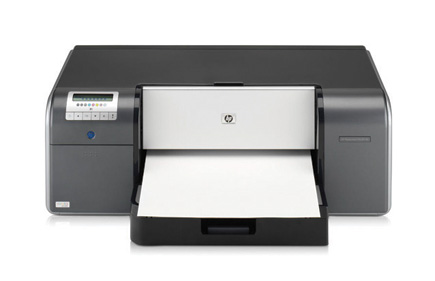 As is becoming another trend in the fast-paced Internet-based digital imaging world, many products were announced before PMA but made their physical debut at the show, including Epson's Stylus Photo R220 and R340. At less than $100, the Stylus Photo R220 is the most affordable six-color photo printer in Epson's line.

The Stylus Photo R340 is a full-featured, PC-free printer that offers a 2.4" LCD monitor and memory card slots. The Stylus Photo R340 prints 5760x1440 optimized dpi using ink droplets as small as 3 picoliters and can output onto inkjet printable CDs and DVDs as well as photographic media. This printer also offers BorderFree a.k.a. borderless printing in frame-ready sizes such as 4x6, 5x7, 8x10, and 8.5x11, and outputs a 4x6 photo in as fast as 57 seconds. Other features of the Epson Stylus Photo R340 include the ability to save images to an external CD-R, Zip, or Flash memory drive and the option of direct printing from Bluetooth-enabled phones. (A Bluetooth adapter is available for $69.) Like all Epson printers, this one is compatible with both Mac OS and Windows and offers USB 2.0 connectivity at an estimated street price of $199.


Over the years Canon has gradually improved their printers and the new offerings shown at PMA are bound to make big ripples in the inkjet pond for years to come. The PIXMA Pro9000 Photo Printer uses a high-density 6144 nozzle print head to deposit 2-picoliter ink droplets, delivering approximately 11 million droplets per square inch, and prints on a variety of specialty media and fine art papers up to 13x19". The eight dye-based inks include cyan, magenta, yellow, photo cyan, photo magenta, black, red, and green.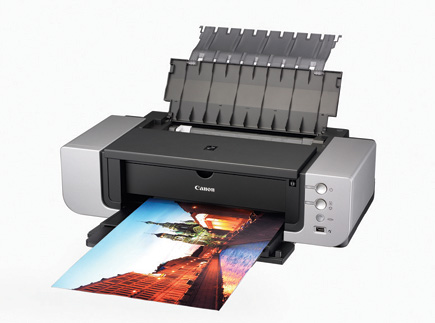 The PIXMA Pro9500 Photo Printer uses Canon's Lucia pigment-based inks in 10 individual tanks and is sprayed through a 7680 nozzle print head. The Lucia inks--photo black, matte black, gray, cyan, magenta, yellow, photo cyan, photo magenta, red, and green--are spritzed out in 3-picoliter droplets. All 10 individual ink cartridges reside in the print head, saving time and ink by eliminating the need to swap tanks before printing. Wilhelm Imaging Research (www.wilhelm-research.com) is currently testing Lucia ink but preliminary test data indicates that "prints made with the Lucia pigmented inks and select Canon photo and fine art papers will have WIR Display Permanence Ratings in excess of 100 years for color images and significantly beyond that for monochrome."


Both the PIXMA Pro9500 and the PIXMA Pro9000 are bundled with Canon's Easy-PhotoPrint Pro software, which is a Photoshop compatible plug-in, and Canon's Digital Photo Pro 2.1, which facilitates the printing of raw images (as a TIFF or JPEG) without having to first save from their Digital Photo Professional software.
Dye Sublimation
The Panasonic KX-PX10 can produce prints in about a minute and, unlike other printers, can read image data from recording modes that are unique to Lumix digital cameras, such as Skin, Night Scene, and High-Sensitivity modes. In addition to the standard post card size, the KX-PX10 can print 16:9 images, enabling users to print images captured in Wide Aspect mode in their original format without trimming. Using the built-in Secure Digital card slot on the KX-PX10, users can print their images easily and quickly by selecting them from the card on the TV screen. It's also possible to connect the printer directly to any PictBridge-enabled digital camera via USB cable or use the same cable to connect the printer to a computer.

The Hi-Touch Imaging Technologies S400 features a new design, improved print quality, and increased print speeds. The printer's Dye Diffusion Thermal Transfer technology utilizes heat from the print head to vaporize and sublimate the dyes on the ribbon onto special paper at 256 levels with a gradation of 16.77 million colors. The company's handheld Wizard Window module, attached to the unit via a flexible phone cord line, is a holdover from previous models and allows users fast and easy access to the unit's print menu via its LCD screen. Hi-Touch Imaging also released a new, whiter paper for the S400, so color reproduction is more vivid. The S400 has a list price of $249.

LATEST VIDEO

SPONSORED VIDEO
Testing Tamron's SP 150-60mm G2 lens while capturing birds and alligators in Apalachicola, Florida.