Photo Gear
Covering The Photo Beat
Light Modifiers, Premium Effect Filters, And More
Affordable Fluorescent Light Fixtures
Lowel-Light has introduced a new economical line of non-dimmable studio fluorescent light fixtures called the e-studio. They are intended for the photographer who needs an efficient soft light source in either tungsten or daylight color temperatures having long lamp life and without the heat buildup produced by typical studio lights. Three models are offered, housing two, four, or six T-55 lamps plus a collection of light control accessories and a unique stand or light grid mounting system. MSRP for the two-light models start at $695. Earlier versions of the Lowel Fluo-Tec studio line are now offered with an electronics upgrade that allows full dimming control from 0-100 percent. In addition, these fixtures can now be controlled by a compact, handheld, wireless IR DMX controller for remote dimming. Contact: Lowel-Light Manufacturing, Inc., 140 58th St., Brooklyn, NY 11220; (800) 334-3426; www.lowel.com.
Seahorse Padded Divider System
Seahorse Padded Divider system inserts, designed for the Seahorse model SE520, SE720, and SE1220, are self-contained and fit easily into Seahorse carrying cases in place of a foam block. The divider compartments allow an almost infinite variety of individual protective compartments to be set up to house various sized equipment and accessories. Protected by thickly padded, covered touch-fastener walls, valuable equipment stays safe and secure. Seahorse feels that the dividers are for those who are not fans of foam inserts, which must be pulled or cut out to a desired fit and cannot be readjusted. The divider sets, with their condensed foam cushion padded bottom and moveable walls have touch fasteners running the length and width of the divider wall itself. Several small touch-fastener strips on the "divider walls" are easily adjusted to various sizes at any time the user desires. Touch-fastener strips along the bottom of the inserts prevent small items from slipping under the compartment walls.

The SE1220 padded divider set consists of two levels. A convenient split half top level divider enables the user to easily reach equipment stored underneath the top layers. Soft-grip handles attached to the top compartment set allows for easy handling and lifting of the top sections out for convenient access to equipment stored in the bottom layer. Contact: Seahorse Headquarters, 619 Commercial Ave., Covina, CA 91723; (626) 339-6673; fax: (626) 331-8584; www.seahorse.net.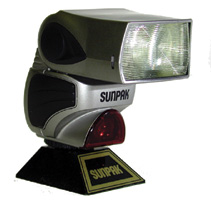 Sunpak PZ40X Digital Camera Flashes
The Sunpak PZ40X is a powerful, full-featured, lightweight, shoe-mount electronic flash unit for digital and film cameras that is available in Nikon, Canon, and Minolta TTL dedicated configurations, and will also work manually with cameras having a non-dedicated, single-contact hot shoe. It is 40 percent smaller and significantly lighter than previous flash units with the same features and power output, with an ISO 100 guide number of 102 at the 50mm zoom setting.

Advanced features of the Sunpak PZ40X include: TTL auto flash (D-TTL for Nikon, E-TTL for Canon, and ADI for Minolta) and a large, full-info, backlit LCD for controlling and monitoring all settings. The unit also has a power zoom-bounce flash head covering 35mm focal lengths from 24-80mm, continuously variable or in five manual power-ratio steps, with tilt positions from zero to straight up for maximum bounce flexibility. The built-in near-IR autofocus aid light turns on automatically when needed. There are five power settings down to 1/16, flash exposure confirmation and bar graph flash range display, plus power-saving circuitry that automatically turns to Power Saving Standby mode after five minutes. The Sunpak PZ40X is powered by two AA alkaline or Ni-MH batteries. An optional Wide-Angle Panel provides flash coverage for lenses down to 17mm. Contact: ToCAD America Inc., 300 Webro Rd., Parsippany, NJ 07054; (973) 428-9800; fax: (973) 887-2438; www.tocad.com.
New Cameo Proof Book
Taprell Loomis recently introduced a new Concord Cameo Proof Book featuring a black-rimmed oval cameo centered on a black cover. The covers are simulated leather and the leaves are black and turn freely on a black D-ring. Six sizes are offered: 4x5, 4x6, 5x5, 5x7, some with 35 leaves, and others with 50 leaves.

Additional leaves are available. Contact: Taprell Loomis, 2160 Superior Ave., Cleveland, OH 44114; (800) 827-5679; fax: (800) 276-2572; www.tap-usa.com.

Premium Effect Filters
Available in the U.S.A. through Bogen Imaging Inc. are the Formatt line of premium filters. Two special new versions are the Soft Effects and Skin Tone Enhancement filters, which were designed especially for high-definition film and videography, but can also be used for still photography. They are made using Schott optical glass that is precision polished and ground to ensure optical flatness. The Skin Tone Enhancers are offered in three different densities for use on subjects with different flesh tones. The filters are offered in both standard, round threaded sizes such as 52mm and 58mm, plus larger sizes, and a matte box system. The broad range of Formatt filters include color graduated, polarizing, star effects, pro comp, and neutral density, among others. Intended for the motion picture industry, these filters command a premium price for their very high quality. Pricing and further information is available under Formatt filters on the Bogen website. Contact: Bogen Imaging Inc., 565 E. Crescent Ave., Ramsey, NJ 07446; (201) 818-9500; (201) 818-9177; www.bogenimaging.us.



Light Modifiers For Norman Softboxes
Users of the Norman softbox from Photo Control Corporation now can obtain specially-designed light modifiers, which enable photographers to easily shape and direct light by use of a simple mask that is placed over selected versions of their 36" and 60" octagon softboxes. Called the "Power of Light" Creative Lighting Solutions, these masks were designed by Tony Corbell. The patented Norman softboxes are unusually easy to set up; they can be opened, locked with a single thumbscrew, and then attached to a lamphead in a minute or less. There is no struggling with traditional rods and speed rings since the four corner rods are built into the design of the softbox. MSRP prices for the new modifiers range from $278-$317. Contact: Photo Control Corporation, 4800 Quebec Ave. N, Minneapolis, MN 55428; (800) 787-8078; fax: (763) 537-2852; www.photo-control.com.
Power Packs Operate Wirelessly
The new Wi series of AC power packs from Dyna-Lite now incorporate PocketWizard's 32 channel digital wireless receivers. They permit triggering your power pack with any PocketWizard unit, including those built into cameras and meters. These power packs are known for color accuracy and consistent output for top quality lighting for both film and digital photography.

They are offered in two of the most popular power outputs, 500 ws and 1000 ws, with estimated street prices of $875 and $1139 respectively. Contact:
Dyna-Lite, Inc., 1050 Commerce Ave., Union, NJ 07083; (800) 722-6638; fax: (908) 686-6682; www.dynalite.com.
To submit information for Photo Gear please contact Robert E. Mayer by e-mail at: rmayer@kconline.com or regular mail at: Shutterbug Magazine, 1419 Chaffee Dr., Suite #1, Titusville, FL 32780.