Photo Gear
Cases, Batteries, Smart Slaves, And More
Rugged & Bright LED Flashlight
Pelican offers a new M6 LED flashlight made from CNC machined aluminum. It's built to withstand high-impact situations so it's virtually indestructible. The 1w Luxeon LED lamp has a 10,000 hour life and offers 41 lumens of intense light output. The non-slip body is available in silver and black colors and comes complete with holster and batteries at a MSRP of $95. Contact: Pelican Products, Inc., 23215 Early Ave., Torrance, CA 90505; (800) 473-5422, (310) 326-4700; fax: (310) 326-3311; www.pelican.com.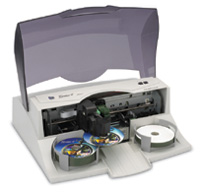 Primera Technology's New Bravo II Disc Publisher
Primera Technology, Inc. has announced its Bravo II Disc Publisher. Instead of copying and labeling discs one at a time, Bravo II is designed for hands-free, automated production of up to 25 CDs or DVDs per job (50 discs with kiosk mode). An advanced robotic mechanism is used to transport discs into the built-in 52x CD-R recorder or optional Pioneer combo DVD-R/CD-R recorder. After recording, discs are transported to the integrated printer and printed in full color directly onto the surface of the disc. The Bravo II Disc Publisher is the professional version of Primera's Bravo Disc Publisher. It has many new features, including the highest print resolution for print resolution from 2400-4800dpi. Bravo attaches to any PC running Windows 2000/XP through its built-in USB 2.0 interface. Bravo also attaches to any Mac running Apple OS X. Two Bravo II models are available: The Bravo II CD Publisher with a 52x CD-R recorder is priced at $2195 (MSRP). The Bravo II DVD Publisher with a Pioneer A07 DVD-R/CD-R recorder is priced at $2695 (MSRP). The DVD-R unit records DVD-Rs at 8x and CD-Rs at 24x. Contact: Primera Technology, Inc., 2 Carlson Pkwy N, Plymouth, MN 55447; (763) 475-6676; fax: (763) 475-6677; www.primera.com.
Underwater SLR Cases
Almost any 35mm SLR camera fitted with a standard-size lens can be set up for underwater use down to depths of 15 ft by enclosing it in a new flexible housing from Aquapac. This $120 case has an ultra-clear Lenzflex lens window and when safely inside the case the camera not only will float, but is protected from dust and sand as well. Included with the case is a reusable packet of desiccant to absorb condensation and an adjustable, fully removable shoulder strap. This is just one of a broad line of 100 percent waterproof cases custom designed for use with photo gear, personal electronics, communications equipment, and valuables. They are made in the UK and can be ordered online from www.aquapacusa.com.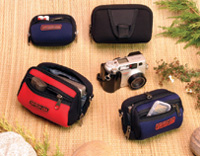 Versatile Utility Strap & Zippered Belt Pouches
Need a strap for carrying small bags, battery pack, or other gear? This new OP/TECH Utility Strap incorporates 3/4" webbing, quick disconnects, and locking swivel clips. It can be quickly converted into a camera strap by removing the swivel clip connectors and attaching a system connector. Made of flexible neoprene internal support foam and a non-skid surface, it makes for a comfortable strap for carrying extra photo gear of all kinds. It's fully adjustable, offered in black, and made in the U.S.A. The MSRP is $23.

The OP/TECH Soft Pouch - Zippeez is a new line of zippered pouches intended for carrying a variety of photo gear on your belt. The main compartment has a full-width zipper with a gusseted pocket having a stretchable neoprene inner panel between the pouch and the front panel, which permits the main compartment to stretch in size to accommodate slightly larger cameras. The smaller front pocket, which is also zippered, is intended for extra film, media cards, batteries, etc. The belt clip is secured with touch fasteners in two places for a strong hold. Offered in three colors and sizes, the small pouch has a MSRP of $16 while the large pouch goes for about $20. Contact: OP/TECH USA, 304 Andrea Dr., Belgrade, MT 59714; (406) 388-1377; fax: (406) 388-2063; www.optechusa.com.
Rolling Photo Equipment Case
For photographers on the go there is a new semi-rigid, padded wall case having six inline skate wheels for easy transportation of valuable equipment. The case front has a touch fastener flap and large zippered expansion pouch plus a smaller remote-size pouch. The second zippered area is intended for carrying peripheral equipment or a notebook computer and also has a separate padded case with a shoulder strap for side trips away from the main wheeled case. The case interior has rigid padded walls and adjustable dividers for a variety of arrangements needed to accommodate various sizes of photo equipment. It has exterior dimensions of 17x16x9.5" and weighs 9.5 lbs. There is a 41" soft-feel extension handle and a padded shoulder strap for the main case. The MSRP is $169. Contact: Porter Case, Inc., 3718 W. Western Ave., South Bend, IN 46619; (800) 356-8348; fax: (574) 289-2747; www.portercase.com.
First AAA-Size Lithium Batteries
Energizer has announced that the Energizer e2 Lithium AAA-size battery will be available later in 2004. Performance improvements in the existing Energizer e2 AA lithium line will result in 7x longer lasting service. These are said to be the longest-lasting AAA batteries for use in a photographic or any type of high-tech device. In addition to the power advantage, the lithium batteries are 33 percent lighter than alkaline batteries, operate well in temperature extremes, and have a 15-year shelf life. For convenience in storage and travel, they come packaged in reclosable containers. Contact: Energizer, 533 Maryville University, St. Louis, MO 63141; (800) 383-7323; www.energizer.com.
More "Pod" Cases
The RoadWired line of cases now comes in a new family of small and medium size "Pod Pouch" cases. Called the Podzilla, they feature a winged compartment design having three multipurpose organizers surrounding the main compartment. These three wings have over a dozen protection and storage elements, including elasticized slots for flash memory/media cards, bungees for securing USB and similar cords, loops for batteries or film, pockets for PC cards, etc. The larger central compartment is padded on all sides and protected by an weather flap. A segmented divider panel inside can be used to split the compartment into multiple sections or configured to create a holster-style storage for any SLR-type camera. A special "Hide and Go Home" pocket hidden inside the bag lining will discreetly hold money, credit cards, or keys. Offered in six colors they have an MSRP of $70. Contact: OmegaSatter, 1041 S. Carroll St., Hampstead, MD 21074; (410) 374-3250; fax: (410) 374-3184; www.omegasatter.com.
Rechargeable CRV3 Lithium Ion Batteries
A universal, rechargeable 3v photo battery that replaces two AA-size alkaline, two Ni-MH, lithium, and primary CRV3 batteries is now offered under the Emerging Power name from OmegaSatter. Each has an extended operation with no memory effect and can be recharged over 800 times with an average of 500 shots per charge. Each battery comes with an ultra-fast plug-in charger and is compact and lightweight. The combination has a MSRP of $53. In addition, Emerging Power offers Ni-MH rechargeable batteries in AA and AAA-sizes, which are said to last three times longer than standard alkaline batteries and accept up to 1200 charges. They are suitable for use with all electronic equipment including electronic flash units, digital cameras, MP3 players, PDAs, and other similar items. An Ultra Quick Smart Charger with four AA-size Ni-MH 2100mAh batteries has a MSRP of $50. The line also includes rechargeable replacement extra-power, extended life batteries for use with digital cameras and camcorders. MSRP prices range from $20-$100. Contact: OmegaSatter, 1041 S. Carroll St., Hampstead, MD 21074; (410) 374-3250; fax: (410) 374-3184; www.omegasatter.com.
Wein Digital Smart Slave
Wein flash products are now distributed by OmegaSatter. They include a full line of extended-range Digital Smart Slaves, which permit photographers to trigger any existing flash unit, or units, cordlessly with any film or digital camera. Technology built into the slave computes the pre-flash delay automatically using sophisticated computer algorithms, so the slave fires in perfect synchronization with a camera's built-in dedicated flash. These small slaves are available in popular flash terminal configurations including PC, hot shoe, household, and mono-plug designs. They can be operated cordlessly from distances as far away as 3000 ft. Contact: OmegaSatter, 1041 S. Carroll St., Hampstead, MD 21074; (410) 374-3250; fax: (410) 374-3184; www.omegasatter.com.
Radio Remote Trigger System
New at Calumet Photographic is the LiteLink, a radio remote flash trigger system that functions both as a transmitter and receiver. Requiring just two AAA-size batteries and a short antenna, it has a working range of over 300 ft and a working duration of over 200 hours. Since it uses radio instead of IR transmission, it can trigger around corners and through walls and is unaffected by high ambient light. It consists of two units in one and can be switched to either Tx (transmitter) or Rx (receiver) mode. The set has a MSRP of $300, while extra single transceivers are $170. Contact: Calumet Photographic, Inc., 890 Supreme Drive, Bensenville, IL 60106; (800) 453-2550; fax: (800) 577-3686; www.calumetphoto.com.
Balcar AQ Pack
The Balcar AQ Pack is a 1200 ws 12v unit that accepts the latest Balcar Iris flash head as well as Balcar standard heads or the heads of most competitors using simple adapters. It has a fast 3-sec recycle time and holds color temperature constant over its entire five-f/stop range. The battery is clipped onto the outside of the unit so it can be charged separately and it includes a battery-level indicator. It can be triggered by radio control and accepts the Pocket Wizard receiver module. The MSRP is $3395. Contact: Calumet Photographic, Inc., 890 Supreme Drive, Bensenville, IL 60106; (800) 453-2550; fax: (800) 577-3686; www.calumetphoto.com.
To submit information for Photo Gear please contact Robert E. Mayer by e-mail at: rmayer@kconline.com or regular mail at: Shutterbug Magazine, 1419 Chaffee Dr., Suite #1, Titusville, FL 32780.

LATEST VIDEO