Photo Gadgets & Gizmos: 5 More Cool Photo Products For Your Gear Collection
TetherClings are small Microfiber cleaners that stick to cameras (and other devices) to ensure there is always a cleaner nearby for lenses, screens and fine optics. Simply peel off the clear backing of the Cling and attach it to the device. The MicroFiber cleaner on the other side removes the dust, oil, smudges and dirt from your laptop, phone (or tablet), computer screen, lenses and eyeglasses.
The TetherCling Cleaner & Security kit includes:
• Two LensClings
• Two ScreenClings
• One CamShield
To use simply peel, clean and re-stick the cling to the device. The three options are available in various kits and each one has a different purpose. LensClings stick to your lenshood for easy access. ScreenClings adhere to the back of a laptop, monitor, tablet, reader (or other devices). CamShields are Camera Privacy Shields that cover the webcam on a laptop, tablet or phone to render your device's camera inaccessible to hackers when you're not using your webcam. When you need to use it, simply remove the CamShield, stick it on the screen next to the camera and then replace it when you're finished.
The suggested retail price is $8.99.
More info on TetherClings here.
The Photo FX Kit easily adds creative light and color effects to your photos. Each box includes a pack of color flour, a glass prism, a set of four LEDs, a rainbow "peephole" and a how-to book on using the kit. Toss the flour in the air to add in a bright cloud of color, make videos and still shots with the glass prism, add swirls by shooting through the rainbow peephole or light paint with the fingertip LEDs.
The Kit Includes:
• One bag of color flour
• One glass prism
• Four fingertip colored LEDs
• One Rainbow Peephole
The retail price is $25.
More info on the Photo FX kit here.
The Level Camera Cube lets you create perfectly level shots no matter where you are by simply pointing your camera (with the cube attached) at the subject and aligning the bubbles to set up a straight frame. The bubble level contains three highly visible axis points that assist you to easily balance the shot—if you are using a tripod on an uneven surface or shooting hand-held. This pocket size (measuring just 1x1x1") and light weight device, attaches to the hot shoe of any camera. The retail price is $15.
More info on the Level Camera Cube here.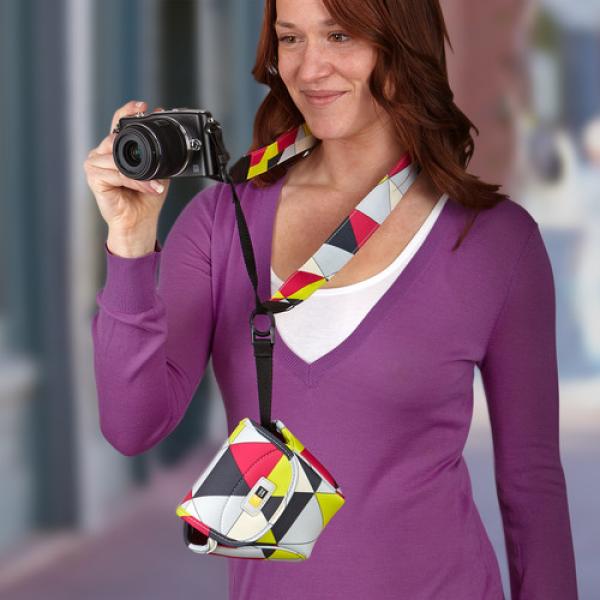 Caselogic's Saigon fitted camera holster attaches to your camera's neck strap and hangs (weightlessly) from its own tether (the matching neck strap is included). This limited edition case is compatible with compact system cameras with attached pancake or 18-55mm lens.
Features:
• Fitted holster provides bump and scratch protection.
• Internal dedicated lens cap slip pocket, so your lens cap is never misplaced.
• Front flap closure for quick easy access to camera.
• Matching neck strap lined with soft poly jersey to provide more comfort and style than original camera strap.
• The Saigon holster is available in three color/pattern choices: triangles, floral and botanical. The retail price is $22.99.
More info on Caselogic's Saigon holster here.
The Veho (VCC-100-XL) MUVI X-Lapse 360-degree photo and timelapse accessory is for use with iPhones, action and time lapse cameras. This compact devices lets you easily create 90°, 180°, 270° and 360° time-lapse films and panoramic pictures. Just mount your camera on the standard 1/4 male tripod screw thread—ideal for the MUVI HD or other actions cameras with Continuous Photo mode. The standard 1/4 female tripod screw thread for mounting on Veho DuoPod tripod or other tripod systems and integral fold out feet to stabilize and support larger cameras.
It ships with a smartphone holder for panoramic time lapse photos using your smartphone with apps such as Time Lapse Pro, Glimpse Pro and Osnap.
Available from Amazon.com, retail price $44.99 but price may vary.
More info on the Veho MUVI X-Lapse 360˚ accessory here.