Phoenix P1 And P2 35mm SLR Cameras
Although neither Phoenix camera has an exposure compensation dial, I was able to easily adjust for this bright background by jockeying the P2's large ISO dial for perfect exposure in Auto mode.
Photos © Tom Fuller, 2000
Despite the profusion of autofocus, auto-everything SLRs that offer some significant technological innovations, there still remains a demand for good bare-bones camera designs. This is to some extent kept alive by photography teachers, not because we dislike new things but because it's hard to explain 3D Matrix Metering to people who don't yet know depth of field from depth of focus, but mostly by the many serious photographers, young and old, who demand a minimum of machinery between their vision and their art.
Phoenix's P1 and P2 models offer this along with some engineering benefits of the times. The fully manual, all-mechanical P1 sports a polycarbonate chassis that, unlike the tank-like metal models we grew up with, makes for an exceptionally lightweight camera without sacrificing durability. And, because the manual focus body accepts K-mount lenses (one of the most widely produced bayonet mounts), the user has a wide choice of quality, affordable optics, either new from Phoenix or used from a host of other manufacturers.
Used at its 35mm end, the standard equipment f/3.5-4.8 zoom is a nice focal length for general picture taking, although this deeply shaded subject required more than a second of exposure. A 50mm f/1.9 "normal" lens is also available.
Metering with the P1 is done by lightly pressing the shutter release to activate the system, then manipulating the shutter dial and/or aperture ring to light a green LED in the viewfinder. Along with red + and - LEDs, which protrude into the viewing area on an opaque background, the easy to read display indicates correct, over or underexposure in full stop increments. The fine matte screen has a horizontal split-image/microprism focusing aid, but it is a little too small for convenient use. However, the screen is remarkably bright, largely because of a solid glass penta-prism, so accurate focusing elsewhere on its surface is seldom a problem. Letting up on the shutter release turns the meter off and conserves the two 1.5v baseplate-housed batteries.
Because the all-manual P1 is also a fully mechanical camera, the spring-powered shutter works at all speeds even if the batteries die. It performed without incident after two hours of continuous exposure to +15°F, and I have no reason to doubt its survival at lower temperatures. The rubberized front grip made for steady handheld shots, and the ergonomically superb polycarbonate body was very kind to my hands. Although the film advance lever requires one continuous stroke, the action is surprisingly smooth for such a modestly priced camera. Niceties include a hot shoe and a PC socket, a shutter lock, and a standard cable release socket, but a depth of field preview control is sadly missing.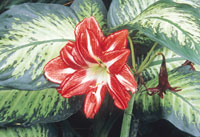 The compact "two touch" Phoenix 35-70mm zoom features built-in macro focusing to less than 12". The intelligent use of polycarbonate reduces its weight to less than 7 oz.
Built around the same chassis, the battery-dependent P2 offers aperture-priority automatic and manual exposure modes with its electronically-controlled shutter. Speeds range from 8 sec to 1/3000 sec in Auto and from 1/2 sec to 1/2000 in Manual, with the shutter speed in use (or the one required) indicated on a column of 15 red LEDs in the viewfinder. The shutter speed selected by the meter is indicated by a single dot in Auto, but two are used in Manual; a steady dot displays the present speed and a blinking dot shows the one required for the user-selected aperture. This array gives an absolute minimum of information, but its ease of operation will surely be appreciated by technically uneasy newcomers.
The P2 features a hot shoe, a cable release socket, and a cancelable electronic self-timer, but no PC socket or depth of field preview. Also missing is an "emergency" mechanical shutter speed that would function even with dead batteries. The P2 and P1 have a "freewheeling" take-up spool that makes for slow, somewhat irritating film loading at first, but both provide smooth film transport, even frame spacing, and a large, effective film pressure plate. The P2 metering system automatically shuts off after about 20 sec, just the right amount of time in my opinion, and a lock position is provided on the shutter dial.
The Phoenix 35-70mm zoom had just the right amount of pulling power at its long end to capture this G-gauge model railroad detail. In aperture-priority Auto the P2 times exposures to 8 sec, letting me blur the frequently passing trains into oblivion.
Standard-equipment Phoenix lenses are the 35-70mm f/3.5-4.8 and the 50mm f/1.9, accepting 52mm and 49mm filters, respectively. Both are sharp, quality optics in compact, exceptionally lightweight polycarbonate barrels. Aperture, zoom, and focusing rings are nicely ribbed for an easy grip, and all movements are again remarkably smooth. Although I'm a fast prime lens fan, I found myself often using the slower zoom because of its 10" macro focusing feature at 70mm. The 50mm lens focuses down to about 18", and sports a printed DOF scale and IR focusing index.
The P1 is available in a black or titanium-colored finish, with the P2 made in black or gold tone. Either body is available with either lens, and despite a street price of around $200 for the P2 and zoom (and well under that for the P1 with either lens), the design, engineering, and construction is quite impressive. The P1 and P2 represent two of the best values today for the budget-minded photographer, and may very well become the new "syllabus cameras" for students worldwide. Be sure to contact Phoenix or visit their web site for information on the wide line of quality Phoenix and Samyang lenses, as well as tripods, flash units, bags, magnifiers, binoculars, and video and digital equipment.
For more information, contact Phoenix Corporation of America, 112 Mott St., Oceanside, NY 11572; (516) 764-5890; fax: (516) 764-5970; www.phoenixcorp.com.
Technical Specifications

Phoenix P1
Camera Type: Fully mechanical 35mm SLR with TTL metering
Lens Mount: Manual focus K-mount
Exposure Modes: Manual; three dot LED viewfinder display
Shutter: Vertically-traveling metal focal plane
Shutter Speeds: B, 1 to 1/2000 sec (1/125 sec flash synchronization)
Viewfinder: Eye-level penta-prism and fine matte focusing screen with horizontal split image and microprism collar; 93 percent of actual image area visible, 0.84x magnification with 50mm lens
Metering System: Open aperture TTL with center-weighted silicon photo diode
Metering Range (With 50mm f/2 Lens, ISO 100 Film): EV2 to EV19
ISO Range: 25 to 3200
Film Transport: Single-action lever advance with 135° throw (30° stand-off from body) with additive, auto-resetting frame counter; crank-action rewind
Power Source: Two 1.5v alkaline (LR44) or silver (SR44) batteries
Size And Weight (Approximate, Without Lens): 138.5mmx88mmx58mm, 370 g
Other Features: Hot shoe, cable release socket, film plane indicator, metal 1/4x20 tripod socket, shutter lock, film identification window, PC flash connector

Phoenix P2
Camera Type: Electronically-controlled 35mm SLR with TTL metering
Lens Mount: Manual focus K-mount
Exposure Modes: Manual and aperture-priority automatic; 15 dot LED viewfinder display
Shutter: Vertically-traveling metal focal plane
Shutter Speeds: Auto, 8 sec to 1/3000 sec; manual, B, 1/2 to 1/2000 sec (1/60 sec flash synchronization)
Viewfinder: Eye-level penta-prism and fine matte focusing screen with horizontal split image and microprism collar; 93 percent of actual image area visible, 0.84x magnification with 50mm lens
Metering System: Open aperture TTL with center-weighted silicon photo diode
Metering Range (With 50mm f/2 Lens, ISO 100 Film): EV1 to EV19.5
ISO Range: 25 to 1600
Film Transport: Single-action lever advance with 135° throw (30° stand-off from body) with additive, auto-resetting frame counter; crank-action rewind
Power Source: Two 1.5v alkaline (LR44) or silver (SR44) batteries
Size And Weight (Approximate, Without Lens): 138.5mmx88mmx58mm, 370 g
Other Features: Hot shoe, cable release socket, film plane indicator, metal 1/4x20 tripod socket, shutter lock, film identification window, self-timer

FEATURED VIDEO