Personal Project; People At Work; John Siskin's On The Job
I probably take more pictures of people working than any other subject. Since I am a commercial photographer this makes a lot of sense. I love taking shots of people actually working; they provide wonderful opportunities to see people involved in something they take seriously. You can often get shots where people really aren't paying attention to you, just doing what they do. Work shots really tell you about the subject. Work shots also give you great props and great backgrounds. In a work shot the subject generally knows what to do with his/her hands as he/she does it every day.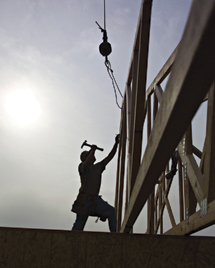 This shot shows how the surroundings and the tools can make a simple shot more dramatic.
All Photos © 2010, John Siskin, All Rights Reserved
A good work shot should tell a story. It should tell you what the subject is doing and how that relates to the job. So while a shot of someone's face might be great for a portrait, a shot of a person framing a house tells a complete story. While you might take a great shot of somebody's hand, perhaps a shot that shows experience and time, with a work shot you want to show the same hands actually doing the job. So you might want the person to be holding a hammer or other tool.

A business might also hire me to shoot portraits of the executives, but when I can shoot people working the images are much more interesting. Work shots don't always have people, but they still tell a story. Although you could take a picture of someone holding a circular saw in the studio, if you put the picture against a work site the shot will be more interesting.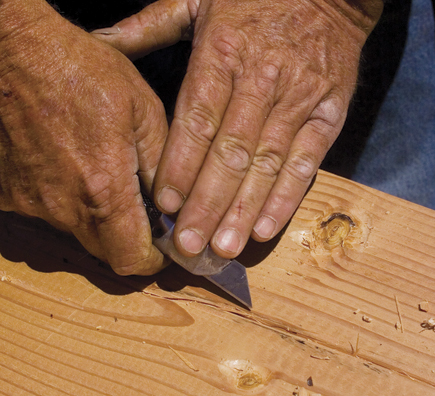 In this shot, the close-up on the hands, and the work, makes the shot more interesting. The subject is distressing a beam.
The same things that can make a better portrait will help make a better work shot: angle, light, and three-dimensionality. The first thing that concerns me is angle. Generally I like to pick an angle where I look up at a person. This makes the subject look bigger and stronger, more monumental. Most of the time I want to be close to the subject when I make the shot. I don't want to flatten an image with a telephoto lens. Still there are times when you can't tell the story without using the surroundings. So it is really important to stay aware of everything that is happening around you, not just what you can see in the viewfinder. You need to do this for the image, and for your safety.

There is one really important thing about doing shots in a work environment: be safe! Be aware of where you are and take proper safety precautions. Don't ask anybody to do something they aren't comfortable with, and follow any safety procedures specified. The way I see it, if I can't come back in one piece with the camera, I don't go. I go where I can. I often use forklifts and cranes to get the shot. I will also use surrounding buildings when they offer a good angle. Since I wear glasses, I have a pair of prescription safety glasses I can use when shooting. I use a helmet whenever I am advised to, and have one in my car. There is no reason to take unnecessary risks.
| | |
| --- | --- |
| | |
| The angle and the thin beam the subject is walking on make this shot compelling. | I used the sun behind the subject to give a glow to the shot. I used a strobe to light the front of the subject. Without the strobe this would be a silhouette. |
A good work shot is dramatic, so I have to be aware of the light. I try to be on a work site early in the day when light comes in at a better angle and often has better color. While twilight can be great light, many construction sites and other work environments are empty at twilight. (When I shoot finished projects, however, I try to be there at twilight because of the color and quality of the light. But I don't depend on the sun; I always bring extra strobes.)

FEATURED VIDEO