Personal Project; Images From The Mind's Eye
I started out my photographic career in 1980 and studied with some of the most prominent photographers of our time. I learned to previsualize my images and was rewarded with perfectly "zoned" black and white negatives. However, I was never satisfied with my black and white prints. I always wanted more and felt something was missing. I began translating the negative through various processes: solarization, toning, split-toning, bleaching, and painting with selenium toner for color. I used handcoloring with transparent oils to create my own version of reality.

I have always thought of myself as more of an image-maker than a photographer. I like photographing, but I love making the image. I used to love the magic of the darkroom, and now I love the thrill and excitement of going into the "light room" of the digital world.
"Villa Angel," Sicily, Italy.
All Photos © 2006, Theresa Airey, All Rights Reserved
I shoot a lot of black and white infrared for its ambiguity and ethereal quality. For years I shot on infrared film, now I shoot digital infrared with my Minolta DiMAGE 7 and my "converted" Canon EOS D60. With infrared capture, the world as we know it suddenly shows up strangely bizarre and wonderfully romantic--it becomes very dramatic, or very surreal.

Most of my images are a synthesis of what I see in my mind's eye and reality.
"Roman God," Pompeii, Italy.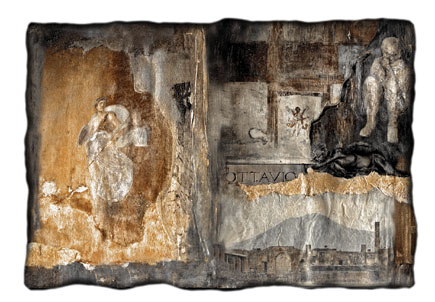 My digital files are a point of departure to creating the image that is in my mind's eye; they translate a feeling that I have about the subject. In the conventional darkroom I always felt that it was important that I "married" the photograph with a process to better enhance its impact and print quality. Now I am using Photoshop and third-party software such as nik Software's filters, Synthetik's Studio Artist, and Auto FX Software's Photo/Graphic Edges and Mystical Lighting to enhance the final print.

These images were first made as a two-page layout for a handmade book. The images are from a recent trip to Sicily and Naples. I used the images in both printed form on inkjet paper and in transfers to BFK lightweight printmaking paper. Some of the smaller elements I cut out of magazines, old books, and even candy wrappers.
"Roman City," Pompeii, Italy.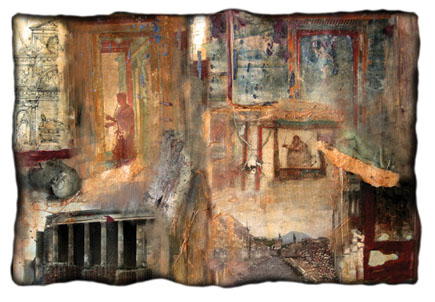 After laying out and gluing down the two-page book spread, I then collaged various exotic papers around and on top of the images. I then used acrylic paint to integrate the images into a cohesive page.

After the book was finished I photographed a few of the two-page spreads. In Photoshop I cloned out the spine and blended the two pages together as a unit.
"Dinatopia," France.
I took the images into Auto FX Software's Photo/Graphic Edges 6.0 and applied a burned edge to the images to give them an old-world quality. Then I printed these images out onto Daphne Lightweight paper (not inkjet coated) to give them a pseudo-papyrus look.

1. Original straight shot.

2. The shot with nik Software's filters applied. Filters used: Graduated Coffee and Midnight Sepia.
"Dinatopia," France.
I first selected the sky with the Magic Wand tool in Photoshop and applied nik's Graduated Coffee filter blended at l00 percent. Next, I globally applied nik's "Midnight Sepia" to the image. In Photoshop I applied a 1" border around the print (Menu>Canvas Size) in dark brown and took the image into Auto FX Software's Photo/Graphic Edges 6.0 and applied the edge #77 from Volume 1 to the dark brown border.

I had always wanted to visit the Vincent van Gogh Café in Arles. When I arrived it was high noon and packed with tourists. I was very disappointed, I took one shot and left. Later, at home on the computer, I scanned the slide and took it into Photoshop. I decided to create what I wanted to see.
"Vincent van Gogh Café," Arles, France.
I made the starry sky by opening a deep blue background and cloning in white circles with different sized brushes, using a soft-edged brush to give the glowing star effect. After selecting the sky in the original image with Photoshop's Magic Wand tool, I layered the starry sky that I had created onto that selected area.



LATEST VIDEO