Pentaxs *ist 35mm Camera
Designated as the "Best 35mm SLR Camera in Europe, 2003-2004" by the Technical Image Press Association (TIPA), the *ist is the most sophisticated mid-range 35mm SLR camera that Pentax has ever produced. This ultra-compact and lightweight model was designed concurrently with the new Pentax digital SLR camera, and benefits from some of the technology developed for the *ist D. A new autofocus and light metering system plus a full 17 custom functions are the most significant upgrades over its XL-series predecessors. Thanks to these extras--and its many other capabilities--I found the *ist to be highly suitable for stock photography during ethnic and Renaissance festivals, a Native American powwow, and the action at an amateur go-cart race.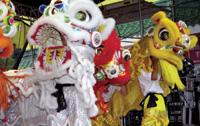 With its seven Program modes, flash with automatic pop-up feature, automatic focus point selection, and simplicity of operation, the Pentax *ist is a great choice for SLR novices. And yet, this camera will also satisfy the serious photographer thanks to its many advanced features, 17 custom functions, and great reliability. (Portrait Program; flash; FA 28-90mm f/3.5-5.6 zoom; Kodak Max 400.)
Photos © 2003, Peter K. Burian, All Rights Reserved
Characteristics And Features
The *ist is particularly compact, with a rubberized grip for convenient holding. It was actually too small for my large hands, making the Battery Grip BG-20 a useful accessory. As a bonus, the BG-20 includes a vertical position shutter release button and accepts four alkaline AA batteries, replacing the two tiny, expensive, lower capacity CR-2 lithium batteries. Most of the body is made of polycarbonate, but the lens mount, film guide rails, and pressure plate are made of metal. All controls are well placed and well marked as to their purpose. Like digital cameras, the *ist sports an oversized 1.5" LCD data panel on the camera back; this allows for a great deal of data to be displayed, with numerals and symbols that are larger than average.

Thanks to the convenient mode selector dial, and a choice of seven Program modes, even a novice can begin using this camera without reading the instruction manual. Whenever a Program mode is selected, the pertinent symbol on the dial is illuminated, very useful in low light. The built-in TTL flash pops up automatically when necessary in Program modes, and retracts when it is no longer needed.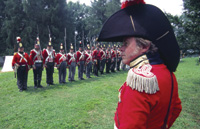 I can highly recommend the AF360FGZ flash unit for any serious photographer. In addition to greater power output than the built-in flash, this accessory offers a wealth of capabilities (discussed in the text) useful for making effective flash images indoors or out. (FA 20-35mm f/4 AL zoom; AF360FGZ in wireless off-camera TTL flash; -0.5 flash exposure compensation; Fuji Velvia 100F film.)
In spite of the apparent simplicity, the *ist was intended for the photo enthusiast, with its wide range of capabilities, detailed in the Specifications chart. Add the AF360FGZ accessory flash ($200), and the combination becomes particularly versatile with evaluative P-TTL flash metering, flash exposure compensation for varying output, high-speed flash sync, second curtain sync for light trails that follow (instead of precede) a subject, and wireless remote TTL flash for creating more professional lighting effects.
Evaluation
For a camera that sells for $300, the *ist is certainly well equipped, missing only a reflex mirror lockup control that would be useful in macro photography for reducing internal vibrations. Some action photographers may also want a higher continuous framing rate, but the 2.5 fps rate is typical, except in professional cameras. I found the oversized LCD data panel to be particularly convenient, and really appreciated the vast amount of information available at a glance, including data as to flash modes when using the AF360FGZ. Even without reading the Owners Manual, I was able to take advantage of all features except the custom functions and the depth of field preview control; the latter is built into the camera's On/Off switch, a very unusual location. Naturally, I spent some time studying the AF360FGZ Owners Manual, because of the many advanced flash capabilities.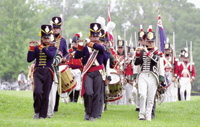 The 16-zone multi-pattern metering system tended to overexpose scenes (such as this) that averaged out to a mid tone. This tendency can be useful with color print film but for the best results with slide film, use some minus exposure compensation. (At 200mm an 80-200mm f/2.8 zoom; f/5.6; Hoya polarizer; Kodak Gold 200 film.)
Advanced Autofocus System
The TIPA awards panel particularly praised the sophisticated SAFOX VIII system with predictive continuous focus for tracking a moving subject. According to Pentax, "this function even allows the photographer to shoot a few frames after the subject has moved outside the AF sensor field." The number of focus detection points has been increased to 11 (from three in ZX-series cameras and six in the MZ-S) so it covers a wide area, useful for quick focus on off-center subjects; the central point is cross-shaped for reliability with many types of patterns.

In "Auto" mode, the system selects a focus point, often favoring the closest subject. Switch to "Select" mode, and you can designate any single sensor by pressing the thumb pad on the camera back, switching sensor points as desired. Or choose the third option for a more traditional method of focus detection, employing only the central sensor point. In every case, the system confirms the subject area in sharpest focus, with a red LED that lights up on the viewing screen; this is a first in any Pentax camera.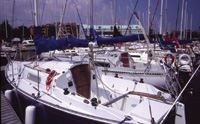 With predominantly white subjects, and in strong backlighting, the 16-zone metering system usually produced exposures that are within a half stop of perfect. When shooting color negative film, the slight underexposure is easily corrected in print making; with slide film, a +0.5 exposure compensation factor helps to produce a more accurate exposure. (FA 20-35mm f/4 AL zoom; Hoya polarizer; no exposure compensation; Fuji Velvia 100F film.)
Focusing Evaluation
The SAFOX VIII system is faster and even more versatile than the SAFOX VII system available only in the ($800) MZ-S, the flagship of the line. During my tests, AF response was fast and reliable in most situations. Even with difficult subjects, the central sensor found focus most every time. During the go-cart race, Continuous AF had no difficulty in tracking high-speed action, even as the primary subject drifted off-center.

My only complaint? In low light, autofocus was quite slow when shooting without flash. When I activated the built-in flash, powerful pre-flashes provided AF assist for great reliability. Common on many cameras, this feature works well, but it's not ideal: subjects find the bright bursts annoying and it causes them to blink. The near-infrared beam produced by the accessory AF360FGZ flash unit is a lot more subtle and just as effective.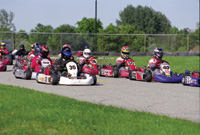 The Continuous Predictive tracking focus system produced many sharp images during a go-cart race, using the older FA* 80-200mm f/2.8 ED(IF) zoom. With more recent Pentax lenses, the AF system is even more reliable with moving subjects. (At 200mm the 80-200mm f/2.8 zoom; f/5.6; Hoya Polarizer; Kodak Gold 200 film.)
16-Segment Metering System
Previous Pentax SLR cameras featured an evaluative metering system with no more than six segments, but the *ist boasts a more sophisticated multi-pattern system with a full 16 zones. In other words, a scene is divided into 16 individual sections (excluding the periphery of the image area) and the light meter reads the reflectivity in each segment. Set custom function #3, and the camera also considers subject distance in the exposure evaluation.

The resulting data is then evaluated by a microcomputer that makes a comparative analysis of factors such as subject size and distance, the brightness level in each area, and any excessively bright segments. If necessary, the system ignores ultra-bright highlights and applies an appropriate level of exposure compensation automatically for very bright scenes such as a snow-covered landscape. By considering more data than previous Pentax systems, the *ist should produce more accurate exposures in difficult situations such as strong backlighting and spotlighting. Since I did not have another Pentax camera for comparison testing, I was not able to confirm this benefit.
Evaluation
Like some other Pentax SLR cameras that I have tested over the past few years, the *ist tends to overexpose by about a half stop in multi-pattern metering. This is a benefit with color print film, because generous exposure helps to shed grain and produce more saturated colors. When shooting narrow latitude Velvia 100F transparency film, I preferred to set a -0.5 compensation factor for scenes without unusual brightness. In the vast majority of cases, this tactic produced very pleasing slides. With predominantly white subjects, such as sailboats in a harbor, a +0.5 compensation factor produced the best exposures. (Editor's Note: Our tests have shown that Velvia 100F might be best exposed at EI 125, so run exposure tests when working with this camera just as you would with any other SLR.)

Since most *ist owners shoot print film, they will find the 11-zone multi-pattern metering system to be virtually infallible, producing printable negatives in 95 percent of common shooting situations. In strong backlighting, I would still recommend using fill flash, as with any camera; the extra burst of light helps to even out scene brightness for a less contrasty, more natural-looking rendition of the subject and the background.
Final Assessment
During extensive shooting and testing, I was impressed with the *ist, particularly with the improved autofocus performance. In reviews of some Pentax ZX-series cameras, I had made the following comment: "The AF system favors accuracy over sheer speed of focus acquisition or tracking of an ultrahigh-speed subject." The *ist certainly proved superior in this respect, especially when used with a recent Pentax AF lens such as the FA 80-200mm f/4.7-5.6 zoom. With the older FA* 80-200mm f/2.8 ED(IF) model, continuous tracking focus was only moderately fast, but still adequate for tracking go-carts approaching my position.

The ability to use manual focus KA-mount lenses--even without Program modes or multi-pattern metering--is a real plus for some Pentax system owners switching to an autofocus Pentax camera. With the optional AF Adapter 1.7x (also a tele-converter) many KA-mount lenses will even autofocus, though not quickly.
Photographers who need a more rugged body and some pro-level capabilities may prefer the Pentax MZ-S, but the majority of photo enthusiasts will be satisfied with the smaller, lighter, and more affordable *ist with its more sophisticated AF system. When combined with the AF360FGZ flash unit, few cameras in its price range offer more options for advanced photography with or without flash. This combination should make the *ist a winner, keeping Pentax competitive in the 35mm autofocus SLR market.

For more information on the *ist, contact Pentax U.S.A. Inc. by calling (303) 799-8000 or visiting their website, www.pentaxusa.com.
Peter K. Burian, a stock photographer, and long-time EPD and Shutterbug contributor, author of a new book,
Mastering Digital Photography and Imaging (Sybex), to be published in May 2004. Covering all aspects of the topic, the technology, equipment and techniques, this book provides 300 pages of practical advice for photo enthusiasts.
Technical Specifications
Type: 35mm autofocus SLR; fully compatible with autofocus KAF2- and KAF-mount lenses; accepts KA-mount lenses with limitations
Shutter: Electronically controlled vertical run focal plane shutter; 1/4000-30 sec speeds, and Bulb in Manual mode; flash sync at 1/125-30 sec and Bulb
Focusing System: TTL phase matching 11 point AF; Single Shot AF with AF Lock and Continuous Predictive focus; Manual focus; AF detection range -1 EV to 18 EV (ISO 100 at f/1.4); built-in focus assist beam and pre-flash focus assist available
Exposure Control: 16-segment TTL metering coupled with lens and focus info; spot metering; center-weighted metering; exposure compensation; AE Lock; AE Bracketing in 0.3, 0.5, and
º1 EV increments
Operating Modes: Metered manual, Aperture and Shutter Priority AE, seven Program modes
Flash: Retractable pop-up TTL head with 28mm lens coverage; GN 36; slow sync and automatic daylight sync; discharge level automatically adjusted; redeye reduction mode
Other: 17 custom functions; depth of field preview; self-timer; multiple exposure mode; cancelable beeper; mid-roll film rewind; manual and automatic ISO selection; accepts optional electronic cable release and infrared remote controller; date imprinting selectable
Dimensions And Weight: 4.8x3.3x2.5"; 11.8 oz
Power Source: Two (3v) CR2 lithium batteries; four alkaline AA with optional BG-20 grip
Street Price: $300, including wireless remote controller accessory

LATEST VIDEO

SPONSORED VIDEO