The Pentax K10D; The Digital K-Mount World Expands
The Pentax K100D is an awesome camera for the price and works with all the 24 million Pentax lenses made since 1964. Now Pentax Imaging is "kicking it up a notch" with the K10D, a more serious, even professional, D-SLR as evidenced by its stainless-steel chassis. The camera is weather-resistant with 72 seals, including shutter release and all switches, levers, and dials. Pentax announced the optional D-BG2 Battery Grip that, along with the camera's lithium ion battery, doubles battery life. It features the same rugged construction as the K100D and has a vertical shutter release, DOF preview lever, AE-lock button, and control dials.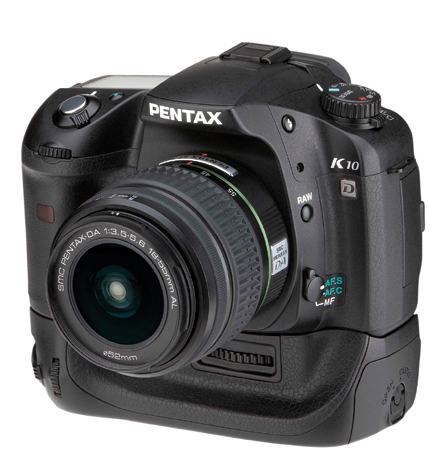 New Stuff
The K10D combines a 10.2-megapixel (23.5x15.7mm) CCD with Pentax's Real IMage Engine (PRIME) to produce true-to-life color. They've added a 22-bit analog/digital converter for transferring image files with accurate color and richer gradation to the PRIME imaging engine. A dust removal system incorporates a Special Protect (SP) coating to keep the imager's surface dust-free and a shake-your-bootie à la Olympus' shift mechanism to shake any remaining dust off the CCD.

The 11-point, wide-frame autofocus system has nine cross-type sensors in the middle to focus accurately, even when the subject is positioned off-center. The in-focus sensor point is superimposed in red in the viewfinder. An auto sensitivity control function automatically sets the optimum sensitivity up to ISO 1600 based on subject brightness and the lens' focal length. That's not a feature I especially like or expect to use but will help newbies get sharp pictures under poor lighting situations. More experienced users will prefer to manually set the ISO from 100-1600.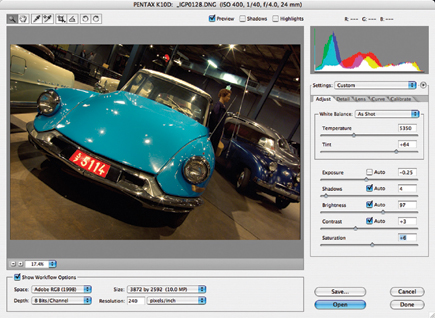 The K10D lets you shoot two different raw formats. You can capture in Pentax's own PEF format or Adobe's DNG, depending on whose software you want to use. As I write this, Adobe Camera Raw 4.0 does not support PEF files from the K10D, but all recent versions support DNG, so that was my raw file of choice.
All Photos © 2007, Joe Farace, All Rights Reserved
The camera's shutter is designed to withstand 100,000 releases and is especially quiet, something wedding photographers will appreciate. It has a top speed of 1/4000 sec and a flash synchronization speed of 1/180 sec. The K10D offers continuous shooting at 3 frames per second (fps). When shooting in JPEG, you can make as many images as you like until the Secure Digital (SD) card fills up. In Raw mode you can capture bursts of nine images at 3 fps.

The K10D offers a 2.5" LCD preview screen on its back that allows 140Þ viewing vertically and horizontally. With its 210,000 pixel resolution you can zoom images during playback up to 20 times to check focus, subject's expression, or to see if everybody's eyes are open.

While not new with this model, the Shake Reduction (SR) system offers a 2.5 to 4-stop advantage for images made under difficult shooting conditions such as macro, telephoto, or low light. The SR mechanism magnetically oscillates the CCD vertically and horizontally, while adjusting the speed in proportion to the amount of camera shake detected by built-in sensors. As a result, the K10D does not require special Anti-Shake lenses and can be used with almost all existing Pentax K-, KA-, KAF-, and KAF2-interchangeable lenses as well as Pentax screwmount and medium format lenses (with the appropriate adapter).
If you prefer to shoot your raw files in the K10D's PEF format, Pentax provides Photo Browser software in both Mac OS or Windows compatible versions.
Get With The Program
The K10D offers a choice of 16-segment multi-pattern metering, center-weighted metering, and spot metering. Exposure options include what you might expect such as Program, Shutter Priority, Aperture Priority, and Manual. There is even an extended bracket function to capture three images of the same subject at different contrast, saturation, sharpness, or white balance levels.

If that's not enough, the K10D's Hyper Program function allows the user to switch from Program mode to Shutter Priority (Tv) or Aperture Priority (Av) mode by turning a dial. To return to Program mode, press the green button next to the shutter release button. (There's a green button on the D-BG2, too.) When shooting in Metered Manual mode, a push of that same green button allows the user to instantly set the proper exposure for the subject.

The K10D features a new Sensitivity Priority (Sv) mode that automatically selects the optimum aperture and shutter speed for a user-selected sensitivity that can be shifted (in 1/2 or 1/3 steps via Custom Functions) by turning a dial. Shutter & Aperture Priority, a.k.a. TAv mode, automatically selects the most appropriate sensitivity for a user-selected shutter speed and aperture. Is this too many Exposure modes? You can ignore them if you like or take advantage of them if you can. It's all based on maximizing the camera's capabilities to suit the photographs you make and Pentax has gone out of its way bringing that technology to you at an attractively low price point.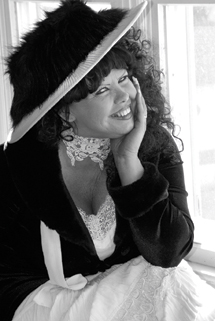 Three digital filters are available, including red, green, and blue. The tonalities produced by the blue filter with this particular portrait may not be optimum but that doesn't mean it wouldn't work for another kind of image.
Getting The Raw Facts
Although the K10D uses the same kind of PEF (Pentax Electronic File) as the K100D and Samsung D-SLRs, Adobe Camera Raw (ACR) for Photoshop CS2 does not recognize it because the EXIF data includes the specific camera name thus making a K10D raw file different than a PEF from a K100D. According to Adobe, "The next release of Lightroom and Camera Raw will support the Pentax K10D PEF format." Adobe told me that would be after ACR 4.0 but in a surprise move included support for the K10D with ACR 3.7. Since the K10D also offers raw capture in DNG format it works with almost all recent versions of ACR.

Pentax ships two software utilities with the camera and Photo Browser does an acceptable job of converting PEF files to a more portable format. The software is available in Mac OS and Windows versions, something that seems to have escaped notice with Samsung, but it ran agonizingly slow on my Power Macintosh G4.
| | |
| --- | --- |
| | |
| When selecting Playback>Digital Filter in the K10D's menu you get four different ways to make a black and white version of the original. The first is an unfiltered black and white and the K10D saves the modified image as a separate file on your memory card. | This original portrait of actress/model Dawn Clifford as The Unsinkable Molly Brown was made using window light and the K10D's built-in flash as fill. Lens was the versatile smc P-DA 50-200mm f/4-5.6 ED at 105mm. Exposure was in Aperture Priority mode at 1/125 sec at f/8 with a +1/3 stop exposure compensation to brighten the white background and dress. This was the file as it came off the SD card and was used for all of the in camera variations. |

FEATURED VIDEO