The Pentax K100D; Image Stabilization & Millions Of Lenses In An Affordable D-SLR
Lots of people don't know that Pentax built the first Japanese-made Single Lens Reflex (SLR) camera. In 1952 the Asahi Optical Company of Japan created the Pentax (PENTAprism refleX) line of cameras and were the first to incorporate a penta-prism viewfinder and reflex mirror system into a camera they called the Asahiflex I. This camera featured a cloth curtain focal plane shutter, shutter speeds of 1/20-1/500 sec, and a bulb setting.
The next big milestone was the '75 introduction of the Pentax K bayonet lens mount and launch of the legendary K1000. The camera had a horizontal cloth shutter and match-needle exposure control and is the camera that helped millions learn the joy of SLR photography. Thirty years later, Pentax celebrates the anniversary of the launch of the K1000 with the introduction of K100D and K110D digital SLRs. Both models reflect a new naming system that reflects the compatibility each body has with legacy K-mount lenses. Almost all K-mount compatible lenses introduced since '75 will work with the K100D-series digital SLR. Planned obsolescence? Not! (See the "Viva K-Mount" sidebar below.)

Twin Cameras?
Although the Pentax K100D bears a family resemblance to the *ist DL there are major differences between them. The most obvious is built-in (to the body) Shake Reduction, Auto ISO with speeds up to 3200, 11-point AF, Scene modes, and a wider angle of view (140Þ) of the 2.5" LCD preview screen. There are also minor improvements such as the removal of the annoying latch button that you had to press to open the door to the memory card slot. Canon may think that feature is needed on pro cameras, such as the EOS-1D Mark II N, but I'm glad it's missing from Pentax K100D-series cameras.

The Pentax K100D is a 6.1-megapixel digital SLR that includes a Shake Reduction (SR) system that offers a two-stop advantage for sharp, blur-free images even under difficult shooting conditions, such as when using a telephoto lens or shooting in low light without a flash. The SR mechanism minimizes camera shake by using magnetic force to oscillate the CCD image sensor vertically and horizontally, while adjusting the oscillation speed in proportion to the amount of camera shake detected by built-in sensors. As a result, the camera does not require special Anti-Shake lenses and can be used with almost all existing Pentax interchangeable lenses. The Pentax K110D is an entry-level digital SLR camera that has all of the same features of the K100D except Shake Reduction.
This tree was photographed on the rim of Bryce Canyon with a Pentax K100D and smc P-DA 12-24mm F4.0 ED/AL (IF) lens at 19mm. Exposure was 1/500 sec at f/8 in Manual mode at ISO 400.
All Photos © 2006, Joe Farace, All Rights Reserved
In Camera Processing
The Pentax K100D series permits in camera monochrome and image manipulation, but not at the time of capture. The key to using these features is in the Digital Filters found in the Playback menu. Digital Filters available with K100D-series cameras include: Black & White, Sepia, Color (18 types), and Soft (3 levels). Raw images cannot be processed using Digital Filters.

If your original photograph is a little dark or too bright, the Brightness filter lets you apply eight levels of (plus or minus) brightness to a photograph. The Slim filter lets you change the horizontal and vertical aspect ratio of image files and lets you adjust the photograph's height or width up to two times the original size. When you click the OK button, you will be prompted to "Save As" or "Cancel." Clicking OK causes the screen to blink with the words "data is being saved," and the file will save the processed image as a new file with a new name.

The upside of using this process is that when a filter is applied your color original remains untouched. Yes, I know you can apply these effects using Adobe's Photoshop or your favorite digital-imaging program, but doing it in camera lets you make prints directly from a memory card--with the effects applied--at your friendly neighborhood kiosk without ever having to load the files onto a computer. Still, I prefer direct monochrome capture.
I photographed Tia using the K100D with AF540FGZ flash. I stuck on a STO-FEN (www.stofen.com) Omni-Bounce diffuser from a Canon 550EX flash to soften the light, but STO-FEN tells me the diffuser for the Olympus OM-MZ40 flash is a "very good fit." Exposure was 1/180 sec at f/5.6 with a +1-stop overexposure to make the whites as clean as possible. Image was converted to black and white capture using the K100D's built-in Digital Filters.
Shooting The K100D
The K100D has an 11-point, wide-area autofocus system that offers a choice of AF-Single or AF-Continuous modes and incorporates a three-mode metering system, including 16-segment multi-pattern, center-weighted, and spot metering. Exposure compensation is accessed through the Av button next to the shutter release and controlled up to + or - 2 stops in 1/2 or 1/3 increments depending on your choice, which is set in the camera's Custom Setting menu. It also has an Auto Bracket mode that lets you shoot a burst of three exposures at different settings that can be set from + or - 2 stops by using the camera's Auto Bracket command, found in the Record mode menu. The K100D offers two capture options--Bright or Natural. Bright produces images that are snappier with more contrast and sharper focus. Natural creates files that are slightly lighter with less contrast and softer focus. I used Natural on sunny days and Bright when the light was softer or I wanted to really punch up the photo's colors.

The SLR has excellent ergonomics and all controls are logically placed and easy to access. Commonly accessed features such as ISO speed, Drive mode, white balance, and flash are accessed through a Fn (Function) button and four-way controller buttons next to the LCD screen, making changes fast and easy. The screen has a 12x zoom feature allowing you to check an image's critical focus with a twirl of the e-dial. All of this technology is wrapped in a high-rigidity, stainless-steel chassis that is covered by a compact and lightweight fiber-reinforced polycarbonate body.

Image quality is all you could ask for in a 6-megapixel camera that uses a CCD imager. It is enhanced by Pentax's impressive arsenal of DA- (digital only) and FA-, A-, and K-series optics. You can shoot in JPEG or Raw (PEF) mode and Pentax provides Mac OS and Windows software in the box. Adobe's Camera Raw 3.4 does not read this camera's PEF files, but I expect the next version will, if only because it currently reads files from the *ist DL2, and I personally sent them some sample raw files from the K100D.

The built-in flash has a Guide Number (GN) of 52 (at ISO 200) and works best for fill outdoors or when you're close to the subject. If you want to increase or decrease the amount of light from the built-in flash, use the camera's built-in Flash Exposure Compensation control in the Record menu that lets you adjust output by -2 to +1 stops. If flash photography is important and you want more power, consider the optional AF540FGZ shoe-mount flash (GN 148 at ISO 100) that features P-TTL mode with pre-flash that produces accurate flash photography and works well blending ambient light.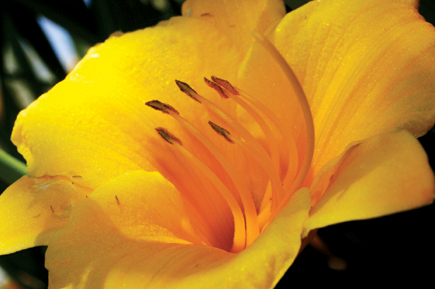 I always say that you can make great pictures in your own back yard. This was made in my front yard just two steps from my porch. Lens was a Pentax smc P-FA 50mm f/2.8 Macro with an exposure of 1/160 sec at f/18 in Shutter Priority mode (it was windy). ISO speed was 800 and a -1¼3 exposure compensation was applied. The built-in flash was popped up and softened with a LumiQuest (www.lumiquest.com) Soft Screen to open the shadows but not blast the delicate center of the flower.
Instead of launching another proprietary battery format for the K100D series, the cameras are powered by four standard AA batteries. The operating manual suggests four AA-size lithium, Ni-MH, or CR-V3 batteries but warns that the camera may not support all the camera functions when using AA alkalines and recommends them only for emergencies. It also warns against using Panasonic's Oxyride batteries or rechargeable CR-V3 because they may cause malfunctions.



LATEST VIDEO