The Paul C. Buff 'Celestial' Delivers a New Level of Creative Freedom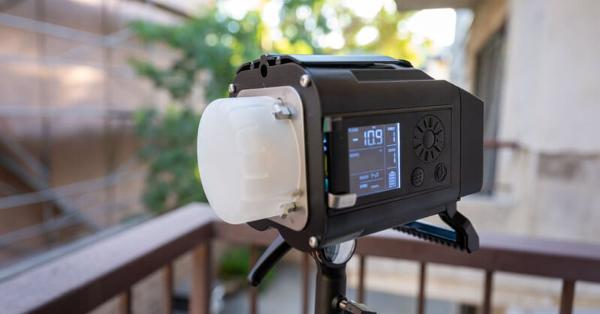 The heavily anticipated Paul C. Buff Celestial Light has given photographers who shoot on location and on the move a compact, reliable, and affordable lighting solution for their work.
Most photographers who have been in the industry for a while are familiar with the Paul C. Buff line of lights. For years, they have been a staple for budget-friendly beginners and professionals alike with the Alien Bee and Einstein systems being found in the gear closet of almost any creative you meet.
While the company has made portable power packs (Vagabond Mini), and even the Link with optional battery usage to help users take their kits on the road, it wasn't until the launch of the Celestial that the brand offered something fully battery-powered that is truly competitive in both the power, portability, and price.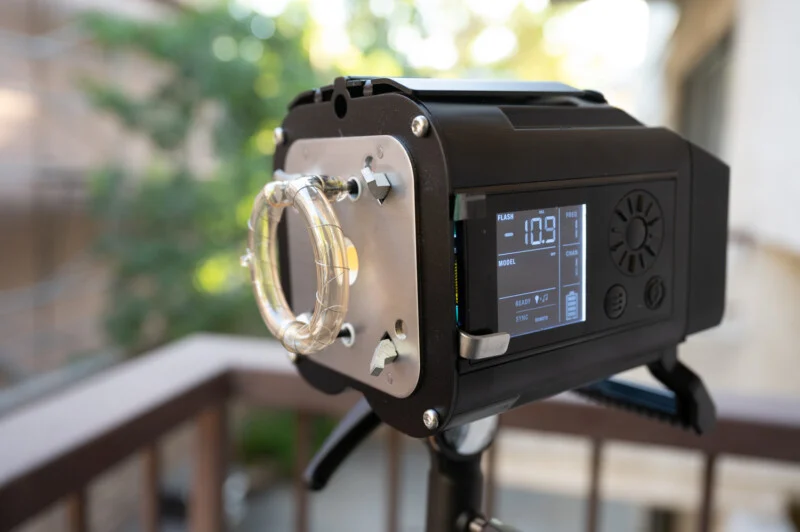 What Does The Celestial Bring To The Table?
Paul C. Buff has been steadily adding to its light offerings with Digi-Bee and optionally-battery-powered Link systems, but now with the 500-watt second Celestial strobe the company has added its first fully battery-powered light that can put out more light than a Godox AD600Pro while coming in about two pounds lighter than both the aforementioned AD600Pro and the Elinchrom FIVE. This may not sound like much, but when you start adding multiple lights to your kits, every single ounce saved can make a huge difference.
The Celestial is an incredibly diverse entry to the Paul C. Buff lineup currently available for creatives looking for powerful tools with a very consumer-friendly budget. The light can be used on location with about 200 full power flashes (this quantity will vary with modeling lamp use), available from a fully charged battery, (additional batteries are available for just $119.95) or in the studio on the same battery power and even plugged in to charge while in use. The portable light also offers 12-stops of power variability giving users an extreme amount of flexibility when adjusting their settings to blend well with the ambient and low-lit situations.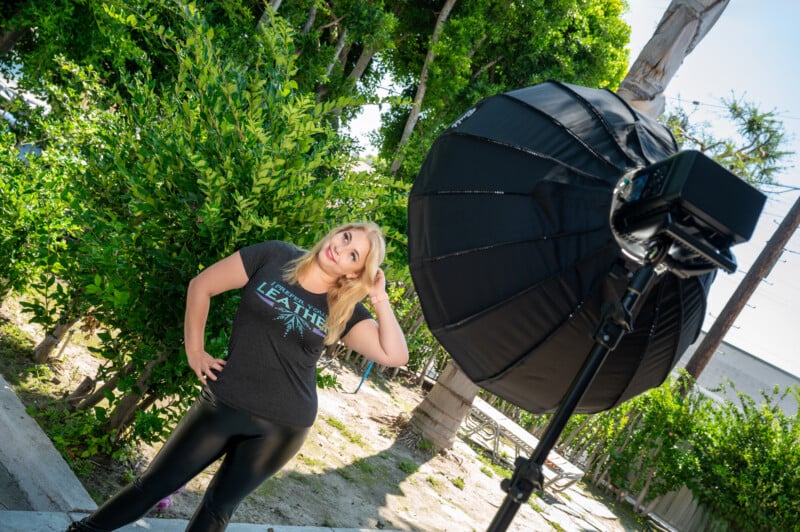 While Buff lists the Celestial's full power recycle at 1.5 seconds for the sake of consistency, in my testing it proved to be much faster on a full battery and can even hit around 0.8 seconds. Regardless of the location the light is being used, the Celestial offers users access to high-speed sync, TTL, action, or color mode that offers incredible color consistency between shots. What's even more interesting is the action mode available on the Celestial which gives users the ability to compress the flash into a shorter duration, making it easier to stop/freeze motion without experiencing motion blurs that can happen when capturing action using strobes.
The Celestial is also significantly more affordable than many of its competitors, making it an ideal solution for photographers who are frequently on the move. Especially if you need multiple lights for your setups. Creatives can get up to four Celestial lights for about the cost of a single Profoto B10X Plus, freeing up their wallets to capture much more dynamic lighting scenarios.
In addition to all the above features, Paul C. Buff offers its customers a level of support that many other manufacturers can only dream of, even going so far as inviting locals to quite literally pop by and visit their showroom and see them in person.
The Paul C. Buff Celestial: Compact & Durable
The Celestial may feel like it has a familiar body design to some of the other lights in its family when looking at it from the front. As you'll notice, the new system uses an LED modeling lamp system to keep it from getting too hot while in use (should you leave the modeling lights on), and to make it easier to get creative by adding or removing the magnetic creative color control gels and diffusion domes.
Something else noticeable on this light is the addition of a large handle located on the back side of the device. This grip/handle will make it much easier for users to make precise adjustments to their light positioning. Users may also notice that the celestial still supports every one of the triggers previously used by Paul C. Buff (including some Pocket Wizards) and also has the sensor along the top to operate as a slave unit without any issues.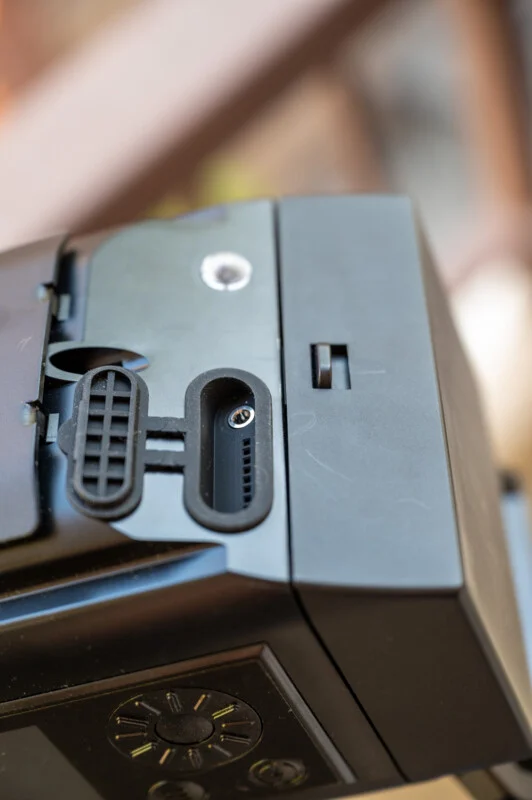 Both sides of the light have a latch for quick release of the speed ring for light modifier attachments like softboxes and optical snoots, and users will also find an LED screen with a large dial with several buttons for system setting changes, navigation, and power control.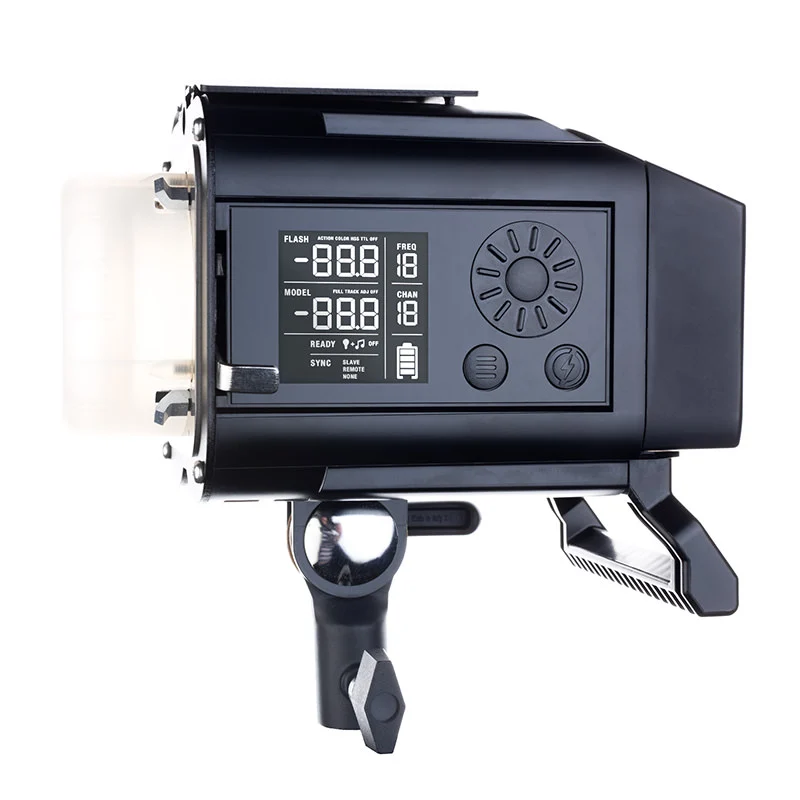 While users can control and adjust everything they'd need from this interface, taking advantage of the new HUB and Buff Mobile App for iPhone and Android devices will give them much faster, easier, and frankly, more creative control over the system.
Creative Colors Made Easy
Paul C. Buff has taken the quick gel application game a step further with its magnetic color gel dome system. The Gel Domes, designed to work on both the Link and Celestial lights, give creatives the ability to very quickly and easily add a touch of color (or even color correction) to their lighting setups. In only seconds, users can quickly add or swap out the rubber color gel domes thanks to the tiny magnetic pins that snap right onto the face plates of the Link and Celestial lights. They are designed in such a way that they can be used with any Paul C Buff reflector, softbox, PLM umbrella, stripbox, beauty dish, or octabox without being in the way or obstructed by the modifier.
The $64.95 Color Gel Dome kit comes with a one-year warranty and eight gels including Yellow, Orange, Magenta, Blue, Teal, Green, Purple, and Red. The $24.95 Color Correcting Gel Domes come with the same one-year warranty and includes a Full CTO gel as well as a Full Plus Green gel.
The Buff HUB And Mobile App Brings It All Together
There is no shortage of triggers available to work with Paul C. Buff lighting solutions, however, the HUB gives users something a little different that allows for a little more creative freedom. The hub features a hot-shoe mount on top of the remote that gives users the ability to connect their speed lights to be used in tandem with the Celestial light system, also giving full TTL high-speed sync functionality.
The Hub itself gives users access to some limited settings it can change including enabling/disabling of Bluetooth for Smartphone connectivity, Center Pin Triggering, the screen brightness of the hub (lower to save battery life), enabling TTL or Manual flash modes, and setting the frequency and channel for the Hub from 1 to 16 respectively. Why so many of each? It might be a tad bit of overkill, but through the Paul C. Buff Celestial system, you could theoretically have 16 photographers, each with up to 16 lights, all shooting simultaneously with HUB's and apps without interfering with any other photographers setup.
Currently, the HUB system natively supports Canon and Nikon, with Sony and Fujifilm support anticipated to arrive this coming fall 2023.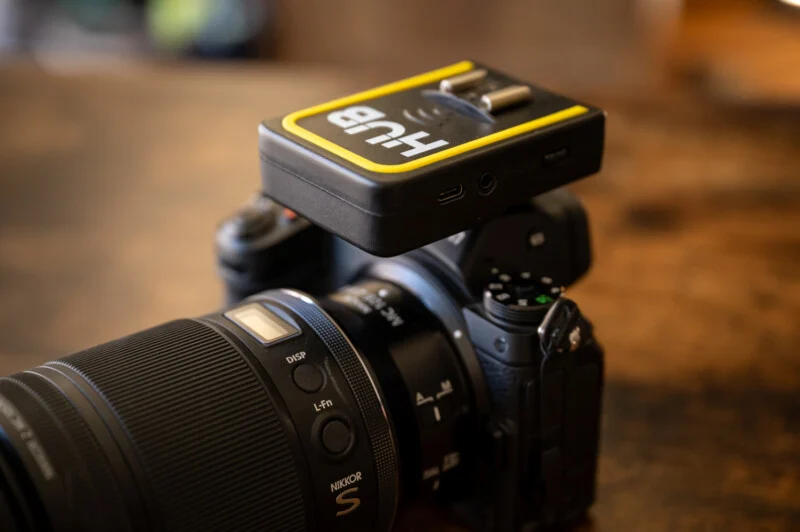 To access the full range of settings and details available through the Celestial light, you'll need to take advantage of the Buff mobile app (Available on Android and iPhone devices) where users can access every single detail of the light ranging from the settings and intensity of the modeling lamp, shoot modes (Action/TTL/HSS), enabling/disabling the slave cell, setting up light configurations, and even accessing the full library of support videos and product details through the Paul C. Buff website direct links built into the app.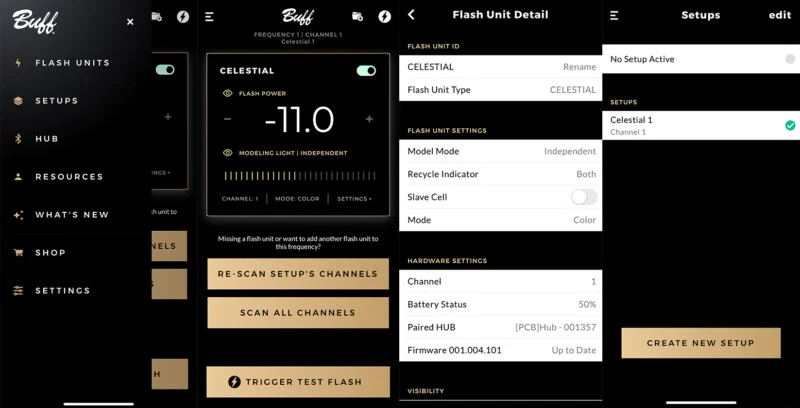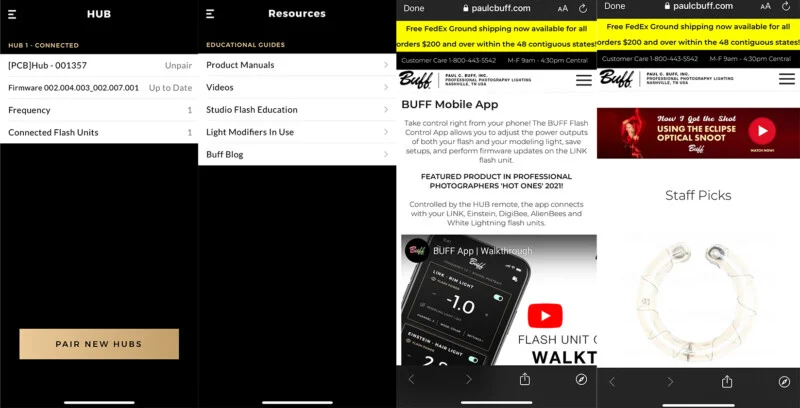 Diving into the "Setups" a little further, using this mode within the Buff app, creatives can label and pre-program their light setups for fast and easy changes. For instance, as a headshot photographer, once you've positioned your lights and got the right power levels for each one, through the Setups section of the app you can save the lights power settings so that the next time you use them you can easily just re-load that setup and be ready to go in an instant. Basically, if you have a collection of lights, you can have them clearly labeled physically and within the app so you can easily load pre-set levels for each light based on your goto looks, making it an incredibly steam-lined workflow, saving you a ton of time on set.
Why Is This A Big Deal?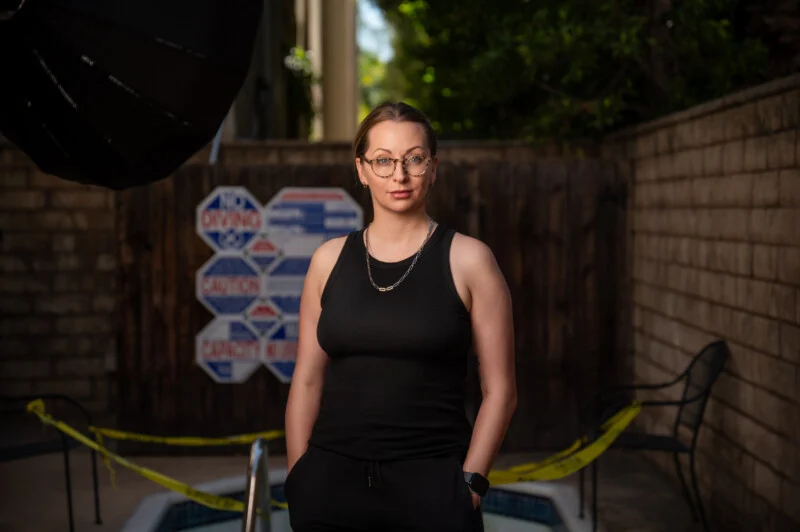 As mentioned above, the Celestial system from Paul C. Buff offers users a fully portable and incredibly powerful 500W light system at a significantly lower cost and lower weight than its competition. For about the price of a single Profoto B10x Plus, Paul C. Buff users can get four battery-powered lights to create some incredible and complex images. Throw in the added bonus of an incredibly fast color correction and creative color gel system and you've got yourself something incredibly special for beginners and working pros alike.
For photographers who like to add creative colors to their work, the new magnetic color domes from Paul C. Buff just make things incredibly fast and easy to deal with both on set, and especially on location. Using traditional gel sheets with gaff tape or adapters which get in the way of additional modifiers can get very very messy and even frustratingly slow sometimes to deal with, especially when the other lights get too hot and makes the tape fall off, or even worse, melts the gels directly.
Not only would this ruin the pace of your shoot, it could even bring it to a crashing halt if you happen to actually destroy the color gels you needed to get the right look and vibe of the project. Plus you'd be left with a ton of sticky residue over all of your modifiers and light.
Leveraging the magnetic gel system will allow users to quickly change the colors on the lights as well as changing or adjusting the modifiers without having to completely untape and retape up the gels to a new setup.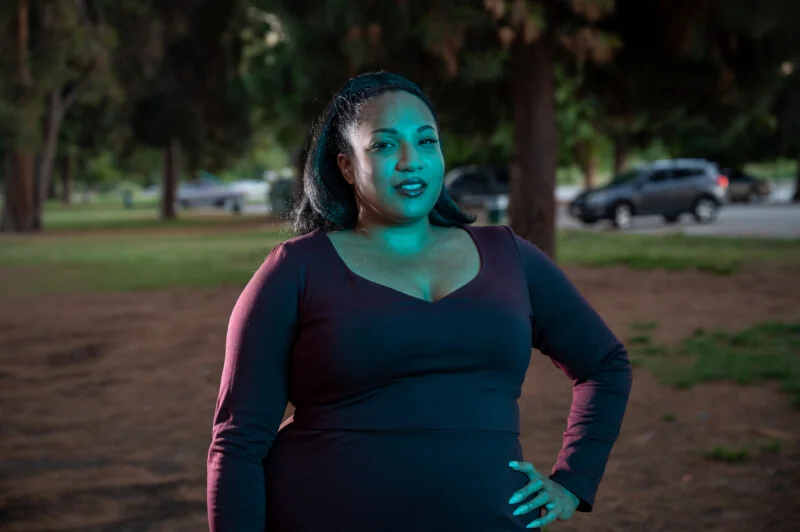 During our usage of these lights, we were able to swap out the colors (and modifiers) in just a few seconds as we didn't have to struggle with physical light domes that some other light brands have.
Below are a few other photos I shot using the Celestial: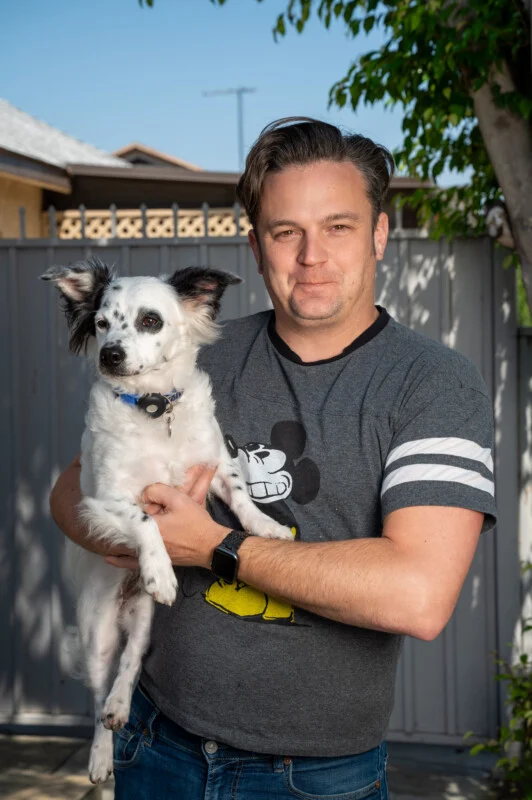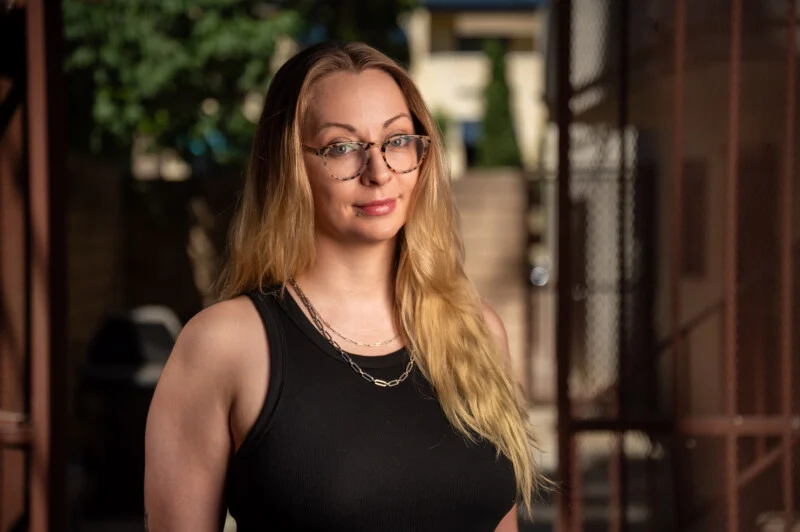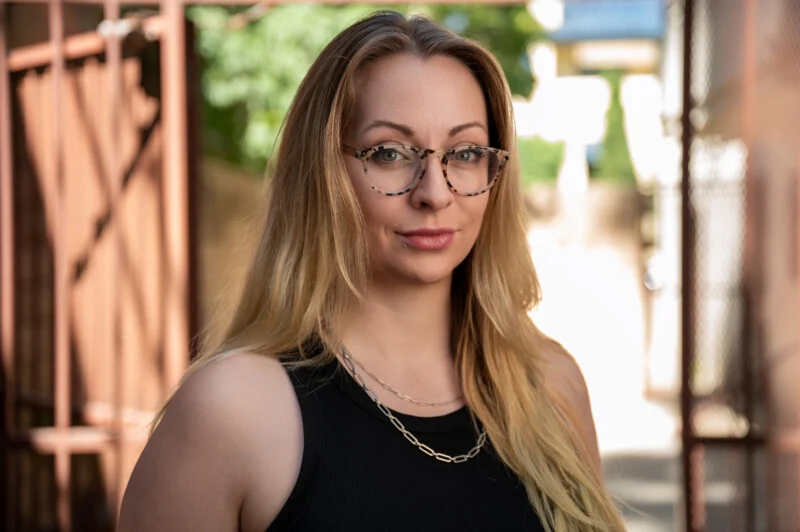 Where Can You Find Them?
The $649 Celestial Light and Accessories are available now from the official Paul C. Buff store as well as Amazon, Pixel Connection stores, and other third-party retail spaces coming soon. The Light includes a magnetic diffusion dome, the shipping cover, the battery, charger, and flash tube/light itself. In addition to each unit coming with a 2-year factory warranty and a 30-day Absolute Satisfaction Guarantee, the company says that thanks to the growing success of the Celestial and substantial customer feedback, it will provide free shipping on orders of $200 or more.