Panasonic Intros 16MP LUMIX GF7 Mirrorless Camera with Easy Selfie Functionality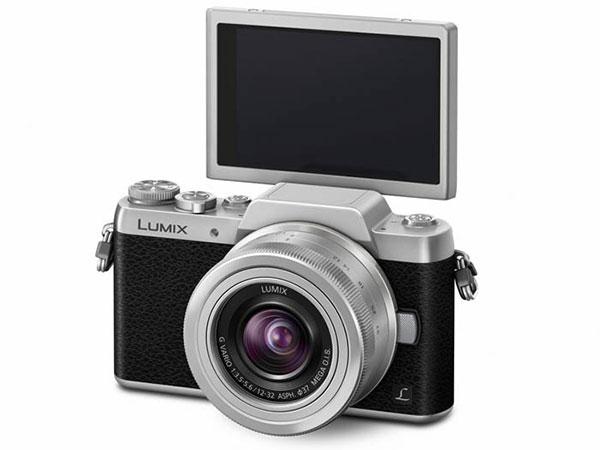 Panasonic just introduced the new 16-megapixel DMC-GF7 mirrorless camera. The Panasonic GF7, like the new Fuji XA-2, offers selfie-friendly shooting features including a 180-degree flip-up monitor in a classic styled camera.
The rear monitor is a 3-inch (1,040K-dot) touch screen LCD that offers touch control. The screen tilts up to nearly 180 degreess and puts the camera into Self Shot mode automatically to help you take better self-portraits (aka selfies). In Self Shot mode, a variety of functions for selfies—such as Face shutter, Buddy shutter and Beauty functions—are enabled. With Wi-Fi connectivity, users can connect the camera to their smartphone or tablet to expand shooting flexibility.
Pairing the camera and the smartphone is a relatively simple process. It is possible to use a smartphone or tablet as a multi-capable remote shutter for the GF7 with a monitor. With the Instant Transfer function, photos are automatically sent to the smartphone or tablet immediately after shooting. Both photo and video files can be archived to a computer via the wireless access point at home. The GF7 now integrates Jump Snap which lets users photograph themselves jumping as if they are flying using a remote control function via Wi-Fi.
The GF7 also features full HD 1920x1080, 60p (60 Hz) high quality video recording in AVCHD progressive and MP4 with stereo sound. The practical full-time AF and tracking AF are available in video recording as well. The cinema style 24p video (with the bit rate of maximum 24 Mbps) provides expressive afterimage with good image quality. The GF7 features a new video recording option called Snap Movie mode which lets users record video in designated short period of time (2/4/6/8 sec.) as they shoot "moving photos". The IA (Intelligent Auto) mode and the Scene Guide make GF7 easy to use even for beginners. Portrait, Child, Scenery modes have shortcuts on the dial.
The Panasonic GF7 is available in black and pink with a 12-32mm kit lens. The GF7 is slated to go on sale at the end of February/beginning of March timeframe for $599.
More info on the Panasonic GF7 here.

FEATURED VIDEO