Panasonic Intros 16MP Lumix G7 Mirrorless Camera with 4K Video/Photo Shooting (Hands-on Photos)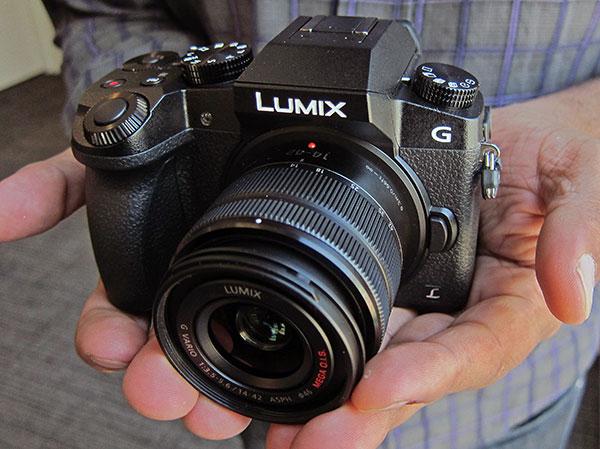 Panasonic took the wraps off the new Lumix DMC-G7 mirrorless camera this morning. The Panasonic Lumix G7 features a 16-megapixel Micro Four Thirds image sensor and can shoot 4K video. The G7 is also the latest Panasonic camera with 4K Photo, a feature that allows you to extract 4K-sized (approximately 8MP) still images from the 4K video.
Shutterbug got some time with a prototype of the Panasonic G7 ahead of this morning's launch and we have included some hands-on photos of the camera in this story.
The Panasonic Lumix G7 (which replaces the G6) is designed to be fast. The G7 is powered by the new Venus Engine processor that's in the GH4 model, and features a "quick response" Contrast AF (Autofocus) system with DFD (Depth from Defocus) technology, which is also in the GH4. According to Panasonic, DFD calculates the distance to the subject you are capturing by "evaluating two images with different sharpness levels while consulting the data of optical characteristics of the current lens at that moment."
The result is the Panasonic G7 is even a faster focuser than the GH4 with an AF lock speed of approximately 0.07 seconds, according to Panasonic. Burst shooting speed is significantly faster on the G7 than its predecessor, with the ability to shoot at 8 frames per second, and 6 fps with continuous autofocus. There's also a Low Light AF mode that allows you to lock in focus with an AF assist lamp in extreme low-light situations down to -4EV, which is as dark as moonlight.
Meanwhile, a new Starlight AF feature, allows photographers to lock in and capture a star in the night sky with autofocus. According to Panasonic, this can be achieved by accurate calculation of contrast value in each tiny AF zone.
Sports photographers will like the Panasonic G7's revamped algorithm for AF Tracking, which lets the camera to lock in on the subject more securely. Panasonic said the AF tracking performance in the G7 is approximately 200% or greater which will help prevent the camera from losing the subject (such as fast moving athletes or even race cars).
But perhaps the most intriguing feature of the Panasonic Lumix G7 is the 4K Video/Photo features. The camera can shoot 4K video in 3840x2160 at 30p or 24p in MP4, along with the Full-HD 1920 x 1080 60p video in AVCHD Progressive or MP4 (MPEG-4 / H.264) format with practical full-time Auto Focus (AF).
Photographers can also lock in on a single image in the 4K stream using the Panasonic's 4K Photo feature. According to Panasonic "users can extract fleeting photo moments at 30 frames per second in printable 8-megapixel equivalent resolution, by playing back and extracting a precise photo frame of a special moment from the 4K file to save as a photo."
Three new modes on the G7 are designed to make 4K photography even easier. They are 4K Burst Shooting, 4K Burst S/S (Start/Stop) and 4K Pre-burst. Here's how Panasonic describes these new 4K Photo modes in today's press announcement:
"The 4K Burst Shooting allows almost unlimited shooting at 30 fps, which can be initiated by pressing the shutter button and releasing it once you are satisfied the image has been captured. The 4K Burst S/S (Start/Stop) mode starts consecutive shooting with a single press of a shutter button and stops it with the second press, which is more suitable for the shooting opportunities requiring longer waiting time. And the 4K Pre-burst automatically records a total of 60 images right before/after the shutter release. All of three 4K Photo modes allow you to save images in 8-megapixel equivalent high resolution; 3840x2160 (16:9), 3328x2496 (4:3), 3504x2336 (3:2), 2880x2880 (1:1) without missing that unique photo opportunity."
The Panasonic Lumix G7 uses a 16MP Digital Live Mos sensor in the Micro Four Thirds format. It features some design changes from its predecessor, with a more angled, retro-style camera body. (The G6 featured more rounded contours.) There's a new drive mode dial for the 4K video features, along with front and rear dials for the G7's other imaging funtions. The G7's handgrip is larger and more ergonomically designed from the previous model.
There's also a 3-inch, flip-out rotating rear display with 1040K-dot high resolution that offers approximately 100% field of view. The new screen boosts the maximum luminance by more than 50% compared with the predecessor, giving the G7's display better visibility even when shooting outdoors in sunny conditions.
The Panasonic Lumix G7 goes on sale in mid-June in three configurations. There is a black version and a and a pewter/gun metal version that come with a 14-42mm kit lens. Both of these version will sell for $799.99. There will also be a black version with a 14-140mm kit lens that will sell for $1099.99.

LATEST VIDEO