Our 5 Favorite Photo Gadgets & Gizmos: Stylish Gift Ideas for Men
JACK Compact System Camera Bag: Sleek and fashion forward this weather-resistant camera bag is durable and features top-grain leather trim with a padded interior and adjustable dividers. Double zip top opening allows for easy access to your gear and the interior zipper pocket safeguard your small valuables. The outside pocket hold your keys and smartphone, the convertible strap lets you carry the bag cross-body or on your shoulder there are also convenient loops to carry on a belt. The JACK measures 9.25x3.25x7 inches and weighs just one pound. It can fit a compact system camera body, 1 or 2 small interchangeable lenses and a Smartphone. The suggested retail price is $49.99.
More info on the JACK bag here.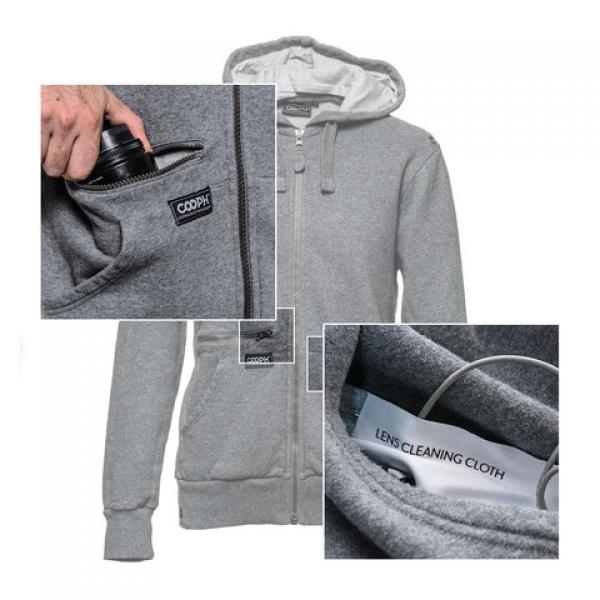 Cooph Hoodie HANDS ON: This comfortable and warm hoodie features a special lens pocket (that is zippable for extra safety) and a lens cleaning cloth in hidden, zippable pocket. This hoodie has buttons that allow you to neatly fold the jacket into a camera wrap or a pillow. Crafted from 100 percent cotton, the sizes include small, medium, large, X-large and XX-large. Color choices include blue, black, green and gray. The suggested price is 119 Euros (which is equal to about $126.44).
More info on the Cooph Hoodie here.
Tenba's Packlite Travel Bag for BYOB : The Tenba Packlite 9 is a completely collapsible, self-stowing camera bag that takes up almost no space and is under half a pound. Simple pull the bag out from its self-stowing mesh pocket and drop in a Tenba BYOB insert, you have an instant lightweight camera bag complete with a quick-access top zipper and a side mesh pocket for a water bottle. Packlite bags come in four sizes to pair up with each of Tenba's BYOB inserts. They can carry everything from the smallest mirrorless camera systems in the Packlite 7, to mid-size mirrorless in the Packlite 8, a DSLR with an attached 24-70mm 2.8 in the Packlite 10, up to a pro body with a 70-200mm 2.8 in the Packlite 13. The bags can be stowed inside any larger camera bag, or even clipped to the outside, so you always have a smaller, lightweight camera bag option wherever you go. The suggested retail price is $22.95.
More info on the Tenba Packlite bags here.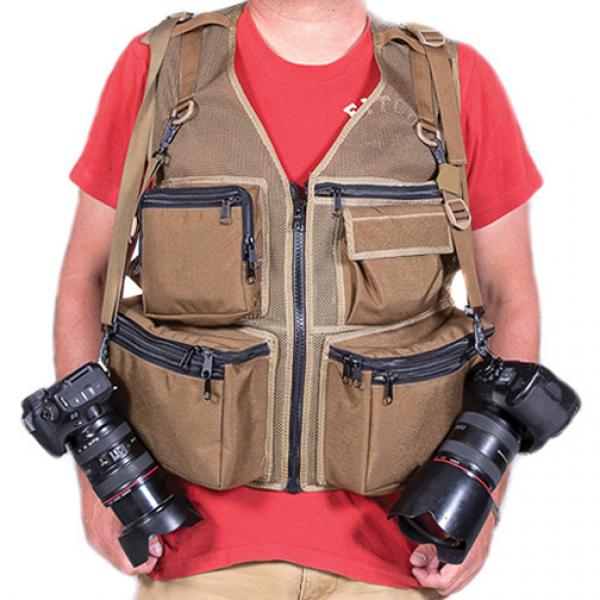 The Vest Guy M&M Travel Photography Vest: The black-mesh M&M Travel Photography Large Vest's 14 pockets (12 outside and 2 inside) allows you to easily carry all of your photo gear, for street photography or traveling. The vest comes with a hydration sleeve. It has a hook and loop fastener front and back, which enables you to personalize the vest with your name or your business name, or website. The two lower cargo pockets have inside/outside zipper pockets. The upper pocket is on top of the outside zipper. The opposite side is a utility pocket, which has inside and outside zipper pockets with elastic inside to hold batteries and memory cards. A D-ring and a key clip inside the utility pocket allow you to attach things, if needed. In addition, the vest has a convenient carry handle and comes with a camera strap. Features include a carry handle and comes with a camera strap, elastic pockets inside the utility pocket for batteries and memory cards. Sizes include medium, large, 1XL, 2XL and 3XL. The suggested retail price (for size large) is $219.95.
More info on the Vest Guy M&M Travel Photography Vest here.
Heat 3 Smart Gloves: These rugged gloves were first designed for European Special Forces for warmth, grip and dexterity—Heat 3 Smart Gloves are also ideal for winter photography. Featuring quality construction, the outer shell is made from an elastic microfiber with water resistant and breathable qualities. The palm has full goat leather for added grip, warmth and durability and the insulation is Primaloft for optimal warmth. With a mitten and glove design, a zipper across the palm opens up to expose the fingers for working your camera. A magnetic clip holds the mitten top in place and the thumb cap uses velcro. Heat packs can be installed on both sides of fingers and in the wrist. A drawstring around the wrist of the extra long cuffs keeps snow out and wrist safety harnesses are included. The thumb and index fingers are conductive for touch screen operations. Sizes include: XX small, X small, small, medium, large, XL and XXL and the color choices include black or green. The suggested retail price ranges from $199.95 to $189.95.
More info on Heat 3 Smart Gloves here.

FEATURED VIDEO