Our 5 Favorite Photo Gadgets & Gizmos: Hot Gift Ideas
Sunpak VL-LED-96 Compact Video Light: This small device provides high-power illumination for your camcorder (or HDSLR camera) with the aid of its 96 ultra-bright LED lights. It helps in capturing high-quality images in standard 4:3 and wide 16:9 HD formats. The LEDs emit a warm light and never get hot. This compact light helps deliver better color, contrast and clarity when shooting video even in low-light situations. It comes with a shoe or standard 1/4x20 mount that makes the light compatible with all HDSLR cameras and camcorders. It is powered by four alkaline/Ni-MH batteries. In addition to a variable power output control, the video light features a color 3500° K color correction filter and soft-light diffuser. The suggested retail price is $39.95.
More info on the Sunpak VL-LED-96 Video Light here.
Blackrapid's Kick Camera Strap: This lightweight, durable camera strap was designed by women for women and features an ergonomically curved shoulder pad that allows the strap to lay comfortably across the center of the chest. The strap can be made longer or shorter for a perfect fit and it customizable in your choice of black, floral, grey, cobalt and pink. It is compatible with Blackrapid's Joey 1, Joey 2 and Joey 3 as well as the Bert and Buck and it comes with a LockStar. The suggested retail price is $61.95.
More info on the Kick Camera Strap here.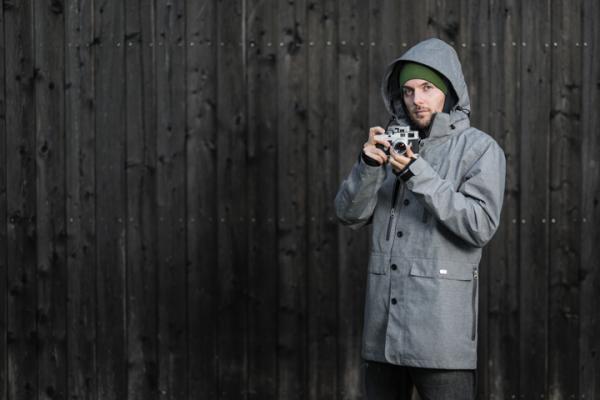 COOPH Rain Jacket: COOPH recently introduced their new Rain Jacket. The features include a special quick-access zipper to grab the camera, an inner pocket for a long lens or a tablet and an extended shapeable hood (to cover the lens when shooting in stormy conditions). It also has elasticated cuffs for added protection from the rain. The 100 percent waterproof (and breathable) jacket is designed with the needs of photographers in mind—offering freedom of movement to accommodate any shooting position in any kind of weather. The COOPH Rain Jacket's stylish and clean design makes it as at home in the urban streets as it is on assignment.
More info on the COOPH Rain Jacket here.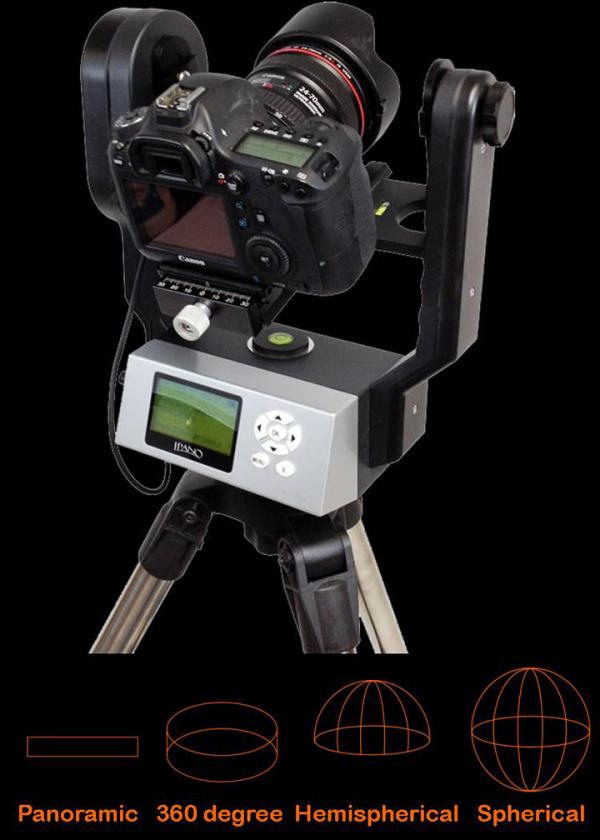 iOptron's iPano AllView Pro Spherical Imaging Camera Platform: The iPano AllView Pro spherical imaging camera platform is an automated DSLR camera platform, designed to capture a series of images that can be combined to create a "gigapixel" image. The device commands the camera to shoot photos as it moves from target to target creating images ready for use in panoramic stitching software. The iPano AllView Pro can capture images on both horizontal and vertical planes. Users simply set the field of view (camera and lens FOV), aim the mount and camera at the lower left corner of the desired image area, then retarget the system at the upper right hand corner of the image area and the iPano automatically calculates the position and number of shots needed for the final image. When the images are captured users just transfer the images into the stitching software to create panoramic, 360-degree, dome/ hemispherical or spherical images.
Features:
Works with most DSLR cameras and lenses
Can be operated as an AllView mount or a rotating mount
11 pound payload for AllView and 22 pound payload for rotating mount
Weight: 7.3 pounds
High resolution and high precision
High stability with zero backlash design
Two camera mounting positions: horizontal or vertical
Low power consumption for long operation time
Lithium rechargeable batteries
Built-in WiFi connection for computer/tablet/smartphone
Included iPano Commander for computer control
Remote, RS232 and RS485 ports for remote control
Customer firmware upgradeable
Self-locking during power outage
Padded carrying bag, camera remote cables and charger included
Includes Easy Pano Panoweaver 9.1 standard edition "stitching" software.
More info on the iPano AllView Pro spherical imaging camera platform here.
Mini Rigs from Redrock Micro's Mini Rigs For Mirrorless Cameras: Small and affordable, the Mini Rigs are idea for shooting video with a Sony Alpha ( or other cameras). Mirrorless cameras can record high-quality video too, but their small size makes capturing stable shots very difficult. Built-in optical stabilization is good for photos, but it doesn't help when moving the camera during video shoot. Mini Rigs make it easy, with three configurations for the most common shooting styles, support options to attach camera-top accessories, and infinite expansion possibilities for building any rig you need.
Choices Include:
Mini Handheld Rig: Fast and stable, with three points of contact to keep your shots steady.
Mini Shoulder Rig: Comfortable for all-day shooting, with ergonomics including the self-leveling shoulder pad with FieldTech.
Mini Studio Rig: Classic shooting style using tripod or dolly.
Mini Rigs are made for use with the smaller cameras including the Sony Alpha A7S II, A7S, A7R II, Panasonic Lumix GH4, GH3, as well as DSLR cameras including Canon 5D series, Canon 7D series, and Nikon D810 series, D600 series, and D7000 series. Redrock Mini Rigs are priced starting at $299.
More info on the Mini Rigs here.

FEATURED VIDEO