Online—On The Road; A Virtual Back-Up System
Do you have an answering machine in your home—the kind that uses tape or digital media? Like millions of other Americans you've probably discovered that virtual, online services are more reliable than mechanical ones—especially when you travel for extended periods. You can access an online voicemail inbox from any telephone at any time of the day or night. And you never have to worry about power outages—or the cassette filling up or getting jammed. The same notion applies to image (and data) online services. Here are three online options every traveling photographer should keep on their radar.
The Jungle Disk Connection
The Jungle Disk Connection
In actual use, Jungle Disk is as easy as can be because you are already familiar with every action that's required—there's nothing new to learn or remember. And it's fast, too, limited only by your broadband connection. Start by downloading the front-end application. The file I tapped was their workgroup app. It's 4.2MB and took about 1 minute to install. I had the option of configuring my new storage area for automatic backups, as a manually-accessed network drive, or as both. Setting up Jungle Disk as a network drive took only seconds—it was simply a matter of clicking a couple of radio buttons.
After installation it was necessary to restart my PC, and when I did I saw a new icon when I clicked My Computer. Jungle Disk sits there looking just like any network drive—any network drive of unlimited capacity, that is. You can use Windows Explorer to open, write, read, etc. the drive in the same way that you'd prod and poke any physical drive. Or just open it as a folder and drag files to it.
Uploading a folder that contained image files that totaled 45MB took just seconds. As stated, transfer speed depends on your broadband connection, but there is no bottleneck on Jungle Disk's end. In fact, it felt much speedier than copying files to one of my USB-connected external drives.
Click Into My Office
If you are a working professional who is on assignment and is expected to share results with an editor or client on a regular basis, a secure image-sharing website can save you time and aggravation. Using an online image-sharing site to host your images is like taking your office on the road. Whether you are in different time zones or merely keeping unlike schedules, it's more practical for everyone to be able to upload and download images at their convenience. And even if photography is your avocation and not your income source, one picture is worth a thousand phone calls—you can share images with friends and family in the same manner.

Be sure to use a service that allows you to create password-protected albums and grant access on an individual basis. Phanfare (www.phanfare.com) is one such provider. They utilize Amazon Simple Storage Service (Amazon S3) to provide ultra-secure storage and backup for all customers' videos and photos at multiple data locations across the US. The first 1GB of storage is free, and unlimited storage is available for just $55 per year. All images—which are stored at full resolution—can be kept from public view or shared with specific individuals—you control the access rights. And Phanfare provides daily reporting of who viewed which albums. They also offer multiple upload options—including wirelessly from iPhones—and various printing services (should you be in need of a one-stop shop).
Jungle Disk allows you to schedule automatic backups at your convenience. Accessing files is as simple and intuitive as clicking a desktop icon.
Backed Up Safe And Secure
No matter where or how you travel, the images you capture are always at risk. Backing up your memory cards to a notebook PC or digital wallet helps. So do protective cases for original memory cards. But Murphy is a sneaky fella, and his law often prevails. Do the smart thing and upload your images to a secure online storage site so you can chuckle in the face of disaster. Many sites offer this service, and some are better than others.

Jungle Disk (www.jungledisk.com) stands out from the pack for several reasons. First and foremost, they offer a pay-as-you-go approach, so you only pay for the storage space you actually use. This is a real advantage if your needs change from season to season—or from month to month. You'll use Jungle Disk at home for routine backup, let's say, but when you're on assignment (or vacation) your requirements may balloon. No problem; there is no monthly subscription fee and no annual commitment. You can store an unlimited amount of data for only 15¢ per GB, and your data is fully encrypted at all times. Like Phanfare, Jungle Disk uses multiple Amazon.com data centers for high security, data integrity, and optimum availability. Best of all, perhaps, Jungle Disk is easy to use. Once their proprietary front-end software is installed you can click on a desktop icon and browse your data just as though it were on a local drive. You can even schedule automatic backups.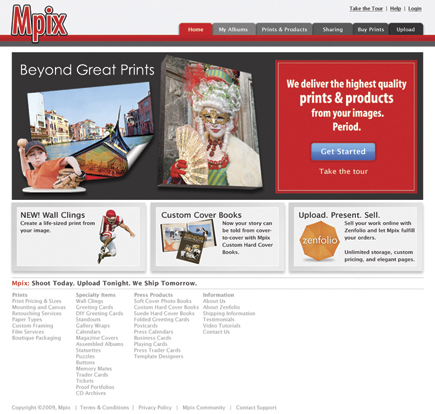 Mpix offers the widest selection of printing and finishing options you'll find anywhere, plus they've partnered with Zenfolio and can seamlessly print and ship the images you sell online.
Order Take-Out Or Home Delivery
If you've ever tried to fly with a full-sized inkjet printer you know it's easier to travel with an open box full of baby snakes. On-the-road printing is a pain. I know people who are so resistant to packing a printer that they wait until they get home—and rarely get caught up with the backlog. Instead of futzing around, simply transmit your image files to an online print vendor and your finished prints will be home before you are. Online services are the place to turn for oversized prints, too. If you need a few perfect enlargements you can have them delivered to your door within a day or two.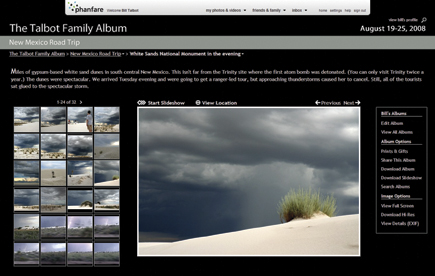 Phanfare provides a powerful set of album controls that allow you to share images, restrict access, add extended image descriptions, produce slick slide shows, and more.
One such lab, used by pros as well as enthusiasts, is Mpix (www.mpix.com). It's a division of Miller's Professional Imaging and as such they are part of the largest professional photography lab in the US. Mpix offers a complete line of printing services and in my experience prints are packaged the way you'd pack them yourself, and print orders are generally shipped within 24 hours. They've partnered with Zenfolio so you can you can upload, present, and sell your photos on Zenfolio and have them printed by Mpix—all while using one convenient service provider. That means you can shoot, sell, print, and deliver your work—all before you return home from your journey.

LATEST VIDEO

SPONSORED VIDEO