Novoflex's Panorama=Q PRO; When A Wide Angle Lens Just Won't Get It!
Novoflex has long made a series of what they call panorama plates and what the rest of us call panorama heads, although they really are closer to being a plate than a head. At photokina 2006 the company added two new versions of these precision-machined products. Like all kinds of support-related products, the Novoflex Panorama=Q and Panorama=Q PRO are media-passive, not digital-specific, so you can use either one with a film camera or digital SLR.
Here are four of the five images used to create the five-shot panorama of the exotic car showroom. As you can see here, frames should overlap by 1/3 or 1/4, but you should always check as you pan to the next increment to make sure you have sufficient frame overlapping between shots.
All Photos © 2006, Joe Farace, All Rights Reserved
Pick A Panorama
The free-rotating Panorama=Q has two 180Þ scales with 10Þ markings and an integrated spirit level to help maintain exact horizontal adjustment of the camera. A handy knob lets you accurately lock the camera into any desired position. The integrated quick release is part of Novoflex's Q=Mount System and takes some getting used to, but is surprisingly effective.

The Panorama=Q PRO name reveals the professional orientation of this panorama plate and it's the one I tested. A blue adjustment knob enables you to choose from eight different click stops and the numbers on the knob are the number of detents in a full circle. If you do not want any detents, turn the knob counterclockwise to 36 and use the smaller gray knob along with the 360Þ scale to lock down the camera and, in effect, turn the PRO unit into a larger version of the free-rotating Panorama=Q. Otherwise you can choose between the following adjustments: six click stops in 60Þ steps, eight stops in 45Þ steps, 10 stops in 36Þ steps, 12 stops in 30Þ steps, 15 stops in 24Þ steps, 18 stops in 20Þ steps, 24 stops in 15Þ steps, or 36 stops in 10Þ steps. Keep in mind that the number of steps is based on what it takes to produce a 360Þ series, not just the 3-5 shots that most panoramic photographers want, but it's there if you need it.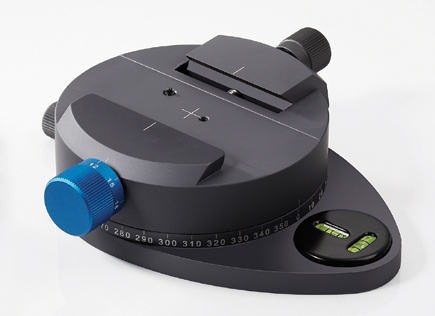 A special cross spirit level guarantees accurate adjustment of the camera and using it to level the camera is the first step in creating a panorama. Both panorama plates are compatible with most tripod heads and I preferred using it with the Tiltall's flat mounting surface and using its two adjustment handles to make leveling a snap.

The Panorama=Q PRO also uses Novoflex's Q=Mount System. At first the system seemed awkward because I kept expecting it to work like other quick-release systems, but I quickly got used to its simplicity and ruggedness. Loosen the knob opposite the blue "panorama" knob and slide off the camera attachment. Next, you'll need a screwdriver to attach the Q=Mount to the base of your camera, but in the field, my Swiss Army Knife worked perfectly. Slide the mounted camera back on, tighten the blue knob, and it's secure. It lacks an arrow showing which way the lens should face, as in Manfrotto's quick-release system, and that's important so your camera doesn't cover the level. If you can read the Novoflex name on the mounting from camera position, you'll be OK. If it covers the level, turn the camera 180Þ. This may not be as fast to quick mount as some others but there's no doubt that once attached, the camera's not going anywhere.
The Virtual Reality Photography Slate Book (www.vrphotography.com) is indispensable for panoramic or VR photography. It measures 4x6" so you can keep it in your pocket.
In The Field
I received the Panorama=Q PRO during the coldest part of Colorado's winter, and being a wimp in my old age I decided to first try it indoors. Anyway, creating an indoor panorama has its own set of challenges. Let's take exposure: You have to shoot in Manual mode because any of the camera's Auto modes will try to optimize an individual frame, and when combined using Photoshop CS3's (beta) Photomerge as I planned to do, the segments won't match. The same is true for color balance. Auto White Balance normally works great but having five shots each perfectly color balanced won't work in most indoor settings. Then there is the question of how many segments to shoot.