Nikon NX Studio: View, Process & Edit Photos and Video With This Amazing Free Software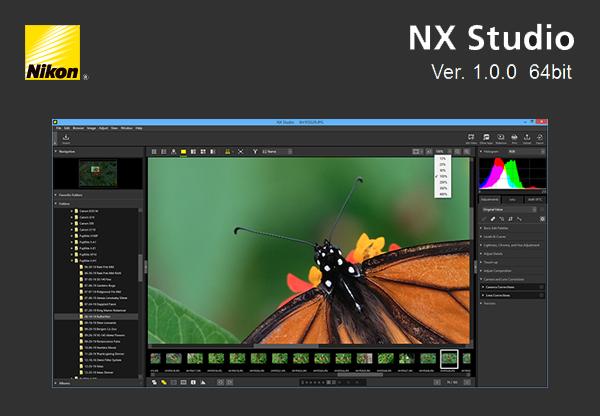 Nikon just released NX Studio, a new all-in-one software application that integrates functions from Nikon ViewNX-i and Nikon Capture NX-D. It's available as a free download and you don't have to shoot with Nikon to use it.
Can't wait? Neither could we. Go to the download site now and get it.
For MacOS 10.14 or higher, and Windows 8.1 or Windows 10 users (minimum system requirements here.)
Nikon NX Studio integrates the image viewing features of ViewNX-i and processing/editing features of Capture NX-D. It works in collaboration with a suite of other Nikon software, including Camera Control Pro 2, Picture Control Utility 2 and more. Nikon users (and users of other brands, or enthusiasts who own Nikon and other brands) can do much of their editing of still images and video in one place instead of changing browsers.
The software is compatible with JPEG and TIFF plus NEF and NRW (Nikon's Raw format) files. You cannot edit DNG or Raw files from other manufacturers. Users can access Picture Controls, White Balance, Exposure, Active D-lighting, Noise Reduction and more options found in many Nikon cameras, and menu items and many labels match those used with Nikon cameras, so Nikon owners feel right at home.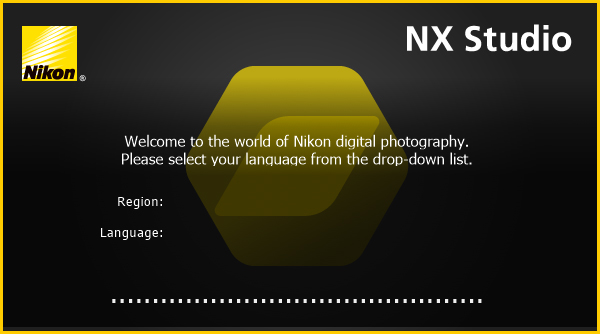 Installation is a snap. After downloading the free software, click on the installer and follow on-screen directions.
Once installed, operation is simple and very intuitive. Nikon NX Studio offers a variety of viewing options, including the traditional thumbnail display, filmstrip with both horizontal and vertical preview options, location data, metadata, side-by-side comparisons and full screen images.
It's not a full-blown image editor per se, but Nikon NX Studio provides tools to crop or straighten an image, do light retouching and make various corrections. You also can adjust Picture Controls or adjust colors and exposure in portions of the image.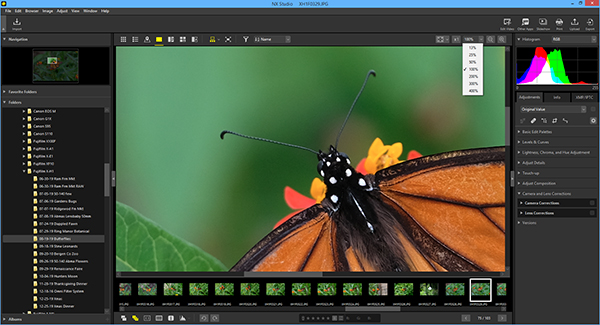 And it does things that other editors can't. NX Studio has the most popular features from Capture NX-D and Capture NX 2, including Color Control Points. Using Color Control Points, users can apply image processing to the range of colors they select—without disturbing other colors outside that range. Plus they can easily adjust brightness, saturation, hue or contrast limited to the chosen radius and to objects of similar color in the selected area.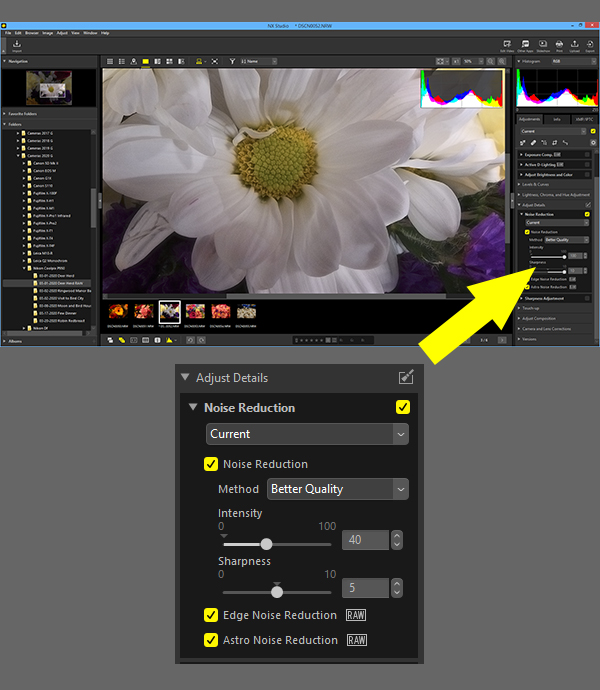 Without leaving the Nikon NX Studio application, users can perform light editing of movie clips by launching the built-in Movie Editor. Trim unwanted segments from movie footage, add background music, splice multiple clips together into one video and create slide shows that include both still images and videos.
And—again without leaving the self-contained Nikon Studio-NX universe, users can post directly to Nikon Image Space (free to join) or YouTube.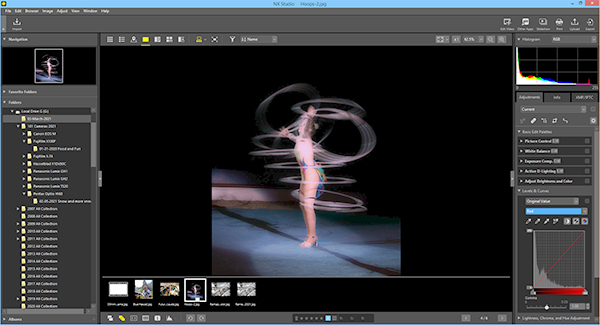 One last thing. In addition to being robust, Nikon NX Studio is fast. Very fast. Fast on startup, fast changing display layouts, fast when processing image files. All in all, it's a solid and dependable performer that's build on existing apps that had already established a reputation for performance and reliability.

FEATURED VIDEO