The Nikon AF-S DX Zoom 12-24mm f/4G ED-IF Lens
Digital Wide Angle Photography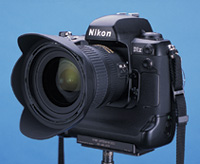 Attached to the Nikon series of D-1 cameras this new 12-24mm zoom is just the ticket for those looking for a true digital wide angle lens. Scalloped hood is standard equipment and protects the lens from flare during normal shooting sessions.
Like modern automobile engines, most digital cameras equipped with interchangeable lenses seem to have most of their power or torque at the high end of the focal length scale. In digital SLRs with smaller than full-frame sensors, your 300mm might be a 450mm and the 500mm a 750mm lens, all without any converters or tele-extenders. For outdoor and wildlife photographers this has been a blessing. However, on the lower end of the scale digital photographers have been shortchanged when it came to true wide angle lenses, as when a 20mm "film" lens comes out to around 30mm focal length. And even if you have the means to own one of Nikon's 14mm lenses, your angle of attack is still only 20mm, no matter how you cut it on the image plane.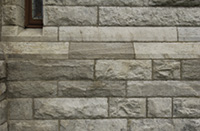 A good way to tap into the sharpness of any lens is to try it on a plain, but textured wall. At f/11 the lens is sharp right out to both the corners and edges and the lines are straight when the camera is held level.
Photos © 2004, Stan Trzoniec, All Rights Reserved
For Nikon owners this dilemma may be solved. Part of the DX series, the 12-24mm f/4 lens is much smaller than most of its counterparts of the same focal length(s). As with the DX series the lens is designed to be used on digital cameras only, so don't buy this lens with the hope of getting multiple use out of it on both film and digital cameras.

In physical dimensions this is a compact lens even as it has the ability to use the now popular 77mm filters. Checking in at just over a pound (1.07 lbs), fit and finish is right up to current Nikon standards. Travel photographers will enjoy its petite 3.2x3.5" outer dimensions, as space is always at a premium in one's camera bag. The supplied HB-23 lens shade adds a little bulk to the finished product, but not enough to be noticed, and with its modern scalloped design compliments the lens fully.
Norman Rockwell's studio is photographed with a dramatic angle thanks to the 12mm setting on this new lens.
Construction wise, Nikon started with a polycarbonate lens barrel for durability and it is finished in a matte black to match current D-series bodies. From there you have twin rubber rings for both zoom and manual focusing control. The lens incorporates the AF-S Silent Wave motor for near instant acquisition of your subject and included is the M/A (Manual/Automatic) or M (Manual) slide switches on the left side of the lens barrel.

The former allows the user to touch up any focusing problems that may have developed by a flat, one-color subject by merely tweaking the lens by hand. The latter is for those of us who like to have some part in the operation and final result of our photos, as would be the case in still life or landscape photographs. If you choose either option, a quarter turn will take you from infinity to a close focus of only about a foot at all focal lengths.


Out on the marsh, the 15mm setting is great for artsy-type photographs. The bench and the local flora all add to this mood type of photograph.
With a 2x zoom ratio, Nikon chose to include 11 elements in seven groups to bring out the best on your sensor. Two of the elements are ED (Extra Low Dispersion) glass and three are Aspherical. Apparently Nikon is finding good use of integrating premium glass in all of their lenses to help keep color fringing and chromatic aberrations at a minimum.

I mentioned before that Nikon has incorporated a 77mm filter ring on this lens. This works out to your advantage as being slightly larger than the body diameter itself reduces the amount of filter vignetting to just a little bit at the corners when used at 12mm and with regular filters. Newer, thin filters will be no problem at all; however, stacking one or two filters for special effects might show up in the corners at the wider focal lengths, so attention is needed here.


At a local botanical garden the new lens was a joy to use. Wide angle effects are yours with just a twist of the zoom ring.
Other specs of note include seven rounded aperture blades, to make close to subject out of focus backgrounds more natural; a "D" chip for precise exposure of ambient light or flash fill-in; and a "G" configuration, which means that all f/stops are controlled by the command control on the front of your Nikon digital camera. Internal Focus (IF) places more balance with the lens in your hand as it does not expand or contract as you rotate the focusing ring. Finally, when using or storing the lens with the lens hood on, the new squeeze type of lens cap is now standard equipment and comes with the lens at no charge.


Backing up to lighten the composition I included the steps and related plants. Notice that if you don't hold the camera level there is obvious distortion.
Nice specs, but how does this DX lens perform? Setting up both my F100 (film camera) with a 17-35mm zoom and my D1X (digital camera) with the 12-24mm DX the following observations were noted. Since both cameras have a viewfinder of 96 percent it would be an even match when comparing the angle of view of both. In photo terms that we all understand, placing the DX lens at 12mm and the 17-35mm at 20mm created the same image borders and angle of view. So, in effect, we use the same approximate angle of view (12mm digital = 20mm film), as before but with a lens design we never had previous to the DX series. Setting the DX on 18mm yields the same angle of view as we are used to on a common 28mm lens. The thing to keep in mind is that you should use the lens as is and not keep comparing it to a film-type lens, because in truth you are getting a 99Þ field of view on your Nikon D-series camera at 12mm.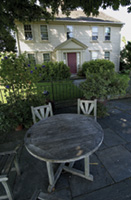 Vertical shots take on a brand-new meaning with the 12-24mm lens. Here the author manually metered the scene because of the difference between the table and the house.
Out in the field I was duly impressed with this new offering. Coming back from New York state in somewhat unseasonable weather I stopped for a break at Stockbridge, Massachusetts, which is the home of famed painter Norman Rockwell. The results were crisp and free from flare, thanks to Nikon's Super Integrated Coating, and very sharp corner to corner. Later, in other informal sessions, the lens was quick on the uptake thanks to Silent Wave technology. Any photographer who has this 12-24mm DX in his camera bag is certainly on his or her way to getting the most out of a digital camera.

For more information, contact Nikon Inc. by phone at (631) 547-8588 or via their website at: www.nikonusa.com.
Shooting directly into the sun reveals that thanks to the Integrated Coating that Nikon uses on their lens, ghosting and flare are greatly reduced.
Technical Specifications
Type Of Lens: G-type AF-S DX Zoom lens having built-in CPU and Nikon bayonet mount that is specially designed for use with the Nikon Digital D-1 or D100 cameras
Focal Length: 12-24mm
Maximum Aperture: f/4
Lens Construction: 11 elements in seven groups with two ED and three Aspherical lens elements
Focusing: Internal Focusing (IF) with internal Silent Wave Motor; manual focus via separate focusing ring
Aperture Scale: f/4-f/22
Filter Size: 77mm
Overall Size: 3.2x3.5"
Weight: 1.07 lbs
Nikon Product Number: 2144 NAS
MSRP: $1199

FEATURED VIDEO