The Night Time Is The Right Time; Low-Light City Photography
When most people are getting their best sleep and the early birds are cuddling in their warm beds or having their first cup of coffee, low-light photographers get their best pictures. There is nothing like standing in a big city in the middle of the night before the city wakes up and shooting low-light photography. I love the feeling of experiencing something not everybody sees. If you haven't been standing in the middle of a city square as the lights of the skyscrapers fill the sky you just have to try it. If you just follow some of these simple guidelines I promise you'll get great shots.

When shooting at nighttime the color of lights really pops and the low amount of natural light gives interesting shadows and contrasts. The fact that no one else is out there with you that early in the morning is great for your photos, too. You get the opportunity to shoot city streets without having them filled with people. The low amount of traffic often makes it easier to place yourself in locations that let you get unusual and interesting aspects and viewpoints.
| | |
| --- | --- |
| | |
| This downtown fountain gets the slow shutter speed treatment by exposing at 1.3 seconds. All photos made with a Nikon D80. (Nikkor 18-200mm f/3.5-5.6G VR lens set at f/8.) | Shooting on empty streets at night, usually busy with people during the day, can yield some interesting points of view. (Tokina AT-X 116 PRO DX lens at f/8 at 8 seconds.) |
Gear
Due to the slow shutter speeds any small glare or ghosts that you normally wouldn't see will show up on your photos. You need to make sure your glass is absolutely free of any grease or smudges. I usually take my filter off during any night shooting.

You also need a steady tripod. Since you are basically shooting directly into several sources of bright light during slow shutter speeds, even the slightest movement of the camera will make the lights fuzzy or add a tail to them.
The taillight glow adds a lot to nighttime shots. Exposure here with a Nikkor 18-200mm f/3.5-5.6G VR lens was f/16 at 10 seconds.
All Photos © 2008, Fredrik Froman, All Rights Reserved
Other important equipment is a lens hood to minimize glare from any surrounding lights and a simple clock or timer to be able to keep track of the shutter speeds when using Bulb mode. You should also use your eyepiece cap to prevent light entering via the viewfinder, which during long exposures can have an adverse effect on results. You should also have a remote shutter release or cord to minimize blur due to your handling of the camera, plus a small flashlight to be able to see in the dark.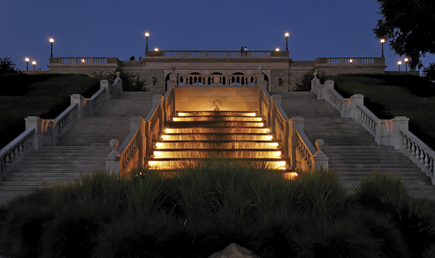 People admiring the last rays of sun hitting the top of the hill. By using a long exposure the fountain in the middle of the picture gets this silky texture. (Nikkor 18-200mm f/3.5-5.6G VR lens at f/4 at 0.5 seconds.)
Camera Settings
I always shoot at the lowest available ISO. Using lower ISOs also gives you the opportunity to catch any streak of light from passing cars, giving some extra color to your shots. The only time I increase the ISO is if I want to minimize the risk of the blur due to heavy winds. Make sure to turn off Auto ISO.

I shoot in Auto White Balance (AWB) and my camera really does a great job of choosing the correct color temperature. I also always shoot in raw format to be able to do some slight changes to the WB if the camera doesn't get it right.