News & Notes
We welcome your comments on articles, photo and digital events, feedback on how we're doing, constructive criticism, and friendly advice. We reserve the right to edit for brevity and to paraphrase longer comments if necessary. You can send us letters by US mail at Editor, News & Notes, Shutterbug Magazine, 1419 Chaffee Dr., Suite #1, Titusville, FL 32780, or by e-mail at: editorial@shutterbug.com. We look forward to hearing from you!

Free Upgrade To MonacoOPTIX Pro
X-Rite Photo Marketing has announced a special upgrade for photographers who purchase MonacoOPTIXXR between October 1st and December 31, 2005. A free upgrade to MonacoOPTIX Pro will be sent directly from X-Rite Photo Marketing, a $169 value.

The MonacoOPTIX Pro package contains all the features of the original, but with the addition of time-saving features like the ability to validate a profile, track monitor drift and to set up a good profiling schedule, calibrate and profile all the computers in a workgroup and have them match, plus many other features.

For additional information, visit www.XritePhoto.com.
Correction: Epson Stylus Photo R2400
Two photos were inadvertently left out of David B. Brooks' Test Report on the Epson Stylus Photo R2400 in the December 2005 issue (page 100). We apologize for this as these photos were integral to illustrating one of the printer's key capabilities, printing black and white images with a wide range of color tone control.
Epson's advanced black and white mode provides a wide range of color tone control, allowing users to reproduce almost any ink tone color from a perfect neutral to a rich replication of Kodak Brown toner.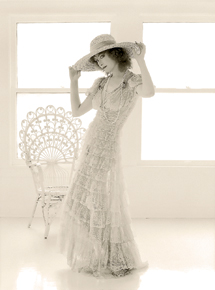 Printing black and white images with the new Epson Stylus Photo R2400 provides the ability to dial in the ideal level of a precisely selected ink color to exactly suit both the subject and the color tone of the paper the image is printed on.
Photos © 2005, David B. Brooks, All Rights Reserved
Shutterbug on the Web
This month our featured items on the Shutterbug website, www.shutterbug.com, include pictures from our recent cruise, hot topics in our Forums and a link to our Future Report from 2004. The Shutterbug website is filled with new product news that is updated daily, an archive of our articles from the past six years and helpful links to manufacturers and service providers that span the photo and imaging industry. Here are some special items for this month:

Gallery of Shutterbug 2005 Cruise Pictures
Shutterbug Canada/New England Cruise participants are just beginning to send in their images from our 2005 Cruise event. Check out their work, and watch for additional images as they arrive by going to our homepage and looking under Image Archives/Cruise Gallery.

Hot Topics on our Forums
The Shutterbug Forums continue to grow in scope and participation from a wide range of photographers and imaging experts. We pride ourselves on being a positive environment where mutual support and constructive dialog are encouraged. Go to our homepage and click on Shutterbug Forums. Two very active topics include:
"Is Film Dead?" in our Film category.
"Sensor Size Debate" in our Digital SLR forum.

Past Future Report
Since our December issue contained the Future Report from our contributors we thought it might be interesting, and perhaps ironic, to see what Shutterbug writers had to say about 2005, in 2004. You can check out their ideas and compare them to what happened by going to: www.shutterbug.com/features/0105sb_futurereport or simply going to our Archives and clicking on the January, 2005 issue.

LATEST VIDEO

SPONSORED VIDEO