News & Notes
We welcome your comments on articles, photo and digital events, feedback on how we're doing, constructive criticism, and friendly advice. We reserve the right to edit for brevity and to paraphrase longer comments if necessary. You can send us letters by US mail at Editor, News & Notes, Shutterbug Magazine, 1419 Chaffee Dr., Suite #1, Titusville, FL 32780, or by e-mail at: editorial@shutterbug.com. We look forward to hearing from you!
Olympus' 8-Megapixel Digital SLR
A new E-series digital SLR, the EVOLT E-500, features an 8-megapixel CCD sensor, by Kodak, along with a 2.5" LCD screen and Olympus' exclusive Dust Reduction System with Supersonic Wave Filter. The E-500 has dual card slots for both xD and CompactFlash cards and a host of metering, focus, and exposure modes. The camera has five metering modes as well as many picture effects modes, including Vivid, Neutral, and Muted color modes, nine black and white modes, and what Olympus dubs their Advanced Noise Filter II Technology. In spot metering mode the camera will automatically compensate for highlight or shadow spot readings, adding exposure when a highlight is read and closing down exposure when a shadow area is read, making it the first auto-spot metering mode in a digital SLR.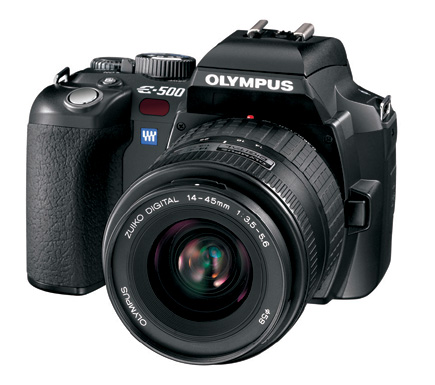 The enhanced playback includes an RGB histogram, which displays luminance distribution for each color channel. Recording modes include JPEG in various size and compression ratios, as well as TIFF and raw. The E-500 outfit, with a 14-45mm Zuiko lens, is expected to sell for under $1000. Samples were not available at press time for testing, but this appears to be a versatile, lightweight camera that should appeal to a wide range of photographers. A full test will appear in a future issue of Shutterbug.
--George Schaub
Click Image Launches Online Pro Photography Resource
Using its expertise and technology, Click Image LLC has launched MyPhotographer.com, an online professional photography resource. Key features available to all members include:
· Online proofing of event photo shoots and portraits 24 hours a day, seven days a week.
· Full-fulfillment capabilities for finished prints/products.
· Web-based e-commerce/order tracking engine to facilitate the account management process.
· Professionally designed and e-commerce enabled business website for each member
· Professionally designed and e-commerce enabled galleries to showcase artistic photography.
· Priority ranking in a 30,000+ photographer search engine on the site.
· Online image storage and a full suite of light box, color correction, and image-editing tools.
For a limited time, the full functionality of MyPhotographer.com is available to registrants for free. For more information, please visit www.myphotographer.com.
In Memoriam: Bill Clark
Willard (Bill) Clark, a photo industry icon and the former executive director of PhotoImaging Manufacturers & Distributors Association (PMDA), died on September 24th. He was 77 years old. Cause of death was cancer.

Mr. Clark was associated with the photo industry for more than 40 years primarily in consumer and trade journalism, both as a writer and photographer, and more recently with PMDA. He worked with the senior executives of virtually every firm in the photo industry, serving as confidant and adviser to many and earning the respect of all.

Mr. Clark came to New York as a photographer for United Press after working for a small Ohio newspaper as a reporter and photographer. His equipment in those days was a 4x5 Speed Graphic, standard issue for a news journalist at that time but now seen only in photo museums and period movies. In 1954 he became associate editor of U.S. Camera magazine and then founding editor of Camera 35 magazine. "I was a staff of one," he once said. He subsequently was appointed editor.

After a variety of other magazine publishing positions, Mr. Clark came back to the photo industry in '81 as editor and associate publisher of Photo Weekly Magazine, which evolved into Photo Business Magazine. His final publishing stint was a short one as editor of PTN.

Mr. Clark retired from his position as PMDA executive director earlier this year.

At the time of his retirement, some industry associates paid tribute to him. Stacie Errera, chief marketing officer for Tamron USA, Inc., and current president of PMDA, said, "Bill always acted as a professional and was liked by everyone. Everything Bill did was in the best interest of the organization."

Dan Unger, Agfa's director of marketing and PMDA board member, said of Clark: "He was an easy-going guy who did everything right."

Mr. Clark is succeeded by two sons, Paul, Ashland, Oregon, and Bruce, Hopewell, New Jersey, both attorneys, and two granddaughters, Fiona, 31/2, and Emmeline, 1. He was pre-deceased by his wife, Olga.

Editor's Note: The notes on Bill's life were kindly provided by Jerry Lansky. I knew Bill for almost 20 years and he was always a class act, with a kind word and encouragement for all. His "How are you doin', man!" greeting will always echo in my ears. Those fortunate enough to have known and worked with him understand that he was a great contributor to photography and the photo industry and a genuinely good soul. I will miss him greatly.
--George Schaub
Shutterbug on the Web
This month's Shutterbug on the web spotlight shines on black and white in many forms and with a host of creative options. From lighting for black and white to digital black and white printing, each story focuses on an aspect of this most compelling medium. And for much, much more on black and white just visit our web page, www.shutterbug.com, and type Black and White into our search box.
To find these spotlighted stories first visit www.shutterbug.com. Then add a backslash and these codes to the base www.shutterbug.com address in your address box and click Go.
Monte on Black and White
The master discusses the power of black and white portraiture:
/columns/0203sb_master/index.html
David Brooks' Digital B&W
David Brooks explores the state of the art in digital black and white printing options:
/features/0205digitalbw/index.html
Lighting for Monochrome
Steve Bedell on Black and White lighting techniques:
/features/0201sb_lighting/index.html
A Unique B&W Lab
They've since moved but their web address is the same. George Schaub states DR5 Labs handles reversal processing for ANY B&W film:
/features/0205dr5/index.html

LATEST VIDEO

SPONSORED VIDEO