News & Notes
We welcome your comments on articles, photo and digital events, feedback on how we're doing, constructive criticism, and friendly advice. We reserve the right to edit for brevity and to paraphrase longer comments if necessary. You can send us letters by US mail at Editor, News & Notes, Shutterbug Magazine, 1419 Chaffee Dr., Suite #1, Titusville, FL 32780, or by e-mail at: editorial@shutterbug.com. We look forward to hearing from you!
Leica Relocates In US
Leica Camera Inc. has relocated their US headquarters to Allendale, New Jersey. Here is their new contact information: 1 Pearl Ct., Unit A, Allendale, NJ 07401; (800) 222-0118, (201) 995-0051; fax: (201) 995-1686.
Ferrania Transfers Ownership
Ferrania Imaging Technologies has announced that ownership of the company has been transferred to FITRA INVESTIMENTI S.P.A. whose shareholder is a consortium of top Italian industrialists. For more information, visit Ferrania's website at: www.ferraniait.com.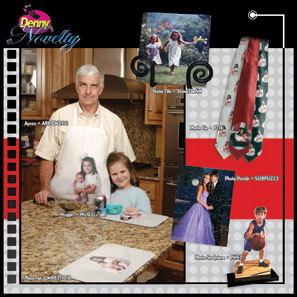 New Division At Denny
Denny Manufacturing has introduced a new division that specializes in ancillary products such as photo sculptures, photo ties, key chains, magnets, mouse pads, coasters, stone tiles, and much more. For additional information, contact Denny Manufacturing - Novelty, PO Box 7200, Mobile, AL 36670; (800) 844-5616; www.photonovelty.com.
Shutterbug on the Web
Featured Web Articles on www.shutterbug.com
This month's Shutterbug on the web feature articles are all about lenses, optics and how to use them. The mix includes lens reviews, how-tos and articles on specialty lenses and adapters. To access these articles go to our website at www.shutterbug.com and type in the suffixes listed with the articles below after the shutterbug.com address. For example, for the "Vintage Lenses on Digital SLRs" article just type in features/0804sb_vintage/index.html after "shutterbug.com." To get even more stores on lenses just type in "Lenses" in our Search engine on the website.
Want to adapt "old" lenses to your new SLR camera? Check out:
/features/0804sb_vintage/index.html
Ever heard of "split field" lens techniques? Learn about them at:
/features/0302sb_split/index.html
Just what is a "digitally optimized" lens? Find out at:
/features/0305digitally/index.html
Zooms are the most popular lens "type." Here's why:
/features/0802sb_zooming/index.html

LATEST VIDEO

SPONSORED VIDEO