New Gear For 2007: PMA Report; Weird & Wonderful: Where Innovation And Entrepreneurial Spirit Meet
One of our favorite categories at this and every show we cover is what we lovingly call our "Weird & Wonderful" report. This serves as both a catch-all for products that are not easily categorized, and for those that display just how ingenious the human mind can be. Some include accessories that might make your photographic life easier and more fun, while others bring up thoughts of "Now why didn't someone think of that before?" As you peruse this section you might just find a product that fits right into your own photographic style.

Photo GPS And A Monster Lens
A simple little device that attaches to the hot shoe of your camera, when an image is captured the JOBO Photo GPS collects the coordinates automatically. When you get back to your computer, the data is downloaded and attached to your images as EXIF information, including the location, nearby landmarks, and precise date and time.
My second "Weird & Wonderful" selection is Sigma's AF APO 200-500mm f/2.8 EX DG lens. Yep, a constant f/2.8 aperture on a 200-500mm lens. Add on the included 2x tele-converter and you have a 400-1000mm f/5.6 monster. This lens isn't for the faint of heart (although prices aren't announced yet, if you have to ask you probably can't afford it). This is the first lens I've seen with its own LCD display (to show focal length and shooting distance), and the first lens that makes even the largest pro SLR look like a toy. If you're feeling some type of envy, and have the back to lug around a 30-lb lens, this one is worth checking out!
--Jon Canfield
Sigma's AF APO 200-500mm f/2.8 EX DG
Camera Armor
I've often written about my old pal and nature photographer Bunky who has been known to be tough on his photo equipment. If you're a little rough on your gear you need Camera Armor by Made Products. This product is exactly what it sounds like: An armorized skin that's custom designed for your specific D-SLR--check their website (www.camerarmor.com) for specific models--and is intended to protect it against impact and abrasion. Camera Armor wraps around your camera body like a second skin or mantis exoskeleton and all its controls and access ports are still fully functional. It includes a clear polycarbonate LCD screen cover and an elastomeric reversible hood that stretches over lenses up to 85mm in diameter. As part of the package there's an elastic leash for your lens cap that attaches to the body armor. It looks cool, too, and is available in ninja black, smoke signal, or camouflage finishes.
--Joe Farace
Camera Armor by Made Products
AlwaysOn Millipod
The single most intriguing yet useful gadget I saw at this year's PMA was the AlwaysOn Millipod combined with the padded Armadillo compact camera wrap; by Made Products. Conventional tabletop tripods are small and very portable so they can be easily carried in most any moderate-sized camera bag. But the AlwaysOn Millipod never leaves the base of your camera, so it's always ready to properly support the camera on any relatively flat surface. When the end leg supports are pulled out and the front support is extended, you have a fairly broad three-footed support plus a little bit of elevation control to angle the camera up slightly when adjusting the framing. Then when you add the wraparound Armadillo padded flap case, you have extra protection for both the lens and vulnerable LCD screen on the back of a digital camera. When not wrapped around the camera it simply hangs below it. At a price of $35 for the pair, or just $20 for the Millipod alone, you have really handy support and protective accessories for your compact digital camera that are instantly available when needed.
--Robert E. Mayer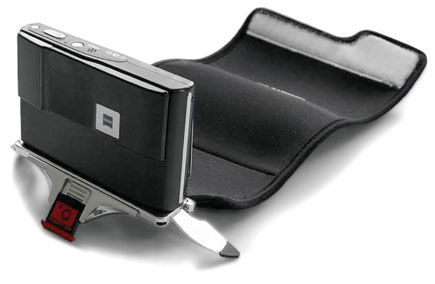 AlwaysOn Millipod by Made Products
A Digital Pen Pal
Imagine you've just discovered the lost city of Atlantis. It just so happens that you brought along your laptop and a drawing tablet. You go to draw the map, and to your dismay you discover the laptop has died. Luckily, you happen to have a few scraps of paper and some clever device you picked up at your local office supply store, something very nonchalantly labeled the Dane-Elec Digital Pen & USB Flash Drive--a true pen drive. It consists of a writing implement that looks very much like a ballpoint pen, except that, in reality, it's a wireless digital pen that uses regular ink when applied to paper but also electronically captures what you're writing or drawing. Somewhere, in contact with that piece of paper is its silent partner, the USB flash drive. As if by magic, this drive is soaking up everything you've penned--the map, the directions--in real time, and recording it, thanks to 512MB of flash memory. It then saves your scrawls and scribbles to a file (BMP, PDF, or OCR--Optical Character Recognition) that can be read by any computer back home (currently only Windows, including Vista). You return home a hero, the next Indiana Jones, and they make a movie of your exploits. Now wouldn't that be weird and wonderful!? Well, at least the pen/drive combo is real and coming to a store near you. The rest I leave to you, your imagination, and newfound pen pal.
--Jack Neubart
Dane-Elec Digital Pen & USB Flash Drive
Manufacturers/Distributors' addresses can be found by visiting the Instant Links section of our website at: www.shutterbug.com/currentissuelinks/.