Native Lens Support Leads Long List of Upgrades to Zoner Photo Studio X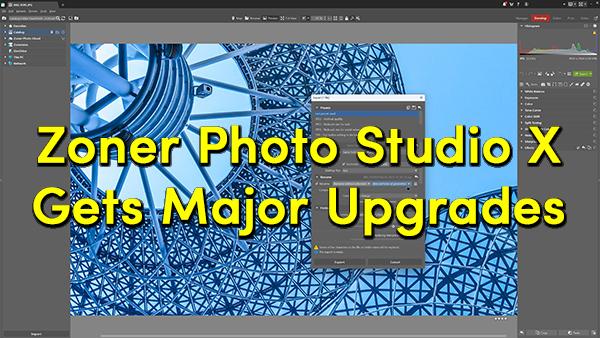 The spring 2023 update brings the largest number of improvements to Zoner Photo Studio since Version X was released in 2016. Native support for a growing list of more than 1200 lenses, much faster Raw processing times and major upgrades to the Video Module top the list of the many welcomed upgrades, but they're not all. ZPS X now also offers full support for dual monitor setups and key improvements to Zonerama, the FREE online platform that provides users unlimited space to upload photos and videos where they're securely stored and shared.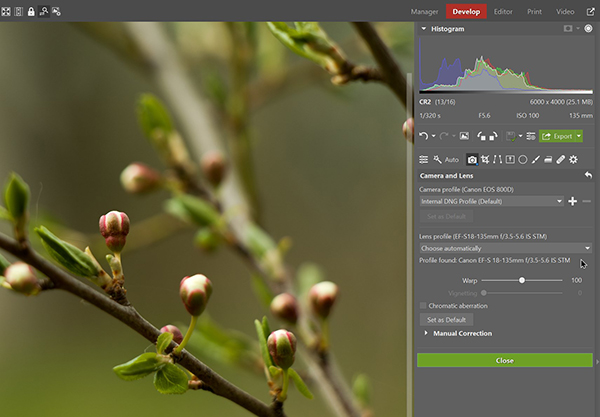 Zoner Photo Studio X keeps improving by leaps and bounds. The spring 2023 crop of upgrades is the biggest and best ever and includes several improvements to the user interface. Here's the rundown.
Native Support for 1200+ Most Frequently Used Lenses
The all-new native support for lens profiles empowers users to automatically correct distortion, chromatic aberration and vignetting in the Develop module without the need to install add-ons. Enabling automatic lens correction in the Camera and Lens section of the Develop module is fast and easy. The list of supported lenses will continuously grow and be added via future updates.
ZPS X also supports a significantly expanded number of cameras since the fall 2022 update—50% more, in fact.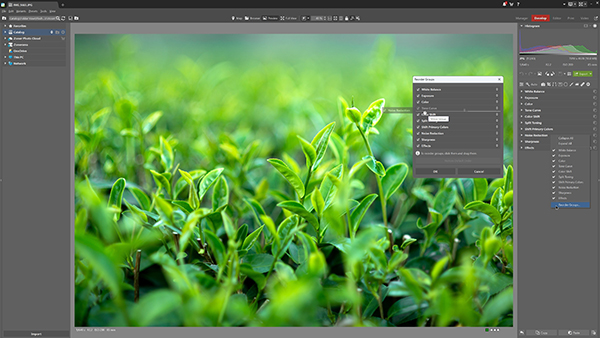 Faster Raw Processing — Nearly 2X as Fast
Loading Raw images takes substantially less time. Additionally, the demosaicing algorithm and other image processing optimizations have been completely redesigned. The enhancements apply to all aspects of Raw processing, including initial opening, repeated opening, import, export, and indexing in the Catalog.
And that's not all. The preview quality in the Develop and Manager modules of Zoner Photo Studio X has also been improved. The processing of details in photos with high digital noise has also been optimized.
Improved Dual Monitor Modes
The option for using a second monitor has likewise been enhanced. ZPS X now offers two modes that supplement the activity on the main monitor, providing users with more space for previewing photos that are being edited or more space for the Browser to move between files. The upgrade also allows working with multiple video project files and working with maps, and supports ultrawide monitors.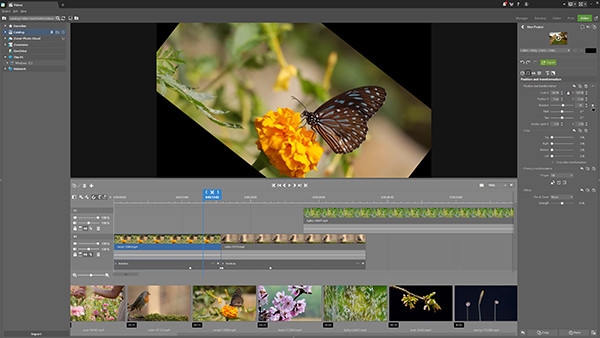 Major upgrades to the Video Module
While some photo editing programs practically ignore video editing, Zoner Photo Studio X has been significantly enhanced in several ways. Users can transform and animate clips, images, and text to create unique, never-before-seen effects in the Video module.
Users can now preload video clips folders (a feature similar to ZPS X's ability to preload Raw files) for faster workflow. And video files across the entire program can be previewed by simply hovering over the thumbnails. Video previews play smoothly, even on low-powered hardware, and deliver tack-sharp details in full resolution.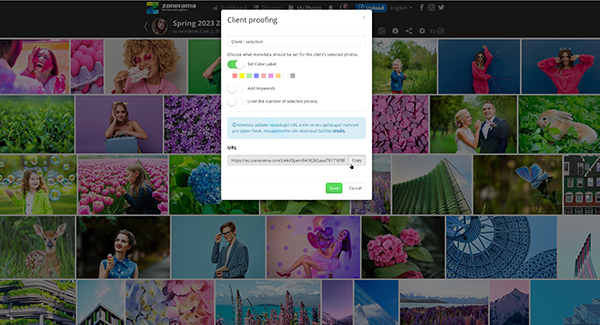 Business-friendly Improvements to Zonerama
Your clients can now select and label photos you share with them for further processing without logging in. After you share a secure link with your client they can choose what they want to order and mark it for further editing. Photographers see the selected photos directly in Zoner Photo Studio X linked to Zonerama. This eliminates the need for any third-party programs.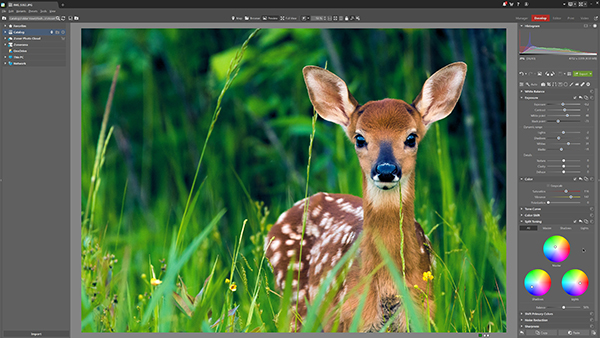 Improved Develop Module
The artifact reduction algorithm for higher ISO setting has been improved, especially for Fujifilm cameras with X-Trans sensors. Also, the addition of the luma-adaptive method for the natural addition of film grain creates more realistic results with a stronger likeness to actual film. Additionally, the ability to scale filter masks provides improved transfer of filters between images of different sizes.
Last but not least, users can now rearrange the order of settings groups like Exposure, Color Shift and others in the Develop module to match their work habits and speed throughput.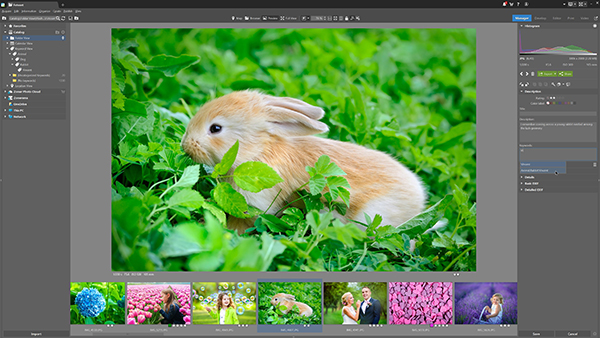 Other Enhancements to Zoner Photo Studio X
Improvements in photo management include the option to auto advance to the next photo after rating, rotate thumbnails and apply structured keywords. Also new: support for times shorter than one second when sorting photos, improved slideshows and the addition of an export-time metadata token.
Download the FREE 30-Day Trial Today
If you haven't discovered Zoner Photo Studio X yet, don't wait. You can download the Free Trial and join the 100,000 customers in the U.S. (and millions worldwide) who use ZPS X and understand why Zoner Photo Studio X was the proud winner of two prestigious awards for Best Photo Editing Software from the world-renowned TIPA and EISA associations.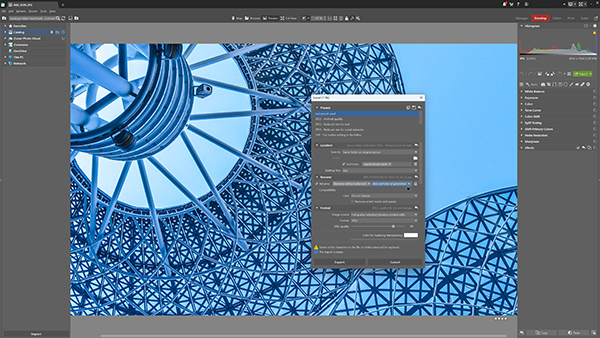 Comprehensive Photo & Video Editor
Zoner Photo Studio X is the powerful, inclusive photo and video editor. From the Browser through output options, you never have to change apps. Zoner Photo Studio X features five modules within the primary workspace. They're labeled Manager, Develop, Editor, Print and Video. There are flexible workspace layout choices, too. And you can select the Browser view and see all images and all of your image folders—without leaving the Zoner Photo Studio X workspace.
Zoner is for All of Us
Zoner Photo Studio X is not just for professionals and advanced hobbyists. If you have a decent camera or high-end smart phone and you're getting some great shots and/or videos, Zoner Photo Studio X is the pathway to better imaging. ZPS X is a set of reliable photo editing tools you can put to work quickly and intuitively, and get results immediately. Zoner Photo Studio X makes every photo better.
Affordable? Yes!
Priced at just $5.99 per month (or $59 for 12 months), Zoner Photo Studio X is one of the best money-saving, genuine bargains available to photographers. Included at no cost (in fact, available even if you haven't tried Zoner Photo Studio X yet) the Learn tab on the Zoner website offers a robust assortment of how-to tutorials, videos and inspiring stories.
Zoner also maintains Zonerama, the FREE-to-all online platform that provides users unlimited space to upload photos and videos where they're securely stored and shared. Even if you are not a ZPS X user you can open an account on Zonerama.
Who is Zoner Exactly?
With over 10,000,000 downloads from their website, Zoner is the real deal. Founded back in 1993 out of love for photography, the Zoner Photo Studio series is used by millions of photographers around the world – 100,000 in the US alone – from the ranks of absolute beginners to seasoned professionals. Zoner Inc's corporate headquarters are located in the Czech Republic and the USA, with additional corporate offices located in North America, Central Europe, and Japan.
—Shutterbug Staff