Nat Geo Photographer Nails Perfect Shot After 200,000 Photos with Motion-Activated Camera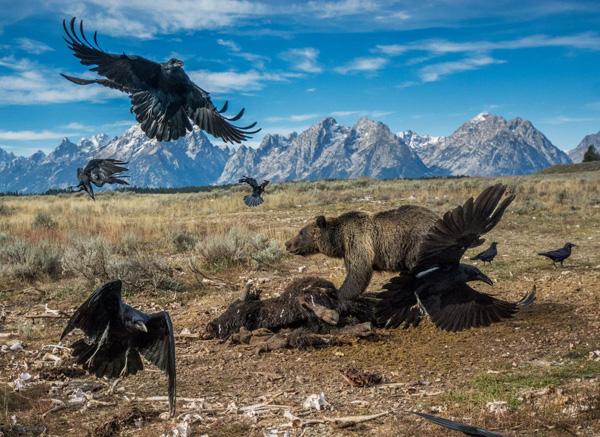 When 14th century poet Piers Plowman said "Patience is a virtue" he could have been channeling the future work of National Geographic Photographer Charlie Hamilton James who captured this amazing image after making over 200,000 photographs with a motion–activated camera in Grand Teton National Park. James was intent on getting images of bears and wolves with the Teton Mountains in the background, and he sure came up with a winner!
James set up a Nikon D7100 loaded with two 128GB cards and a motion–activated camera trap in an area where park workers placed carcasses of animals that had been struck by cars. Over several months he checked the camera weekly and reviewed the images on a laptop in his car before saving the "keepers," refreshing the batteries, and resetting the cards.
Most of the images were of ravens and vultures—not what he was after—until this incredible shot, taken one morning as an adult male grizzly ran into the scene, scattered the birds and set off the motion sensor that triggered the camera.
"The moment I discovered the bear photo on the camera I was so excited," James says. "It had taken nearly five months to get a decent shot out of the set–up."
We'd say this image is a whole lot better than "decent," wouldn't you? You can see more amazing images on the National Geographic Society's Facebook page.

LATEST VIDEO