Minoltas DiMAGE X
Tiny Camera, Great Fun...And Results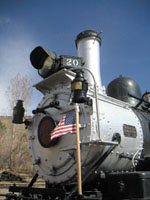 AWhile at the Colorado Railroad Museum in Golden, Colorado, the DiMAGE X produced a sharp, contrasty colorful image of this patriotic locomotive using the Fine option. With a little judicious use of Adobe Photoshop and the printer driver settings on my Epson Stylus Photo 1280 I was able to make stunning prints up to 5x7 with images captured at this setting.
Photos © 2002, Joe Farace, All Rights Reserved
The best thing a point-and-shoot digital camera can do is be ready when you want to make a picture and Minolta's DiMAGE X (www.minoltausa.com) delivers the goods in style with a tiny but elegant digicam that gives you no excuse for missing a photographic opportunity. And at 2 megapixels the image quality is pretty darn good, too.
In The Field
The first thing I did with the DiMAGE X is toss out the Minolta wrist strap, attach a Hakuba neck strap (www.hakubausa.com), and hang the camera around my neck. The Hakuba strap has a quick release that lets you remove the digicam when you want, but is long enough so no decisive moments are lost while you're fumbling for the camera. If you prefer a wrist strap, the DiMAGE X's compact design makes it easy enough to carry in your pocket. With its tiny dimensions (3.3x2.8x0.8") and weight (just 4.8 oz), the DiMAGE X is smaller, lighter, and thinner than most other digital cameras (that are capable of delivering high quality image output). It's also as pretty as a pixel, featuring a stylish stainless steel design that will please the most fashion-conscious photographer.

While the DiMAGE X is small, its ergonomics work well within its compact form factor, but that doesn't mean it's not without a few quirks and initially you have to be careful not to poke a finger in front of the lens or built-in flash. With a zoom lens that delivers a 35mm equivalent of 37-111mm, it's ideal for general snapshooting and even modest close-ups. (You can get a little closer than 10" from the front of the lens.) The lens is an f/2.8-f/3.6 with three aspheric elements and there's a 2x digital zoom available when you absolutely positively need that extra reach, although quality-conscious photographers will only use it as a last resort. The zoom control is an odd little rocker switch that you click up and down to zoom in and out, but you'll quickly get the hang of it.

Cranking up the DiMAGE X is a joy; not only does it emit some melodic musical notes but only takes 1.8 seconds from pushing the shiny button on top before you're ready to shoot. I've used more expensive digicams that take much longer to get ready to actually make a picture and many times that fleeting photo opp is lost. The DiMAGE X is ready when you are.

I tended to shoot 1600x1200 images using the Fine option, which gave me the ability to capture up to six images, but even at the Standard option (13 shoots) the image quality produced by the DiMAGE X was impressive. This shot of old milk cans made at the Colorado Railroad Museum in Golden, Colorado, reveals both subtle detail in tone as well as sharp surface and texture details.
High Quality Images
Image quality is surprisingly good; Minolta has wrung the best possible quality from both the camera's optical design and electronics. The DiMAGE X has 12-bit A/D conversion that provides fine tonal gradation, with deep shadows, sparkling highlights, and more than 68 billion colors. The camera features Minolta's proprietary CxProcess that controls sharpness, color, tonal gradations, and noise, but what all this really means is that you can create some amazingly high quality images from not a lot of megapixels. Its maximum 1600x1200 resolution allows images to be captured in Super Fine, Fine, Standard, and Economy modes depending on the amount of JPEG compression that's applied. Using the TIFF option, you can make 5.3x4" 300dpi files at 5.49MB, but the image quality is good enough to make much larger prints by a little cheating and setting the Image Size in Adobe Photoshop (Image>Image Size) to 240dpi. If that isn't big enough, use Photoshop's Print with Preview command to crank up the scale to 120 percent and the images still look great. You can also record up to 35 seconds of digital video with audio and a 15-second audio recording can be attached to a still image, as well as up to 90 seconds of audio without an image.

The built-in flash is adequate for a camera this tiny but you might see some light falloff at the wide angle setting in light colored rooms. When capturing the kind of fun, candid photographs the DiMAGE X was born to make, it delivers correct exposures and great color at ISO equivalent settings of 100 and 200. I found that I kept it permanently set at 200, though.

A Folding Zoom?
Minolta's lens design for the DiMAGE X has produced a compact folded 3x optical zoom lens that has a physical depth of only 0.8". By using a prism to fold the optical path, Minolta's designers positioned the optical zoom lens vertically within the slender body. This efficient optical design only requires a small motor, allowing for quiet zooming, too.
Menu Controls
The menu structure looks nice and is relatively easy to understand as these things go, but there's no "trash can" button to let you erase a single photograph. Instead you have to go through three or four menu pulls using two different controls (the zoom rocker switch doubles in controlling menu selections) before you can erase one picture. Since being able to edit as you shoot is an important consideration you quickly get used to it but you'll never grow to love the process.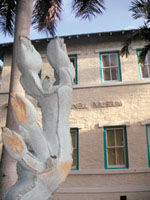 This photograph made in 1600x1200 but in Standard mode reveals the subtle texture of this museum in Delray Beach, Florida. The DiMAGE X's built-in flash was used to illuminate the sculpture in the left to bring the tones of foreground and background closer together.
Since the camera is so small, it's no surprise that images are stored on a postage stamp-sized Secure Digital (SD) card and Minolta includes an 8MB card that gives you many less photos than you might like if you really want to capture images at their highest quality. You'll only get one TIFF file on the bundled SD card, so it's a good idea to invest in a higher capacity card as soon as you can. SD cards are available up to 128MB but you could probably get by with a 64MB card for under $70. Nevertheless, I was able to get superb 5x7 ink jet prints from images made in the camera's Standard mode using the previously mentioned techniques with an Epson Stylus Photo 1280. Also, 4x6 prints made at Adorama (www.adorama.com) using Fuji's Frontier lab equipment that accepts digital media were superb from this same small 200K+ file size.
Plug It In
The DiMAGE X uses a proprietary lithium ion battery that fits in the same compartment that holds the SD card. Just slide the door down and you can pop out the battery and insert it into the bundled charger and it doesn't take long before the battery is fully charged and ready to be used. I just charged it from completely dry and it took less than an hour. This is a good thing because if you leave the 1.5" LCD screen on too long it makes a lunch of this compact battery. Get into the habit of tapping the Monitor button twice to turn it off and you'll be able to go all day making images before running out of battery power.

The digicam is bundled with a cable that connects from a mini USB port on the opposite edge from the battery/SD door to your computer. When downloading images, no software is necessary with most newer computers: When connecting to all of the Mac OS and Windows XP computers I tried, the DiMAGE X showed up on the desktop as an external drive, so you can simply drag and copy the files onto your hard disk. This works great in the field for downloading images into a laptop, but in the office I use a Dazzle 6-in-1 Universal Card Reader (www.dazzle.com) to transfer images directly from the SD card to the hard drive and open the files into Adobe Photoshop 7 using its File Browser function.

Once basic shooting parameters are set, the DiMAGE X is as easy to use as a single-use film camera. In short, it's the perfect party camera. The Minolta DiMAGE X packs more fun and image quality in an under-$400 digital camera than anything else available in its price range.

For more information, contact Minolta Corporation, (201) 825-4000; fax: (201) 423-0590; www.minoltausa.com.


Number Of Effective Pixels: 1.96 million
Sensitivity: Auto (between ISO 100-200 equivalent)
Focal Length: 5.7-17.1mm (equivalent to 37-111mm in 35mm)
Maximum Aperture: f/2.8-3.6
Minimum Focus Distance: Approximately 9.8" from front of the lens
Shutter Speeds: 2 sec to 1/1000 sec
Metering: 256 multi-segment
Exposure Modes: Programmed autoexposure (AE)
Flash Range: Wide: approximately 0.8-9.5 ft; Telephoto: approximately 0.8-7.5 ft at ISO 200 equivalent
Flash Modes: Autoflash, autoflash with redeye reduction, fill flash, flash cancel, night portrait
Video Recording: Maximum: 35 seconds with monaural audio. Frame rate: 15 fps.
White Balance: Automatic, Preset (Daylight, Cloudy, Tungsten, and Fluorescent)
Digital Zoom: 1.25-2x
Image Compression Mode: Super Fine, Fine, Standard, Economy
File Formats: JPEG (Exif 2.1), TIFF, Motion JPEG (MOV), DCF 1.0-compliant, DPOF-compliant, WAVE, Epson PRINT Image Matching
Recording Medium: SD (Secure Digital) Memory Cards, MultiMedia Cards
Interface: USB Version 1.1
Power: One rechargeable lithium ion battery (NP-200)
Dimensions: 3.3x2.8x0.8"
Weight: 4.8 oz, without batteries and recording media
Price: $399



FEATURED VIDEO