Memory Cards; Faster & Higher Capacity
If there's anything you can count on with digital products, it's faster speeds, higher capacities, and lower costs. Nowhere is this truer than with memory cards. There was plenty of news from a variety of vendors.

SanDisk doubled the capacity of several of their most popular cards, including the Extreme III line of cards to 8GB in CompactFlash, and 2GB for Secure Digital and Memory Stick PRO Duo. Prices are $559.95, $199.95, and $209.95 respectively.
Users of Sony digital cameras will be happy to hear that the Ultra II Memory Stick PRO Duo is now available in 4GB size for $239.95.

The SanDisk Ultra II SD Plus card combines a Secure Digital card with built-in USB--fold the card to expose a USB connector, eliminating the need to carry a card reader. A 2GB version will be available in June for $134.95.
Lexar Media had two secure models of memory cards on display. The 80x 4GB CompactFlash and 120x 2GB Secure Digital ActiveMemory System cards store user preferences and camera settings to automatically append metadata to images, and on supported cameras will set camera preferences.
| | |
| --- | --- |
| | |
LockTight is a secure card system that prevents unauthorized users from accessing data on your memory card. Available in CompactFlash and Secure Digital capacities up to 2GB, the LockTight System currently works with Nikon D2X, D2Hs, and D200 cameras by verifying the camera serial number. Use in any other camera is prevented and access on a computer requires you to use Lexar's software.

PNY Technologies has bumped the speed of their Optima Pro Secure Digital card to 133x and capacity to 2GB (Standard Secure Digital card capacity has been increased to 4GB). A new Secure Digital USB card in 256MB and 512MB sizes eliminates the need to have a card reader by plugging directly into any USB port. A cool new Secure Digital card comes with an LED that lights up when plugged in, and they are color coded by size. Finally, Olympus xD-Picture Cards are available in 512MB and 1GB sizes with full support for Olympus panorama, art, and 3D features on supported cameras.
| | |
| --- | --- |
| | |
The fastest cards I saw at the show were from ATP. With speeds of 150x in CompactFlash up to 4GB and Secure Digital up to 2GB, the ProMax cards are ideal for high-performance digital SLRs. ATP is the only company that claims a completely waterproof memory card with their Secure Digital format sealed against water and dust. If you've ever run a memory card through the wash (and I have), you'll appreciate this.

Hoodman showed a new line of memory cards, and in an interesting approach claim a minimum speed of 133x and use of 20 percent less power than conventional memory cards. The PPO line is available in sizes up to 4GB at a cost of $259.99.

Delkin Devices has increased capacity on their eFilm CompactFlash PRO series to 8GB, and Secure Digital PRO to 2GB. Their Secure Digital Xtra card is now up to 2GB and includes a USB connector to plug directly into a USB port without a card reader. And, if you're using a camera with xD memory cards, you might be interested in Delkin's xD to CompactFlash adapter. Just plug your xD card into the adapter and use it like a regular CompactFlash card.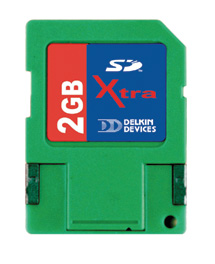 Kingston Technology's CompactFlash Ultimate series are 100x cards available in capacities of 1GB ($129), 2GB ($200), and 4GB ($350). The Secure Digital series is available up to 2GB and speeds up to 133x.
In addition, Panasonic has introduced the 4GB SDHC card. Physically the same as a standard Secure Digital card, the new SDHC format is only compatible with supported cameras such as Panasonic's DMC-L1.

Manufacturers/Distributors' addresses can be found on page 174.

LATEST VIDEO

SPONSORED VIDEO