Make the Move to a Mirrorless Marvel from MPB
On average, used gear from MPB costs a third less than new. MPB's dynamic pricing engine ensures the right price for all items. Offering abundant inventory, great customer service and a condition rating system that's easy to understand, MPB is the right place to find the modern mirrorless camera you've been craving.
Mirrorless vs DSLR
There's no argument—both DSLRs and mirrorless cameras capture great, high-quality photos and videos. The image quality is the same and there's no difference in durability. But it's undeniable that mirrorless models offer a host of advantages.
Mirrorless cameras outsell DSLRs, and every day, more and more photo and video storytellers and making the move to mirrorless. If you've decided to change gear, you can trade in your current equipment to MPB and reduce the out-of-pocket cost of your new system. On average, customers earn $900 each time they sell to MPB. Of course, every situation is different.
MPB is the largest global platform to buy, sell and trade used photo and video gear. The first step is to request a free online quotation so you know the value of your gear. If you decide to trade, MPB provides free doorstep pickup.
Bulk
A typical mirrorless camera is smaller and lighter than a comparable DSLR. In some examples, the differences are colossal. The DLSR design includes an optical viewfinder that requires a glass pentaprism, one the heaviest single components in any camera. Reduce bulk and lighten your load without sacrificing anything by switching to mirrorless.
Audible Noise
DLSR cameras have mirrors that must flip out of the way every time an image is captured. Because a mirrorless camera does not have a mirror, operation is naturally quieter. In fact, some mirrorless cameras are nearly silent when in the Electronic Shutter mode.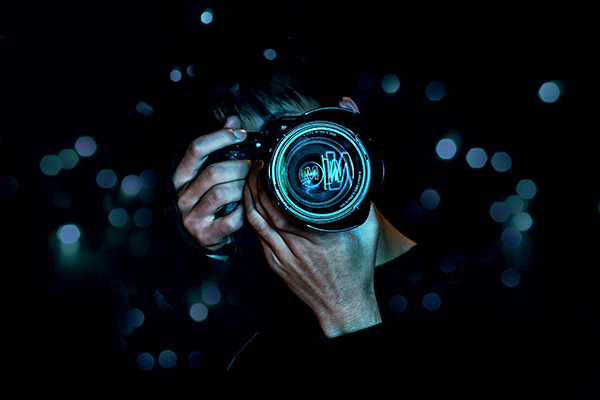 Lens Options
While some DSLR brands, having been mainstream longer, have more lenses in their system, the balance is tipping toward mirrorless. Meanwhile, major third-party lens makers like Sigma and Tamron have been more focused on development of mirrorless lenses instead of DSLR glass.
More important to many, it's easy and straightforward to adapt DSLR lenses to function on mirrorless bodies. Camera manufacturers, including Canon, Sony and Nikon, offer adapters that enable their recent-model DSLR lenses to be used on their mirrorless bodies and fully maintain autofocus and image stabilization features with very little compromise in speed or performance.
Even very old lenses can usually be used in manual mode via a third-party adapter. You can bring some of your old optics back to life.
Latest Technology
Since the majority of current research and design resources are being shoveled toward mirrorless cameras and their lenses, it stands to reason that mirrorless models incorporate the latest technological innovations. This is especially apparent where video performance is concerned.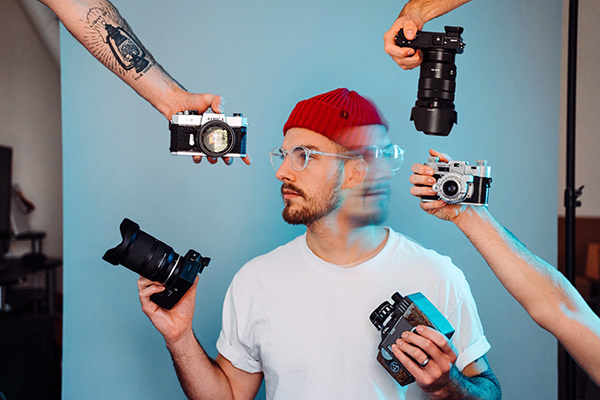 Video
Even modestly priced mirrorless cameras offer excellent video capabilities, up to and including 4K capture. Higher-end models do 8K. And many people find it easier to shoot video with a mirrorless because of the always-on eyelevel electronic viewfinder. Because they're smaller and lighter, mirrorless cameras are easier to handle, too, and adapt well to gimbal stabilizers and aluminum rigs.
Toss Up: Sensor Size
No differences here, as both categories are available with full-frame and APS-C size sensors.
Toss Up: Electronic vs Optical Viewfinder
Which is better, an optical viewfinder or an electronic viewfinder? Both styles have their staunch advocates. Many find it easier to compose on one or the other depending on lighting conditions. The only quantifiable difference is battery life: typically, EVFs burn batteries faster and therefore DSLR camera users claim an edge.
Popular Mirrorless Models at MPB
MPB recirculates more than 485,000 pieces of photo equipment every year. They have hundreds of mirrorless cameras and lenses in stock. Lumping all cameras, lenses and other photo items together, MPB has over 16,000 pieces of gear in the US and over 47,000 globally. Plus, MPB adds more than 2,000 products every week
You can buy with confidence when you shop at mpb.com. The camera or lens pictured in every online listing is the actual item you receive. All included accessories are clearly listed. Every camera and lens sold by MPB undergoes a thorough 8 to 10 point inspection process by a trained specialist, and is covered by a six-month warranty. If you find the item your receive isn't as described, you can return it free for a full refund within 14 days of arrival.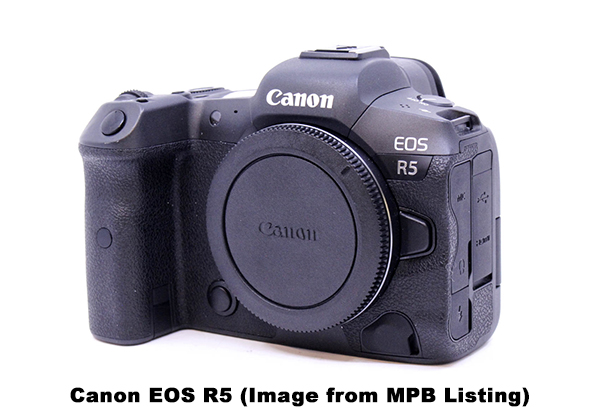 Canon EOS R5
Featuring a 45-megapixel full-frame CMOS sensor, the Canon EOS R5 is a favorite for some very good reasons. Video storytellers appreciate the 8K30 raw and 4K120 10-bit internal video. It also provides 5-axis sensor-shift image stabilization, up to 20 frames-per-second burst shooting (with electronic shutter) and a 3.2-inch Vari-Angle touchscreen LCD. The Canon R5 accepts SD UHS-II and CFexpress memory cards.
MPB currently has Canon R5 cameras in stock in Like New condition priced at $2949 or lower.
Here is MPB's Condition Rating System. It's clear and simple.
• Like New (mint condition, only minor wear)
• Excellent (minimal signs of wear, otherwise pristine)
• Good (fair amount of use, but well-kept and may have marks or scratches)
• Well Used (significant use, noticeable signs of wear and tear)
• Heavily Used (significant signs of wear and tear, primary functions still work)
Sony Alpha A7 III
One of the most affordable full-frame mirrorless cameras to be found, the Sony A7 III offers a 24-megapixel Exmor R BSI CMOS sensor and a 693-point hybrid autofocus system. Another model that's great for video storytellers, it features UHD 4K30 video with HLG and S-Log3 gammas. It also delivers 5-axis image stabilization and a 3.0-inch tilting touchscreen LCD, plus 10 frames-per-second burst operation and dual SD slots.
MPB has more than 10 Sony Alpha A 7III cameras on hand with prices starting at $1189 for Excellent condition.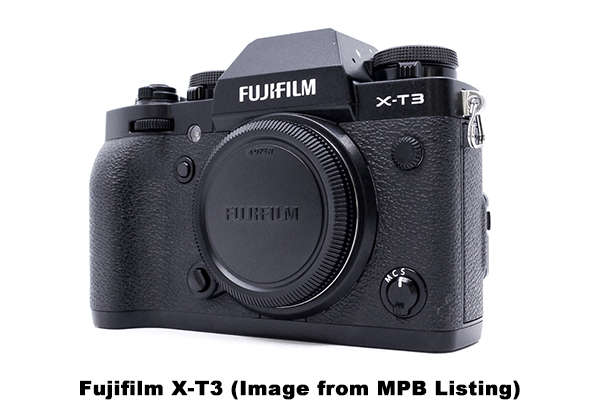 Fujifilm X-T3
A fan favorite among mirrorless cameras with APS-C size sensors, the Fujifilm X-T3 is a primary reason why so many photographers rave about the legendary "Fuji colors." Featuring its famous 26.1-megapixel X-Trans BSI CMOS sensor, the X-T3 shoots UHD 4K60 video with F-Log gamma and 10-bit output. It also has phase detection autofocus, 30 frame-per-second burst shooting and a 3.0-inch tilting touchscreen LCD. If you ever been tempted to indulge in the Fujifilm X-system, this is a great opportunity.
Right now, MPB more than 10 popular Fujifilm X-T3 used bodies available, priced between $739 and $909.
MPB Original Content
In addition to being the largest global platform to buy, sell and trade used photo and video gear, MPB is also one of the richest destinations for camera, video and drone information. Their original content includes gear guides, interviews, videos, podcasts, competitions, tips and techniques and helpful articles like this one: Top 7 photography locations in Los Angeles, California, which was published in July 2023.
Mirrorless Camera Lenses
While shopping for a mirrorless body at MPB, find the mirrorless lens that's just right for you. MPB has hundreds in stock at a wide array of prices, including models from Canon, Olympus, Nikon, Sony, Fujifilm and others. They also have mirrorless lenses from major third-party brands like Sigma and Tamron, plus a few unique "special effects" lenses like Lensbaby.
Used lenses sold by MPB go through the same rigorous inspections and come with the same six-month warranty as the used camera bodies they sell. And the lens pictured in the listing is the same lens you receive.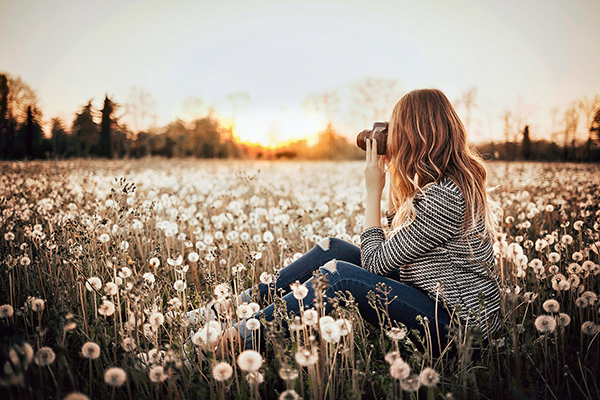 Why Buy, Sell or Trade with MPB?
MPB is an energetic community with a base of more than 625,000 photo and video storyteller customers worldwide. MPB has earned an outstanding reputation and delivers an exceptionally high level of customer satisfaction that's reflected in their "Excellent" rating on Trustpilot where more than 28,000 people have posted their reviews.
Conclusion
Is it time to go mirrorless? Or maybe stay with DSLRs? Either way, when you're thinking about buying, selling or trading photo, video or drone gear, visit MPB. Browse their enormous selection, enjoy their original content and learn a bit more about photo and video storytelling.
∞ Shutterbug Staff