The Lotus View Rapid Field Camera
After 34 years in the large format arena, I've learned that there are really only two kinds of view cameras. The first, made of elegant hardwood and fitted with fine brass hardware, is the kind we carefully polish and prop up in the office as a conversation piece. The other, made of chipped gray aluminum and sporting a tape-festooned bellows, is the one we actually take out and use. Now, with the availability in this country of the Lotus View Rapid Field camera, we can enjoy the aesthetics of a fine creative tool while making money with it.
The Rapid Field is the evolutionary outcome of Austrian photographer Burkhardt Kiegeland's collaboration with a woodworker and machinist to build 4x10" film holders and other specialized accessories for his personal needs. Today, in addition to manufacturing holders in all standard and panoramic formats from 4x5" to 20x24", Lotus produces 10 cameras covering the same size range. Made from a unique blend of oiled cherrywood and black anodized aluminum, with strategic parts made of modern synthetic materials, these handsome models offer the precision and stability of a technical camera in a very lightweight package.
To reduce weight without compromising rigidity, the camera bed consists of an open wood frame reinforced with three slats and a large, aluminum tripod mounting plate in which a 3/8" brass bushing is set. Mounted directly on top of the bed, and further bracing it, is a pair of beefy T-shaped aluminum guides in which the wooden front and rear focusing tracks slide. The rear track is strengthened by aluminum channels that form the top-side rear standard drive, plus the rack portion of the main focusing drive. The latter part is cut from Delrin, a tough space age material that machines with the precision of metal but works smoothly and silently against its mating pinion gear without grimy lubrication.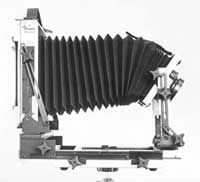 This one-part-braces-the-next design is intelligently continued in the front and rear standards, each having a somewhat skeletal appearance that belies its true strength. At the base of each is the compact, all-aluminum swing, tilt, and shift mechanism on which each movement is locked with its own non-metallic star knob. Again, appearance is deceiving, and while the knobs look a little undersized their placement makes for easy operation with gloved hands. All movements operate with the same smooth-ness as the focusing track and, with one exception, tighten positively.

The "errant" move-ment is front axis tilt, its dual locks designed to allow a controlled amount of slippage so that the lens can be tweaked with a fingertip during setup. While the action is sufficiently tight to hold most lenses in place, my concern is that the heavy, protruding front cell of a telephoto-design lens (or ultra-short optic) could cause the front end to sag unexpectedly. This did not happen during my tests, but coming from the Vise-Grip school of instrument locks I found it a little disconcerting. Should this become a problem, it would be a relatively simple task for the user to replace the plastic pivot washers with ones made of fiber or rubber for increased friction at this point.

Perhaps the most unusual feature of this camera is the durable 24" quadruple extension bellows, equal to four times the focal length of the format's standard lens, that allows full range movements even at maximum draw. An extra front extension rail, cleverly tucked inside the main focusing track but not gear driven, must be extended for the last 4". Despite the slender aluminum arms then supporting the front standard, the weight of the lens holds the extra rail surprisingly steady. The supple, synthetic bellows will focus a 75mm lens on a flat board, but the tightly packed pleats preclude virtually all movement.

The standard bellows is interchangeable with the optional Lotus Bag & Field Bellows, a smart hybrid design that combines seven bellows pleats with a standard bag bellows to accommodate lenses from 47mm (on a flat lensboard) to 240mm. With a recessed board, optics as short as 45mm can be used with sufficient movement. Other accessories include 4x10" and 5x7" step-up backs, a Fresnel focusing screen, a pinhole adapter with interchangeable hole sizes, and a lens mounted compendium-style filter hood. The Rapid Field can be ordered with factory installed rear rise at an additional cost.

Held in the conventional two-way horizontal/vertical back by leaf spring-tensioned arms, the ground glass frame opens wide enough to accept standard film holders, Polaroid 545 and 405 holders as well as many rollfilm backs without the need of a Graflok mechanism. The standard fine matte ground glass is ruled with a 1cm grid and has a printed outline for 9x12cm plus corner markings for 6x6cm, 6x7cm, and 6x9cm formats. An accessory Fresnel screen is available for focusing wide angle lenses. The camera accepts metal Technica lensboards as well as the many clones of this style on the market.

With its well placed controls, smooth operation, and exceptional stability, the Rapid Field was truly a pleasure to work with. Although space limitations keep me from going into the many amiable details, I highly recommend that interested readers investigate Lotus' rental program for a hands-on appreciation of the overall finesse of this new, yet superbly classic, view camera. Lotus also stocks a complete line of lenses, tripods, accessories, and materials, including Bergger BPF 200 film (in standard and hard to find sheet sizes) and silver-rich Prestige fine art paper, for the serious large format photographer.

For more information, contact Lotus View Camera/North America, 5955 Palo Verde Dr., Rockford, IL 61114; (815) 282-9876; fax: (815) 282-0902; e-mail: viewcam@wwa.com or web site at: www.lotusviewcamera.at/
Technical Specifications
Bellows Range: 600mm maximum, 85mm minimum
Focal Length Range With Flat Board: 47-800mm (telephoto design)
Front Axis Tilt: BEL
Front Base Tilt: BEL forward, BEL backward
Front Swing: 30° right, 30° left
Front Rise And Fall: 40mm up, 40mm down
Front Lateral Shift: 34mm left, 34mm right
Rear Axis Tilt: ACO
Rear Base Tilt: BEL forward, 30° backward
Rear Swing: 25° right, 25° left
Rear Rise And Fall: ACO, 70mm total travel
Rear Lateral Shift: Unlimited (BEL, limited only by bellows; ACO, additional cost option)
Lensboard: Linhof Technika
Back: Two-way horizontal/vertical
Ground Glass: Fine matte with centimeter grid; 9x12cm frame outline; corner markings for 6x6cm, 6x7cm, and 6x9cm formats
Tripod Socket: 3/8"
Folded Size And Weight: Approx. 250x210x130mm (10x8.4x5.2") including knobs; 4.8 lbs
Price: $2400

FEATURED VIDEO