Locations: A Journey To Africa: A Photographic Safari
When photographing animals on an African safari, sharp photos are a gift to bring home and it all centers on proper technique. Use the "sweet spot" on the lens; with both of my shorter lenses it was around f/5.6 or f/8. On the longer zoom, I found f/5 or f/5.6 gave me needle-sharp and distortion-free images. With the animal at rest, always put that focusing spot on the eye. On longer distances or perhaps with the animal moving, place that spot on the shoulder or flank to keep a decent depth of field throughout their length.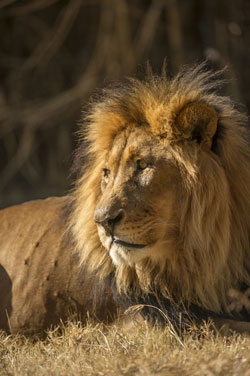 If you want a particular point of view, tell your guide about it and he will not only stop but also appreciate the fact you are alert in the art of spotting game. Most guides will do it as a courtesy, but if your guide forgets, tell him to shut off the diesel engine as it can give your VR or Image Stabilization a hard time.
When shooting, shut off the rear monitor on your camera, as it will eat into productive battery time. Today's modern cameras are spot on, and besides looking at your handiwork will only lead to missing—and perhaps—the last great shot of the day in perfect light. You can review all this later, keeping in mind that if you don't have it now, there is always tomorrow. For my initial camera settings, I programed both camera bodies for Raw, dynamic area (51 spots), continuous-servo autofocus, continuous high (fps), cloudy white balance, aperture priority with the meter set at center-weighted for game, as they are the main subject of the trip.
To get the most out of your photo safari, shoot and keep shooting! At first take, do some establishing photos (the herd, area, possible weather conditions) then come in closer and still closer for a portrait or details. With a good photographic system and lenses, the wrinkles on an elephant will jump out, zebra stripes will take on a whole new look, and that cheetah will look at you like she wants you for dinner! Strive to keep the animal in sharp focus and use depth of field creatively to help separate the wildlife from the background.
Granted, Africa could be a once-in-a-lifetime experience for many, but as photographers, we are planning to go again. Simply put, it's the gift to you as a photographer that just keeps on giving.
Travel Tips
If there's one suggestion I have it's to pack light. The only item of weight should be a windbreaker (doubles as a rain jacket) or a fleece type of jacket plus a sweater for those early morning and late night drives. Hats are good; a couple of wash and wear drip-dry shirts for the day and add three or four sporty dress shirts for dinner. I also packed three pairs of cargo pants made from a lightweight fabric that could be washed and hung out to dry but there is a laundry service at the lodge if you need it. For footwear, a well broken in pair of boots for the wildlife walks and loafers come in handy for the casual times during meals and security checks at the airports.
A call to the Travel Department of your local medical group for a list of shots you will need for your stay in Africa is very important. Depending on your final destination, you will need pills for malaria, a shot for hepatitis, and possibly updates on the measles or mumps, depending on your medical history. Your tour/lodging will most likely supply you with bottled water, but as an option a prescription of Ciprofloxacin is a great hedge against a serious bout of diarrhea. You will not have any trouble at the lodge, but traveling around the local markets might present a problem if you stop to eat or drink. Finally, no matter where I travel, my wife and I always pack a "medical kit" for the unexpected.
Photo Gear Tips
I know you want to take it all, but consider the restrictions on the plane of 45 linear inches for the overhead compartment and pare down to fit essential gear into your carry-on. First, although I know it sounds contrary to what you may have heard, stay away from taking a tripod, as 99 percent of your photography will be from the inside of a Land Rover and there is simply no place to set it up even with only a few people in the vehicle. A monopod might be a compromise, but since I use nothing but stabilized lenses, this accessory is of little value as any solid support works against stabilization. Next, a built-in camera flash is good to have as it adds nothing to the inside of the pack. Don't take a full-blown strobe unit that sits on the shoe of your camera; believe me, I did not come across a situation where I needed it.
I rarely take my computer on trips anymore; instead, I may pack one of the newer portable storage units to download or view my images when I return to the lodgings. Something from Epson, Jobo, or Wolverine with an adapter makes saving images a snap. I will take 16 to 20 4MB or 8MB CompactFlash cards for each camera. With my Nikon D3s, 20 8MB cards will give me a run of 8000 photos in Raw, which is more than I would ever hope to take. When used, the cards are placed back into the case upside down to keep them from being returned to the camera by mistake.
My primary D-SLR was the Nikon D3s, a fast, handy camera capable of shooting up to 9 frames per second (fps); plenty of speed for most anything I might encounter. My backup was the Nikon D700, again, with the battery pack, 8 fps is the norm and since both take the same EN-EL4a battery, an extra set of these went into the versatile Moose Peterson MP-3 backpack.
Along with the bodies went three Nikon Vibration Reduction (VR) lenses that would cover all of my shooting requirements. First is the Nikon AF-S Nikkor 24-120mm f/4G VR. Next in the bag is my AF-S Nikkor 70-200mm f/2.8G VR II, a versatile objective that is perfect for fast-moving animals even with the 1.4x tele-converter. Finally, the AF-S Nikkor 200-400mm f/4G VR was my ticket to crisp portraits of animals and was glued to my D3s the entire trip. In addition, I included a 77mm polarizer and the Singh-Ray Vari-ND for both the Nikkor 24-120mm and the 70-200mm, lens hoods for all, lens cleaner and a Giottos blower for cleaning later at night.
I know there is a temptation to take a longer 500mm or 600mm lens, but I would refrain from that because you have to get it there. That usually requires a long Pelican case that will go in the belly of the plane, and that makes me nervous. If you need more power, add a tele-converter.
Stan Trzoniec is a well-known outdoor writer and photographer with over 2800 articles and 850 magazine covers to his credit. He publishes coffee-table books on nature, photography, and railroads available and autographed through his website, www.outdoorphotographics.com.

LATEST VIDEO