On Location At Carnival
Six Photographers Talk About Their Pics...And Along The Way Enter The Film/Digital Debate
Every year hundreds of professional photographers gather in Rio de Janeiro for the world's best party--Carnival. Inside the Sambodrome an estimated 28,000 dancers in wild costumes parade each night before 60,000 cheering fans and the astute eyes of judges. While foreigners see Carnival as a party, to many Brazilians it is a top competition between escolas de sambas (samba schools) with passions that rival a top soccer match.

There is another competition in the Sambodrome--the battle between digital and film. As digital cameras become ever more popular, an elite group of top photographers stick to film. Why? Is it true that even the latest digital cameras can't deliver the images needed by these pros? Or, are they stuck with old habits and unable to evolve with technology? "They got rid of film, but now all have to haul around laptops," said one film veteran as he laughed at the line of digital photographers typing like mad as they filed and edited their latest Carnival shots.

Here we present six different photographers--four men and two women--from different continents working for a variety of clients. Each one showcases a favorite photograph from this tremendous party along with details about the shot.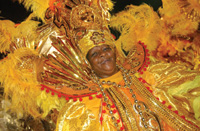 © 2003 Marie Hippenmeyer, All Rights Reserved
Name/e-mail: Marie Hippenmeyer (mhipp@uol.com.br)
Nationality: Swiss
Shot for: Queen International
Personal website: no

1. Why is this your favorite picture? I chose something simple, far from the traditional "Rio-Carnival-naked-mulatta" picture. This is in homage to the thousands of simple people who live for Carnival.
2. Technical information: Nikon's D1X; Nikon's 18-35mm f/3.5-4.5D; Nikon's SB28; ISO 800; 1/100 sec at f/5.
3. Digital vs. film? Currently in Brazil, professional photographers are predominantly using digital. But only a small portion of Brazilian consumers are using digital (mainly the upper class who can afford to buy it). The vast majority of consumers are still using film. To make prints, the digital user must still adjust the picture to the right size that the laboratory wants and to burn a CD before going to the laboratory. The digital format has not yet been popularized. It is difficult to evaluate
what will happen once digital is more popular and less expensive.
4. What do you miss about the "old days" of film? I have not completely left film. I do my personal work only with film. But for most of my clients, digital is a must. I principally miss the daily surprise, the daily astonishment every time when I looked at the film before I put it in the wash after the fixing bath. It is something miraculous, while looking at a screen is not.
5. Carnival takes place mainly at night, what techniques and "tricks" do you use? Carnival takes place mainly at night but there is plenty of light in the Sambodrome. So, no special tricks!
Name/e-mail: John Maier (johnmaier@yahoo.com)
Nationality: North American
Shot for: The New York Times
Personal website: www.NoLieProductions.com

1. Why is this your favorite picture? I picked this one because I like the girl's expression, which really captures the vitality of Carnival, and her braces, which show her youth. She's cute, in an innocent way, despite the sexy fantasia she is wearing.
2. Technical information: Canon's EOS A2 film camera; Canon's EF 28-70mm f/2.8, at the 70mm setting, with a 550EX Speedlite; flash was straight on with softening box; ISO 200 Fujicolor, shot at 1/125 or 1/60; camera was set to Shutter Priority.
3. Digital vs. film? I don't think there is a future for film, other than for art or sentimental purposes. It's like teaching someone to use a sextant when there is a GPS. Already, 90 percent of my work can be shot on digital, and it is so much more convenient. No developing, drying, or cutting, and getting cuts, scratches, dog hairs, and lint on a digital image.
Ever since photographers started transmitting from the field, the actual process of editing has changed dramatically. Photographers have become the editors, at least we are the ones making the first real edit. Now with digital, the photographers have even
more control over what they submit to their bosses.
I get frustrated at times because my digital camera has been in the shop twice in less than a year. Digital cameras are on the whole more fragile than film cameras. I live by the sea, and I shoot in the Amazon and other damp and humid areas a lot, so the fragility of digital is what scares me most. That's why you always need a back-up, and for me, at least for the time being, that will include a
film camera.
Of all the differences, the most important ones are convenience and seeing your results as you go. Say you have a portrait to do: you can shoot until you get the shot you want (or until your model walks off). But there are no sleepless nights or anxious moments. You leave knowing you have the shot in the bag.
4. What do you miss about the "old days" of film? Having a cafezinho (little cup of Brazilian coffee) while I wait for the film to get developed. And I guess I miss the excitement of seeing my whole shoot at once.
5. Carnival takes place mainly at night, what techniques and "tricks" do you use? Slow shutter speed with fill-in flash. Say shooting at 1/8, 1/15, and using a filtered flash. You can experiment shooting at different speeds to get different blurs. That's another great thing about digital: you can experiment and see what works on the spot. Our skills are improving at a faster pace since we can see what works best immediately.
Name/e-mail: Don Nussbaum (dn@caribphoto.com)
Nationality: North American
Shot for: Caribphoto Agency
Personal website: www.caribphoto.com

1. Why is this your favorite picture? It shows the exuberance of the party.
2. Technical information: Canon's A2; 28-135mm IS lens; shot at 1/4 sec at f/5, with full flash; ISO 50; Fuji's Velvia.
3. Digital vs. film? As for the future of film...well, I believe it doesn't have much future. Just don't press that delete button! This photo is a combo of both film and digital editing. Touchup was applied to clean some streakiness from the face. I used the method of slow shutter speed mixed with fill flash to give some "punch" to the subject, and to "freeze" the motion, yet allowing for blurry streaks showing action. Using this technique, unfortunately, resulted in streaks on the face, so my best shots were all digitally scanned and retouched to preserve a "clean" face. The streakiness in the rest of the image only enhanced the feeling of motion and excitement.
4. What do you miss about the "old days" of film? Not applicable; I still use film.
5. Carnival takes place mainly at night, what techniques and "tricks" do you use? With Carnival, you need to use fill flash to compensate for the greenish hue emanating from the stadium lighting. In this photo I used the best of both worlds combining film, which I'm used to shooting, and digital enhancement for "correction."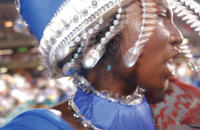 © 2003 Bernadete Lou, All Rights Reserved
Name/e-mail: Bernadete Lou (leros@leros.co.uk)
Nationality: Brazilian/Spanish
Shot for: Rex Features/Leros Magazine
Personal website: No

1. Why is this your favorite picture? The title of my favorite photo is "Orixa," from the School of Samba "Unidos da Tijuca." In a sequence of photos, I tried to catch the effects of spinning in this religious (Candomble) choreography, performed by an "Orixa" (Candomble god). I like the seriousness of her expression in contrast with the "happy spirit" of the Carnival. I avoided showing her face completely, as it is originally preserved in the ritual, where the Orixa's face is covered by beads.
2. Technical information: Nikon's D1X; Nikon's 24mm lens; ISO 400; 1/8 sec at f/5.6; SB28DX flash, pointed up.
3. Digital vs. film? I think what really scares photographers is the price of the digital camera but in the long run the investment is worthwhile. When the price of the digital camera goes down, many photographers are going to switch--because the market demands it. Film is still going to be used for advertising because of the quality necessary for poster-size prints. But for a press photographer, digital is undoubtedly more practical and reliable. With a film camera you tend to keep the same film (ISO setting); with digital you have the possibility to keep changing the ISO setting frame to frame.
4. What do you still miss about the "old days" of film? Honestly, I don't miss much about the old film days. The only thing that bothers me is when I have to select a picture in the files and have to go through them in the computer. I would rather have them physically (I mean prints or transparencies, not negatives). I would be able to run through them quicker. Working with digital demands more time in front of the computer--selecting, organizing, and filing the photos. I don't find that to be
very pleasant.
5. Carnival takes place mainly at night, what techniques and "tricks" do you use? When shooting in the night, I always try to take the picture with some sort of ambient light in the background. I try to choose angles where the light is direct. I try to avoid as much as possible using flash. I use the longest possible exposure according to the effect desired. I also do movements with the camera while shooting for specific effects (drawing with lights). Finally, I look for reflections for special effects--especially if it rains, you get very interesting reflections in the floor.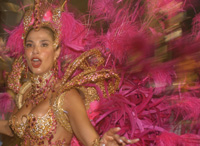 © 2003 Leo Lemos, All Rights Reserved
Name/e-mail: Leo Lemos (leo.lemos@terra.com.br)
Nationality: Brazilian
Shot for: Editora Abril--Revista Contigo
Personal website: www.geocities.com/leolemos

1. Why is this your favorite picture? This is Luciana Gimenez "Queen of Percussion" from the "Grande Rio" Samba School. The essence of Carnival is sexy women, sweaty, moving, full of emotion, and vivid colors. All these elements are represented in the photograph.
2. Technical information: Nikon's D100; 80-200mm f/2.8 set to 80mm; ISO 400; SB80DX flash set to TTL -0.7; 1/15 sec at f/5.6.
3. Digital vs. film? The only way to be a press photographer is to shoot digital. The market leaves no room for those who did not yet go digital. It's cheaper, faster, and more practical than film. But film will not end soon. Magazines that really want to show color and detail will keep using film. A good example is National Geographic. They use more than 2000 rolls of chrome for a cover history. It's much more expensive than digital, but much more reliable.
4. What do you miss about the "old days" of film? The fact that you didn't need a computer to edit or view your material. And the fact that you can hold what you have done while a digital photograph is just a combination of zeros and ones stored somewhere. Also, memory cards are not reliable media. Several times, I have had problems with cards.
5. Carnival takes place mainly at night, what techniques and "tricks" do you use? It is very important during Carnival to know how to work (interpret) the different types of lights. When I use a flash, I use a slow speed, medium aperture, TTL -0.3 or -0.7, and ISO 200 or 400. When the light is good enough to shoot without a flash, then I use minimum speed, 1/180 sec, f/2.8, ISO 800.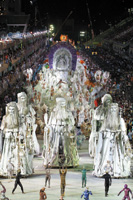 © 2003 Morten Andersen, All Rights Reserved
Name/e-mail: Morten Andersen (morten@mortenphoto.com)
Nationality: Danish
Shot for: The Guardian (in London)
Personal website: www.mortenphoto.com

1. Why is this your favorite photo? For me this photo represents the magnitude of the mass human participation in this beautiful celebration called "Carnival." From my perch high above the Sambodrome, the view seemed unreal, very theatrical, and one can see the full dimension of the world's biggest party.
2. Technical information: Canon's D60; 28-70mm; ISO 800, 1/60 sec at f/8.
3. Digital vs. film? I don't see too much future for film, though I would hope that it doesn't disappear. I think it will be used only by professionals and artists--they will keep using films. The rest of the market will be totally digital.
4. What do you miss about the "old days" of film? I miss the opportunity to totally blur the background. With digital you can't do that. Even at f/2.8 the background is still slightly in focus. I also miss the sound of shooting with film, feeling that a roll is moving inside the camera. What I don't miss is searching for a lab at 8am (after working the entire night inside the Sambodrome) then picking up film, scanning, and then sending the photos off in the afternoon--still
without sleeping.
5. Carnival takes place mainly at night, what techniques and "tricks" do you use? Besides the general techniques like using slow shutter speed with the flash, there are many possibilities with which I always like to experiment. With the reflections and artificial lighting (inside the Sambodrome) photographs can be composed in an artistic way or with different special effects. All of this, combined with a can of beer for 30 cents, makes it an enjoyable work experience.

LATEST VIDEO

SPONSORED VIDEO
Testing Tamron's SP 150-60mm G2 lens while capturing birds and alligators in Apalachicola, Florida.