Local Color; David Middleton's Advice To Outdoor Photographers: Stay Home
Photos © 2004, David Middleton, All Rights Reserved
"The intoxication of exotica is overrated," David Middleton says. So if you're thinking of traveling far and wide in search of great outdoor and nature photographs, save your money and your time--at least until you've explored the familiar: your own backyard.

"It's common for photographers to discount what's close because it's become ordinary," David says. "That's why photographers love to travel. But as a professional photographer who's traveled at least half the year for more than 20 years, I know it's a difficult thing to travel and get your best photography."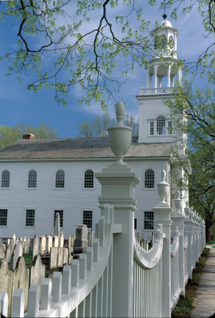 Indeed it is. First, most nature, outdoor, and, for that matter, travel photographers agree that he photographs best who travels alone, so if you're going with a companion, the odds are against you from the start. Then there's the very nature of the unfamiliar place to which you've traveled. Where are the best places to photograph? The best spot for sunsets? The most picturesque church, fall foliage background, or rocky stream? The best part of travel is discovery, but exploring takes time and most photographers don't have the luxury of hanging around long enough to get the really good views. "You can end up with nice shots," David says, "but you always have the thought, this is not the best spot."

And let's not even get started on weather conditions. Well, okay, maybe just a few words. "Go to the Greek Isles," David says, "with all those white homes and blue water and crystal clear skies--you know, all those pictures you've seen and want to get for yourself--and if it's a cloudy couple of days, it's not going to work."

Even when colorful events are on the agenda, a visitor may not hold all the cards. "You may know there's a festival scheduled," David says, "but you may not know exactly the best vantage point--is it high above or down with the crowd?" Likewise, what's the best background for the parade, and where will the crowds be? And if you miss the great shots, are you coming back next year?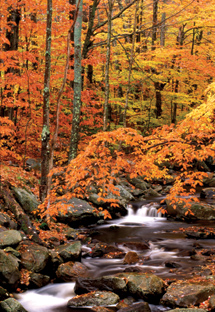 Of course you're going to want to travel and take photographs, but David's point is that most of us tend to miss the best opportunities simply because we overlook one of our greatest assets: our familiarity with our hometowns and environs. David turned that insight into three books: The Photographer's Guide to Vermont, The Photographer's Guide to the Maine Coast, and The Photographer's Guide to the Oregon Coast. All have the same subtitle: Where to Find Perfect Shots and How to Take Them. Obviously only one of the areas is David's home, and that's Vermont, but he is so knowledgeable about the other areas from the workshops he's given there that they qualify as familiar territory.
Familiarity Breeds Access
Think about the photographer's guide you could compile--all the places, people, and things you could photograph because of your knowledge and observation of your own backyard. "You get really great pictures when you have local knowledge and the chance to photograph during the best opportunities, the best conditions, and the best light," David says.


When you're photographing at or near home, you have your local knowledge working for you. "You know the best spot for photographing the local festival or celebration," David says. "When it's cloudy or rainy, you know what'll look good. You know the farmer walks his cows through his pasture at a particular time. Plus you can take advantage of what the day gives you--wake up to the first beautiful day of spring and you don't have to go far to get great pictures. Or if it's foggy or there's been an ice storm or a snowfall, you'll know where to go to get the best pictures."

And then there's the fact that the exotic subject you've come so far to photograph may not be all that exotic. "When you travel you're going to spots that photographers have been going to for years and years," David says, "and a gazillion images have been taken of those places. You might want to take those images, too, but you can't expect to get anything fresh or new.



LATEST VIDEO

SPONSORED VIDEO