Lightning Strikes; The Photography Of Tom Willett And Jeff Smith
A. T. (Tom) Willett and Jeff Smith are commercial photographers whose clients include Humana (insurance), Getty Assignments, Tucson Guide, More Magazine, the Arizona Public Service (APS), and the University of Arizona. The duo met more than 20 years ago while attending Pima Community College in Tucson.

Both moved to the small city when they were young (Willett from Illinois and Smith from Massachusetts), and both were mesmerized by Arizona's monsoon weather pattern, which is often quite dramatic. Separately, they each developed a passion for photographing the powerful lightning displays that typically accompany the storms. And so it was no surprise that they eventually began working together.
This supercell produced an F1 tornado near Anthony, Kansas, on May 27, 1997. We were about 20 miles west of Anthony and did not have time to catch up to the tornado as the sun had already set when I shot this. Since the top of the storm is so tall it is illuminated by the sun which has dropped below the horizon.
© A. T. Willett, www.atwillett.com
"The skies were really dramatic and made a big impression on me as a kid," Willett remembers. "I lived on a ranch at the base of the mountains where we'd get huge storms coming in off the Santa Catalina Mountains. The power and the energy of the thunder and lightning makes an impression on you one way or another. If you're afraid, you stay in the house; if not, you're out there."
Saguaro Cacti silhouetted by a severe thunderstorm on the northwest side of Tucson shot from near Silverbell Road. This storm top is about 28,000 ft. We watched the lightning blow about eight transformers that night. The one big lightning bolt is estimated to be longer than 20,000 ft.
© A. T. Willett, www.atwillett.com
Trial And Error
Photographing lightning is both a trick and a skill which has involved lots of experimenting over the years. "There's still a lot of trial and error," Willett notes, "especially in the beginning of each season because we haven't seen lightning in nine months. The first few storms we'll under- and overexpose images, depending on how close we are to the lightning and how intense it is.
"A proper exposure can be anywhere from f/2.8 to f/16 for the aperture, which is the most important thing for exposure. We constantly make judgment calls for f/stops and balancing time exposures for available light."
Severe weather photographers A. T. Willett (left) and Jeff Smith (right) at their show titled "Out of a Clear Blue Sky" located at the Etherton Gallery in Tucson, Arizona. Online gallery of the installation: http://ethertongallery.com/html/archive/gallery/outofaclearbluesky/index.htm.
© A. T. Willett, www.atwillett.com
"There's no magic formula," Smith adds. "But at the same time, it's best to start at f/5.6 or f/8, and then work on time exposures based on whether you're in or outside the city and how bright the city lights are and/or if there is a moon, etc. If we're in the city, exposures can be 2-3 minutes. If we're in the desert without moonlight, we can shoot a much longer exposure up to 8 minutes (which can also capture star trails, even behind the clouds)." The duo suggests counting the lightning bolts as they come down and after you've counted 7-10 bolts, close the shutter and move on to the next frame.

The photographers usually set up 6-8 cameras on tripods using different exposure settings. "We use really stable Gitzo tripods, which we highly recommend," Willett states.
Lightning bolts over the city of Tucson shot from the mountain lookout Windy Point in the Catalina Mountain Range. Two people standing on rocks in front of me showed up as silhouettes against the city lights. This storm shows the classic anvil shape of an isolated thunderstorm cell at dusk. At the time this image was taken there were three copper smelters in southern Arizona operating at full capacity releasing superfine particles into the upper atmosphere. These particles reflected light making the Tucson skies this glowing orange. Taken on September 4, 1983, this was my very first impressive severe weather photograph and it ran on the front page of the Tucson Citizen newspaper the next day.
© A. T. Willett, www.atwillett.com
Smith adds, "Some of them we've been using for 25 years; they're the best quality tripods for this type of work. We use both the carbon-fiber and older metal models. Out there in the elements, they get wet and dirty. We've never had a Gitzo collapse on us in a big storm."

Getting Started
The duo suggests setting up a camera with a wide angle lens first. "If you start wide," Smith explains, "you're bound to get a bolt of lightning in your frame. If the bolts are more consistent in one area, you can hone in on it. The highest quality lens will give you the sharpest image. If you're using a plastic camera, that can be interesting, but you'll never get that super-sharp bolt that you see with your eye. To your eye, it's all amazing, but it does matter what kind of camera and capture medium you're using."
While out in the Tohono O'odham Nation, A. T. Willett and I experienced one of the closest bolts that either of us had photographed. We both captured the moment from different perspectives at the same time.
© 1990 Jeff Smith
Both photographers prefer to shoot lightning storms on film (Fuji Velvia 50) but recently started shooting digitally as well. "Many photographers shoot fast film thinking they'll capture the lightning, but we recommend shooting time exposures with low ISO film." Willett and Smith also prefer color transparency film because, they note, negative film is harder to print and always has more grain. "But if that's all you have in your camera when the lightning strikes," Willett says, "shoot it."

Smith explains, "We've never used push or pull processing. There are so many different intensities of lightning on one roll that if you try to mess with one, you can ruin others. You just don't know what you're going to get until you look at the film. The latitude the film has and the quality of the scans still beats anything [digital] that's out there, but we're always looking for new technology.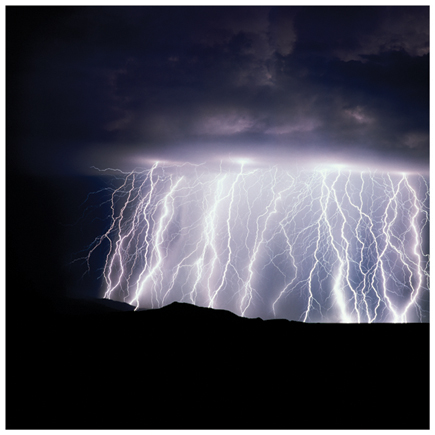 The Rincon Mountains east of Tucson are notorious for its fierce storms. This particular evening storm had the most lightning I have ever seen.
© 1997 Jeff Smith
"Some people would be shocked at the quality of the gear we take into the field, which includes Nikons, Canons, Hasselblads, and large format Pentax cameras, all of which can get wet, blow over, etc. We want the highest quality results."

FEATURED VIDEO