A Life In Photography; Reflecting Back On A Treasure Trove Of Memories
Photos © 2004 Greg Anderson, All Rights Reserved
Photography is a wide-ranging field that engenders passion in its practitioners, and like all great forms of expression creates opinions formed through experience and reflection. In its early days one of the great debates was: Is Photography Art? This was the subject of many essays and heated discussions among players and spectators. Today, issues such as film vs. digital, format choices, the validity of computer generated images, photography as exploitation or revealer, and even the merits of ink jet vs. silver prints cause similar debate. We are opening this department up to readers, manufacturers, and retailers--in short, everyone who lives and breathes photography and who has an opinion about anything affecting imaging today.

Here's how to get involved: write us an e-mail at editorial@shutterbug.com or send us a letter with a proposed topic and a synopsis of your idea. Once approved, we'll ask you to send us about 500-1000 words on the subject chosen. The idea here is not to push any product or wave any flag, but to create discussion about photo and imaging topics of the day. We reserve the right to edit whatever you send in, although we will never edit intention or opinion but only for length and, hopefully, for clarity. We reserve the right to publish your work on our web site as well, so you can join the archives and be a resource for opinion for years to come.

So, get thinking and writing and share your Point of View.
--George Schaub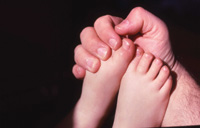 I was never more intent. The sound of people visiting, the noise of holiday dinner being prepared, presents under the tree, and the movement of furniture as tables and chairs were arranged to accommodate all the people. My uncles moved around the scene, holding their Argus C3s to their eyes, and then I'd hear a pop as a flash bulb went off. If I hurried, I could be there in time to see them grab the burned flash bulb with a handkerchief, pop the release on the flash gun, and then drop the bulb into a nearby ashtray. Never into the wastebasket with the danger of fire! There would be muffled curse, under the breath, when someone burned his hand in the process.

On the Fourth of July we went to Spearfish Park. A stream ran past the park where cousins played. You could stand on the rope bridge, connecting the two banks, bouncing and swaying it to make people shriek and hang onto the sides. At a nearby fish hatchery you'd enjoy watching the different sizes and species of trout swimming under the ducks and geese in the ponds. The nearby picnic tables groaned under the load of farm food. After you ate your fill it was photo time. First the grandparents and then the brothers and sisters would stand together in one group for a photo, then the wives, husbands, and children.

When the slides were returned, the Argus or Kodak projector would come out, the screen would be raised or the bed sheet hung, and we had a slide show with some people sitting on the sofas, others on the floor. The smoke would rise from the projector bulbs; the wrinkles in the bed sheet would ripple the images and Kodachromes would be projected, usually upside down, backward, or sometimes both, creating unintentional hilarity. The projectionist would get more upset, trying to get the slide in right, until the inevitable, "Well you do it!" We would see again the memory of that holiday.

How could anyone not want to stop time like this? At the age of 8, I cajoled my father into an Ansco plastic 127 format camera. I hunted my subjects at every family vacation and reunion and then took my film into the pharmacy and got back those little black and white prints. Mounting them into my Woolworth's print album, crossways and kitty-cornered with little hilarious captions, to me anyway, that I was sure everyone would love. What cousin, now in his 40s or 50s, would not enjoy a picture of himself as a child, bleary eyed and waking up, with the caption, "Got up on the wrong side of the bed?" Or a favorite aunt who would love to see a photo of herself getting her hair cut and permed by my grandmother on the porch of the house back in 1959.

In college, I became reacquainted with photography on a whole new level. A friend of mine was a teaching assistant; he had a key to the science lab and the darkroom. Saturday afternoons we would take a roll of Tri-X film and go for a walk in downtown Fargo, North Dakota, or Moorhead, Minnesota. I would watch him use his Mamiya Sekor 1000 DTL on people and buildings, and then evenings we would go into the darkroom to develop the roll and make prints.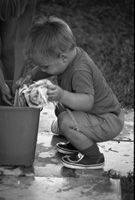 I entered into a 3-year apprenticeship with him, buying my first and second cameras, a used Pentax H1a and a new Ricoh Singlex TLS with Vemar, Vivitar, and Lentar lenses. I used one camera body for 35mm color, and the other for black and white. I learned time exposures, nature shots, architecture, and people portraits. With the camera, I met people, extended my relationships, and learned that the little viewfinder defined and limited my vision and at the same time increased my visual communication skills.

One group of photos that I have are from my mother's family, with some being over 130 years old. My father's photos begin with his grandparents in the 19th century, his mother's photos of him in 1921, going through The Depression, and showing his service in World War II. Life comes into focus from 100, 50, 30, and 10 years ago: family members now deceased, cousins playing together, children then who have their own children now. Images include favorite cars, long ago sold or traded, and vacations, like Himalayan expeditions to a nearby camping site. All of these memories come courtesy of a 19th century invention called the camera.

My sister purchased a Canon AE-1, and took classes in black and white and color photography as part of her studies in media. She traveled to India and Japan, creating slide shows on local culture and history. My mother, sitting at her kitchen window and looking at her bird feeder, tried to take pictures of the various birds that landed there on a winter's day. My father photographed with his Instamatic 704 and created a family archive of slides.

My older son, a chemical engineer dabbles in digital photography. He creates computer files of his family, vacations, and friends, while my middle son, a civil engineer, photographs vacations and special events in his life with one-shot and digital video cameras. And my daughter sketches, supplementing her drawings with an occasional black and white photo, courtesy of Dad's old cameras and chromogenic film. She thinks digital is a waste of time. We now have new types of equipment, creating visual associations with options never seen before.

I shoot and develop 12-15 rolls a year, photographing less intently, but more slowly, seeing things for the simple pleasure of looking. The labs have taken over my own developing and I rely more on computer prints. Except for these changes in tools, photography remains what it always has been for me, a way to enjoy the community of generations before me, to teach me to communicate more effectively in life as well as in my photographs, and to have a lovely treasure trove of visual memories.

By the way, I am building a collection of cameras, some used by my relatives going back to the 1920s and some Pentax, Ricoh, and Yashica cameras I first used in college. Does anyone know where I can get a good shooter condition Pentax H1a? It's the one I am missing. Oh, I need the clip on the light meter, too.