Lense On!: Camera Support & Tripod Alternative Is a Fun and Easy Solution for Stabilizing Shots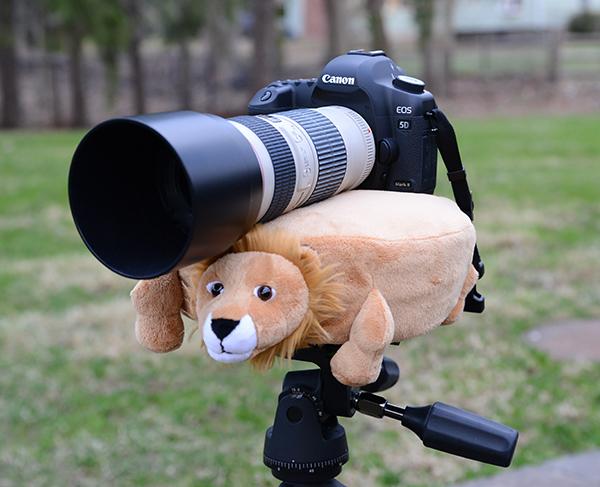 An effective camera support that could be used as a pillow when you snooze in the back of your pickup truck in a pinch? Hard to believe? Take my word for it—this thing is as sensible as it is functional.
Camera movement—even the tiniest amount—causes images to be unsharp, that's why camera shake is the number one cause of disappointing photos. No one knows this better than the photographer who uses a long telephoto lens.
The remedy? That's where the tripod comes into play. A solid tripod with a good quality adjustable head can hold your camera and lens rock-steady. For some situations, however, that rock-steadiness comes at the expense of mobility and/or the flexibility to point the camera in a different direction.
Image stabilization works wonders. In fact, along with autofocus, image stabilization has done more to improve all of our chances to get a clean, sharp shot. That said, stabilization has its limitations, for certain.
(Ironic, now that I write this, that my alma mater, Minolta Camera, was first to offer a commercially successful autofocus SLR, the legendary Maxxum 7000, and also first to offer a digital still camera with built-in stabilization—or as we called it, Anti-Shake—in the Minolta Dimage A2. A pleasant digression, but now back to the point.)
Our pioneer forefathers had a better idea when it came to stabilizing their long rifles while shooting at prosauropods (or whatever it was they hunted to please our pioneer foremothers). They rested the rifle barrel on a bag filled with sand. Now, hold that thought, because that's the same concept that's behind the innovative Lense On! camera and lens stabilizing platform.
Available in 6-in. and 7.5-inch diameters, the Lense On! is a densely filled bag that attaches to the top of your tripod using the standard thread arrangement. There it serves as an adjustable saddle for your camera or long lens. The metal reinforced bottom has four rubber supports that enable use when detached from the tripod—like when sitting on the top of a big rock, for example, or the hood of your car.
That's how simple it is. And that's the beauty of it. Just like the vibration-dampening sandbags our dinosaur-hunting ancestors used to steady their aim, the Lense On! brilliantly steadies your camera and telephoto.
The exterior of the bag is abrasion resistant (but soft) 1000 denier nylon. Inside you find recycled rubber and micro beads—very environmentally responsible filling. My large Lense On! is fitted with a Leo Lense On cover, a soft, stuffed animal type disguise that's authentic enough to scare the bejabbers out of my Westie dog. (You can, of course, use the Lense On! stabilizer without a conspicious cover but that wouldn't be as much fun!)
Overall, I like the Lense On camera support. It allows more freedom of movement, which is very important when shooting wildlife or sports. It's easy to attach and remove, and very easy to use. The small Lense On! runs $89 and the larger model is $10 more. Leo costs $20 and is worth every cent.
—Jon Sienkiewicz