Lensbaby Omni Creative Filter System Review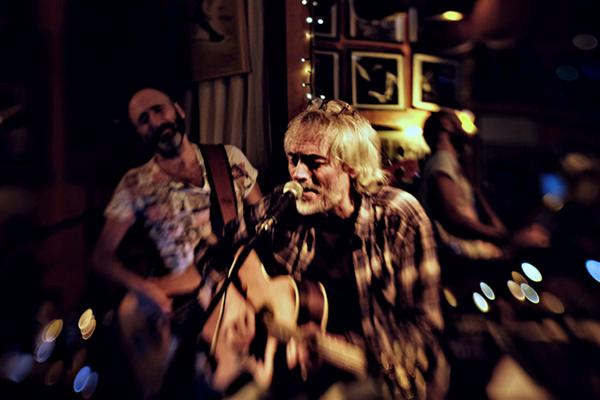 We've all covered the front of a lens with sandwich wrap or a nylon stocking and created a DIY special effects filter at one time or another. Maybe you've even smeared an old UV or Skylight with Vaseline or crayon wax to produce creative distortion. Cool, no? Well, those are NOTHING compared to the incredible optical tricks you can do with the new Omni Creative Filter System from Lensbaby.
The sensational Omni Creative Filter System from Lensbaby—who else could it be from? Lensbaby has been making images beautifully unsharp and delightfully distorted for years and years. I still use my very first Lensbaby lens…but don't let me stray too far off the subject here.
What's in the Lensbaby Omni Creative Filter System kit?
The basic kit consists of several interesting pieces packed in a big felt case. The largest piece is a metal filter holder that attaches to the front of a lens and serves as a base for an assortment of glass and plastic image modifiers that can be freely positioned around the circumference. Let me unpack that a bit better for you.
The filter holder resembles a very thin, flat donut, right down to the hole in the center. The hole is encircled with raised lip that is threaded either 77mm (large diameter kit) or 58mm (small kit). A set of step rings adapt to sizes from 62 to 82mm for the larger holder, and for the smaller holder, 49 to 58mm. Lensbaby even includes a handy filter wrench in case you go torque happy and overtighten something.
The objects that are positioned in front of the lens are called Effect Wands. The Omni Kit includes three which can be seen in the illustration above. Approximately in the middle of the Effect Wand there is a steel ball bearing that is the attachment point between the wand and the magnetic spoons. There are four spoons (Magnetic Mounts). All contain powerful magnets that could present choking hazards, so please keep them away from kids and drunken neighbors.
Two have a spoon-like crater on either end and can be placed anywhere on the holder. The other two are extension spoons (Lensbaby calls them "arms"), so they have a ball bearing on one end and a crater on the other. You can see where this is going. The ball baring sits in the crater like a hip joint in its socket and moves in a 360° circle and 180° arc. Very cool. Even without instructions you will figure this out in seconds flat.
The three Effect Wands in the basic kit are fun and you may not tire of them for months; nonetheless, I recommend going all in and buying the Omni Color Expansion Pack and the Crystal Expansion Pack. The combinations will keep you busy for years.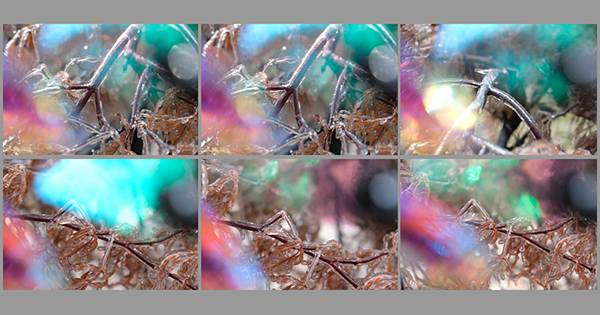 Included Omni Kit Effect Wands
Crystal Seahorse – A good wand to start with. Lensbaby says you'll get "…breathtaking flare, brilliant light direction, and radiant reflections." Agreed.
Stretch Glass – Create streaks and vary the effects by reversing the side that faces the lens.
Rainbow Film – Diffraction film. I didn't get as much from this filter, so I plan to try again later.
Price: (complete kit): $99
Available on Amazon.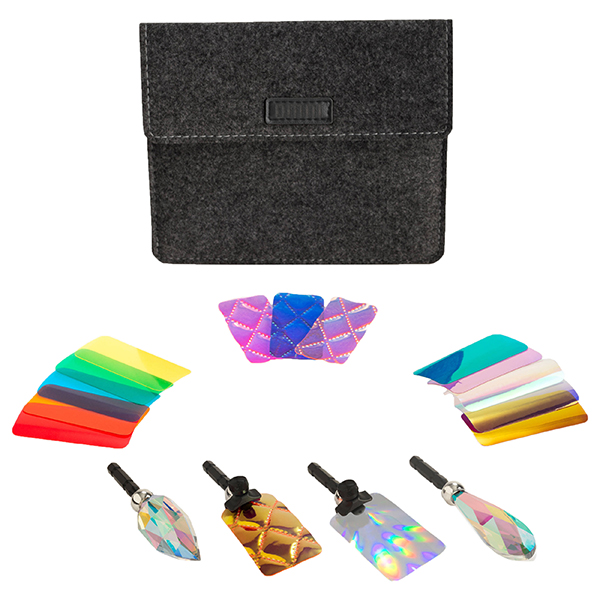 Color Expansion Pack Effect Wands
Teardrop & Crescent Multicolor Crystals – Prismatic colors and fractal effects.
Crisscross Rainbow Film – Patterned rainbow effect.
Lumi Films – Nine different colors for all sorts of fun.
Color Gels – Solid overlay in a choice of five colors.
Price: $59
Available on Amazon.
Crystal Expansion Pack Effect Wands
Crystal Spear – Create radiant highlights and kaleidoscopic reflections.
Triangular Prism – It's a real prism so it's fun even when you're not taking pictures.
Scalloped Window – Brilliant flare and reflection with a large clear center.
Price: $49
Available on Amazon.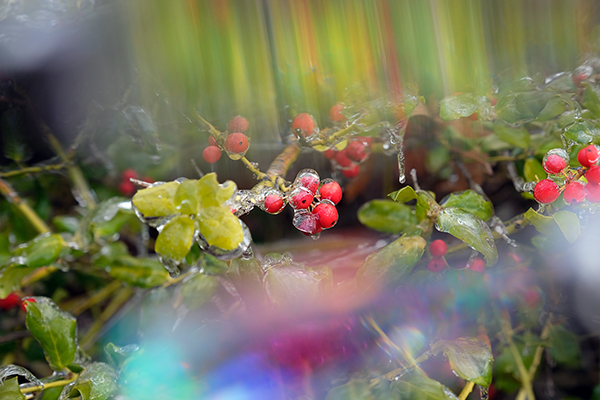 In the Field
Easy and fun to use! Just heed the cautions listed below, i.e., use a lens longer than 35mm, a largish f/stop and some common sense. I found it easier to hold the camera in my right hand (as per usual) and move the Effect Wands with my left.
Keep two wands attached to the mount, even if you are using only one (the other can be shifted completely out of the shot but still remain at the ready if needed). Try angling a Crystal Wand parallel to the lens axis and then slowly nudge the tip toward the center of the lens. Do it and you'll see what I mean.
The magnets are strong, so when you reposition the spoons along the perimeter of the steel mount use both hands, at least until you get the hang of it. I didn't find much difference between using the long or the short Extension Arm, but you might.
More Tips
Lensbaby recommends, and I heartily concur, that you use the Omni Creative Filter System on lenses longer than 35mm. Prime normals are ideal. But hey—the kit is all about creativity, so experiment with every lens you own. You won't like some of the images, but that's nothing new (for me at least).
Shallow Depth of Field helps obscure the structural outline of the Effect Wand, so use a larger f/stop. I shot everything on Aperture Priority at f/2.8. Shoot handheld, sure, but it's easier to carefully fine tune the effect if you use a tripod.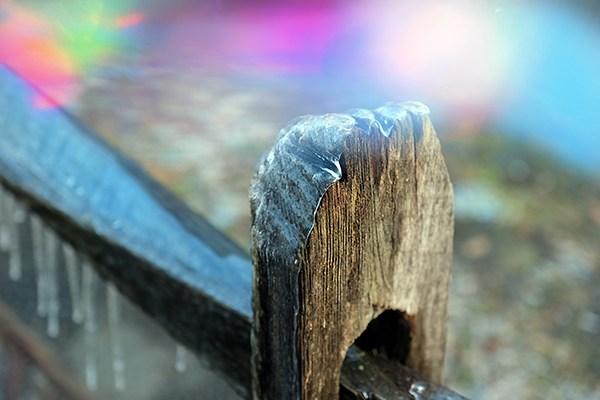 I understand that Lensbaby provides the stiff felt cases to protect the real glass crystal components, but I found them difficult to use, especially when I was in a hurry. Blame it on my lack of dexterity, perhaps, but the cases are large and inflexible. Instead, throw an old microfiber cloth in a cigar box and go from there. Or make a trip to the Container Store and buy a Tupperware knockoff.
I use Lensbaby stuff. A lot. And I have a bunch of old, out-dated DSLR cameras. A lot. When using a Lensbaby lens or the Omni System, the images don't have to be 36MP with 14-bit roumalade sauce on the side. I have gotten great shots with my sadly aging Nikon D50, Canon D30 (not 30D, it's a 2001-vintage Canon D30) and Olympus E410. And many other oldies. The point is that Lensbaby allows you to use some of your old gear again—and get results you love.
Post processing in Photoshop or Elements is the same as with any other image; just don't be afraid to use the Saturation Sponge to intensify the colors here and there to suit your taste. If you're a fan of the creative tools from Exposure Software (formerly Alien Skin) like I am, you'll find that an Omni image can be the perfect jumping off point toward personal creativity.
Caution: hanging a sharp pointed crystal in front of a $900 lens requires reasonable care. I can see how one might accidentally mash an Effect Wand into the front element. A Sky or UV filter obviates this, of course. Just be careful. I can be pretty clumsy, and I didn't have any problems.
Conclusion
The Lensbaby Omni Creative Filter System and it expansion packs are the most exciting camera accessories I've seen this year. They're intuitive to use and deliver fun results right away. No matter how you use them, you are going to enjoy them. I sure did.
—Jon Sienkiewicz
(As an Amazon Associate, Shutterbug earns from qualifying purchases linked in this story.)

FEATURED VIDEO