Leica's D-Lux 2; It's The Perfect Vacation Camera—And It's A Leica
Let me begin with a confession. When testing Leica's D-Lux 2 I did something I advise Shutterbug's readers never do: I received the camera on Friday and on Sunday stuck it and the user's guide in my pocket to read on the four-hour flight from Denver to Acapulco, Mexico. Oh, yeah, I charged the battery before I left. It's a testament to this camera's ergonomics, design, and flawless execution that I rarely had to wonder what to do next to capture any photograph.
De-Luxe, D-Lux
The Leica D-Lux 2 is the company's first digital point-and-shoot camera with an 8.4-megapixel CCD sensor. Featuring a 2.5" LCD display (there's no optical finder) with a resolution of 207,000 pixels, the screen can be switched to a low-power mode without sacrificing image quality. You can switch on a "rule of thirds" grid, which I found more distracting than useful, but if you have trouble keeping horizon lines straight, it'll be useful. Especially since the D-Lux 2 is a multi-format camera.

Moving a lever mounted on the side of the lens, you can switch the photographic format by selecting one of three possible aspect ratios. Apart from the 4:3 format and the classic 3:2 (I guess they did invent it) Leica ratio, the D-Lux 2 lets you make images in HD's 16:9 format at the imaging chip's full resolution. Not so with the others. Depending on the format, resolution varies from 6 megapixels in the 4:3 format to 7 megapixels in the 3:2 format. Much of the time I shot in 16:9 and most of the illustrations, maybe all of them, were made that way to maximize image resolution and impact.
While the Leica D-Lux 2 offers Monochrome mode, this photograph of people on the beach in Acapulco, Mexico, was captured in color and is an RGB file. Like most of the images in this story it was shot in the camera's 16:9 ratio as a JPEG file. Exposure was made in Program mode (1/2000 sec at f/8) at ISO 400.
All Photos © 2006, Joe Farace, All Rights Reserved
The DC Vario-Elmarit f/2.8-4.9 aspherical zoom lens consists of nine elements in eight groups. A focal length equivalent of 28-112mm provides a wide range of possibilities for image composition. Leica says, "the optics have been individually matched to the camera sensor" and image quality was nothing short of outstanding. A mostly useless 4x digital zoom is available but I didn't use it and neither should you.
These dancers were performing during lunch at Acapulco's El Jaguar restaurant. I asked the owner's permission to stand on a chair to make this uncropped photograph. The 16:9 ratio complimented the composition to include all of the dancers while minimizing floor and ceiling. This image also demonstrated the power of the tiny but oh-so-effective pop-up flash that's built into Leica's D-Lux 2. Exposure was made in Program mode (1/30 sec at f/2.8) at ISO 400.

The D-Lux 2 includes an integrated Image Stabilizer that can be switched on and off and compensates for camera shake to prevent blurred images and makes it possible to capture sharp pictures in low-light and twilight situations. A small button in front of the shutter release activates Anti-Shake mode and it never got in the way and was always available when needed. In Mode One, stabilization operates continuously and in Mode Two, activates only at the moment of capture. I tried this latter mode on a boat trip while riding down the Colorado River near Laughlin, Nevada, and it produced sharp images. I happily bounced back and forth between each mode in low-light conditions, such as sunsets.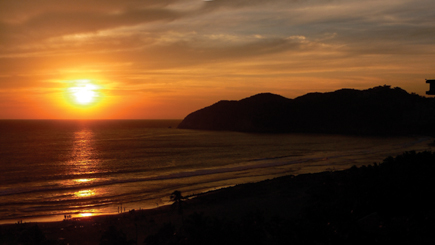 The Leica D-Lux 2 has many Scene modes, almost all of them useful for the traveling photographer. Sunsets can be notoriously difficult to photograph and usually call for some kind of manual exposure, bracketing, or exposure compensation. Not this shot, made from the balcony of the Acapulco Princess. I put the camera in Landscape mode, pointed and shot, and this is what I got directly from the camera's memory card.
Exposure modes include Programmed Automatic, Shutter-Speed Priority, Aperture Priority, and Manual. Since this is a point-and-shoot camera, I made most images in Program mode, except when I wanted to try something different and that's when I reached for one of the Scene programs available from a dial on the top of the camera. Options include Portrait, Sport, Nighttime Landscape, Nighttime Portrait, Fireworks, Party, Snow, Self-Portrait, Food, Baby, Soft-Focus for Skin, Candlelight, Starry Sky, and Landscape.

Even under difficult lighting conditions that would freak out most cameras, the D-Lux 2 delivered accurate exposures. Bracket and Exposure Compensation modes are also available when you want to get the "perfect" exposure and I made liberal use of exposure compensation controls but didn't bracket much.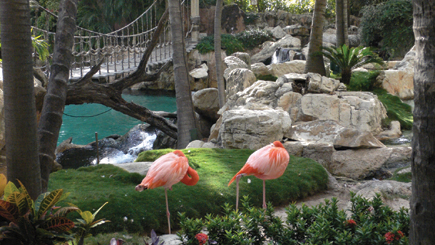 I liked the contrast of the flamingo's bright ink color against the lush green and gray rocks. This tranquil scene was photographed on the grounds of the Acapulco Princess hotel so even if you're not in the mood for exploring you can come up with interesting travel photographs--in your own hotel's backyard. Exposure was made in Program mode (1/500 sec at f/4.5) at ISO 400.
Color Effects include Cool, Warm, Black and White, and Sepia. Unlike most in camera Sepia effects that are too orange, the D-Lux 2 produces effects that capture a true "sepia" mood. I also liked the Cool and Warm effects for punching up color tones in images that could use it. Black and White mode was spot on and just the ticket when you want to explore your inner Cartier-Bresson.

Fun In Acapulco
I took Leica's D-Lux 2 with me everywhere on my trip to Acapulco and tested it under a wide range of photo conditions. From night shots of Acapulco Bay to taking it into the jungle to photograph native petroglyphs, the camera was my constant companion and never let me down. If there were any failings they are some I've seen in every Leica point-and-shoot: The maximum available ISO is 400, which is a common limitation for many digital point-and-shoots, but this is a Leica, after all. The other problem is noise at ISO 400, which is significant at long exposures. The D-Lux 2 is also relatively expensive, but this is a Leica, after all.
On the day of the winter solstice I went exploring the jungle near Acapulco for petroglyphs with a Mexican archeologist and it was all uphill. While I paused to catch my breath I made this photograph or was it the other way around? Exposure was in Program mode (1/320 sec at f/4) at ISO 400.
For traditionalists, manual focusing is accomplished by manipulating a joystick on the camera back and while I played with this function I never used it to capture images. The autofocus is fast, accurate, and reliable with hardly any out-of-focus pictures. The camera's built-in flash looks like something Barbie might use to photograph Ken on his surfboard, but is surprisingly versatile.



LATEST VIDEO