Laowa 100mm f/2.8 2X Ultra Macro APO Lens Review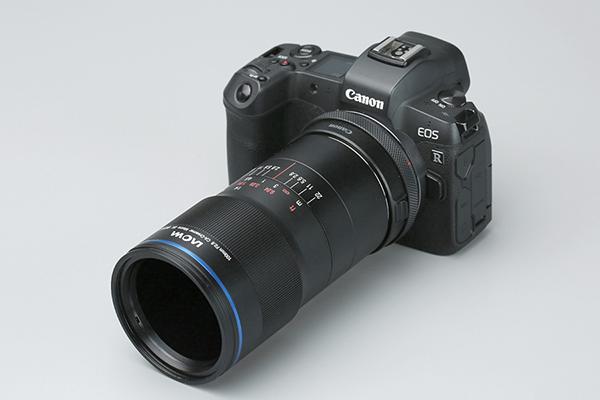 Laowa's newly introduced 100mm macro lens offers 2:1 reproduction ratio and a fast f/2.8 aperture. The specifications for this manual focus lens are impressive—but does it deliver, and does it deserve its $449 price tag? We put a sample (in Nikon mount) through the paces and made a couple interesting discoveries.
Laowa, identified as Venus Optics on their packaging and by the big camera stores, has been finding space on dealers' shelves by filling interesting niches in the camera lens marketplace. Their unique offerings include a 15mm f/4 Shift lens and a 7mm f/2 to name but two.
Manufactured in China by Anhui Changgeng Optics Technology Co., Ltd (Venus Optics), also known as Loawa, the 100mm f/2.8 2X Ultra Macro APO has "Dreamer" printed on the barrel. Although it doesn't interfere with the lens's mechanics, operation or performance, that's a lot of dissimilar names for a consumer to deal with. Anyway, we were asked to call it Laowa and we are told that the Dreamer label was derived from their dream to build the perfect lens.
Technical Description
The Laowa 100mm f/2.8 is a manual focus macro lens for full-frame DSLR cameras. The optical design consists of 12 elements in 10 groups. The construction includes two Low Dispersion elements according to Loawa. The minimum focus is 9.7 inches and smallest possible aperture is f/22.
The Dreamer is a 2:1 macro lens, which means that an object 1 cm long will appear 2 cm long on the image sensor. This is sometimes referred to as 2X, or 'Twice life-size." The more common reproduction ratio for macro lenses is 1:2 (half life-size) or 1:1 (life-size).
Dimensions and weight may vary slightly depending on mount, but they average about 2.8 x 6.1 inches (72 x 155mm) and 22.5 ounces, or 1.4 pounds (638 g). It's not small. By comparison my aging Nikon 105mm f/4 Ai Micro-Nikkor weighs just 17.6 ounces, 1.1 pounds (500 grams). Admittedly, it's an f/4 and not an f/2.8 and it focuses to 1:1, not 2:1.
Currently available in three mounts, the number of aperture blades varies (significantly) depending on the model: 9 blades for Canon, 7 for Nikon and 13 for Sony FE. Canon version is equipped with a CPU chip and motor for aperture control via the camera. The manufacturer warns that if you plan to use the lens on a Sony FE camera via adapter, "make sure an electronics adapter is being used or else your aperture cannot be adjusted."
Significance of 2:1 Macro
As explained above, macro lenses are commonly categorized by reproduction ratio (sometimes called magnification). By the most strict definition, true macro begins at 1:1, i.e., life-size, where an object one inch long is recorded as an image one inch long on the camera's sensor. A lens that has a reproduction ration of 1:2 records that same object as an image one-half inch long on the sensor.
So a lens like the Loawa 100mm f/2.8 2X Ultra Macro is remarkable because at the closest focusing distance it records objects at twice (2X) life-size. Photograph a button that's one centimeter in diameter and it's recorded as an image two centimeters across. Cool.
Cool, but also hard to handle. A tripod is an absolute must. Even the tiniest movement or vibration causes unsharpness. Even 1:1 macro is very difficult to use in the field without support; shooting handheld at 2:1 is nigh on impossible. That's just physics and not a criticism of the product.
Construction and Build Quality
Exterior fit and finish are excellent. From five inches away this lens is a beauty to behold. In the hand, the focusing helicoid feels smooth, the aperture ring clicks securely at each detent, and the outside finish is smooth with crisp and clean lettering.
The Laowa 100mm f/2.8 is supplied with a 67mm UV filter – which I thought was a nice, classy touch until I unscrewed it. Without the filter, the inside of the lens barrel becomes a cup that's two inches deep and has a glass bottom. In other words, when racked back to the infinity focus position, the front element drops about two inches lower than the top of the lens barrel.
It gets worse. There are three channels milled into the inside walls of the lens barrel. There is a space where the front element unit intersects each of these channels (I presume that the focusing mechanism rides in these channels). There is nothing to prevent dirt and dust from collecting readily in the channels and passing through the openings made at each intersection.
But wait – it gets worse still. After using the lens for about two weeks I removed the filter again and discovered a thin film of grease coating large areas on the inside wall of the lens barrel. To confirm I was seeing grease and not simple wear marks, I smeared the shiny surface with my finger, as you can see in the photograph.
I don't need to explain that grease is great for temporarily reducing friction, but it also attracts and holds dust and debris. Plus it's generally heat-sensitive. In scientific terms it melts like crazy and drips all over hell.
Performance
Sharpness was acceptable and common aberrations were well suppressed. The lens definitely delivers an astounding reproduction ratio, and although it was taxing to use (as any 2:1 macro would be) it was fun to make things that big.
Bokeh was very unpleasant. As you can see from the accompanying photo, some out-of-focus highlights appeared as heptagons – seven-sided bubbles. Just plain annoying. I tested the lens in a Nikon mount, the version that has only seven aperture blades. Maybe the bokeh is better with the Sony (13-blade) version.
Conclusion
Like the drowning man who successfully swam 90% of the way back to shore, the Laowa 100mm f/2.8 2X Ultra Macro APO lens almost gets there but not quite.
In fairness, I was able to capture some attractive images with this lens, and the ability to work at exaggerated macro is exciting to be sure. But the greasy innards create a lint trap that doesn't belong inside a lens.
—Jon Sienkiewicz

FEATURED VIDEO