Kyocera Finecam L4v And L3v; Compact Cameras Boasting The Largest LCD Monitors Available With Any Digicam
A compact digital camera is certainly convenient, but petite size has one drawback. The LCD monitors of most digicams are simply too small for convenient image viewing while shooting or during playback. Until recently, a 1.8" screen was common; today, an increasing number of cameras are fitted with 1.6" or 1.5" screens. Even the largest SLR cameras' screens are no larger than 2". (All measurements refer to the diagonal of the screen.) The Kyocera designers recognized that most users prefer a larger screen and equipped the 4-megapixel Finecam L4v and the 3-megapixel L3v with a 2.5" LCD monitor, the largest available on any camera.
Especially with scenes that included a great deal of fine detail, I appreciated the value of the huge 2.5" LCD monitor. While the oversized screen was moderately useful for composing images, it was particularly beneficial in image playback. (At f/7.6; 1/180 sec; ISO 80; -0.3 exposure compensation; 17.4mm zoom setting.)
Photos © 2003 Peter K. Burian, All Rights Reserved
You may recall reading about a Kodak camera that also employs an oversized screen. That model is the EasyShare LS633, available in some countries, though not in the US, as of this writing. The LS633 boasts a 2.2" OLED monitor of an entirely different display technology; it employs an Organic Light-Emitting Diode--a sheet of glass with silicon transistors and five thin layers of organic material that glows when receiving voltage--instead of liquid crystals as in a conventional LCD screen. An OLED monitor has two benefits. It consumes very little battery power and features an extremely wide viewing angle; the image remains viewable even at a very wide 165º angle, though with a slight color shift when viewed from the side.

In any event, Kyocera decided to employ conventional LCD technology for its even larger monitors that take up roughly 2/3 of the L3v and L4v camera back. The 2.5" screen is certainly huge, and it produces a bright, snappy image. The numerals and symbols (indicating camera settings) are larger than average, although far-sighted individuals will still need to wear their corrective lenses to read the data. The "Dayfine" screen incorporates a special optical film to increase the transmission of light from the LCD. Its "dual backlight" technology employs ambient light to increase brightness and contrast while anti-glare coating allows for viewing even in bright light.
The Finecam L4v produced images with high color saturation, with particularly rich, vibrant reds. While color saturation can be increased in camera, I found no need to use that feature. (At f/8; 1/250 sec; at -0.3 exposure compensation; ISO 80; 7.7mm zoom setting; Auto Color tool applied in Photoshop.)
Evaluation
While I certainly appreciated the oversized LCD monitor while testing the Finecam L4v, it does have some drawbacks. Because the screen consumes such a large area, there is not a great deal of room for the optical viewfinder. Hence, the finder is a bit small for convenient viewing; like some others, it displays only 80 percent of the actual image area. These factors will not be relevant for the majority of digital camera owners who use the monitor for framing their images. Because the viewing angle is not wide, the image must be viewed straight on. The oversized monitor appears to consume more battery power than smaller monitors, especially when it is always on; I found that I needed to replace the two Ni-MH AA batteries after about an hour of heavy shooting while kayaking on a river. Finally, the resolution of 110,000 pixels is a bit low for a 2.5" LCD screen; higher resolution would provide a viewing image that is more finely detailed.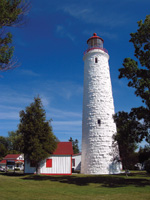 My best images made for excellent 8x10" prints after application of Unsharp Mask in Photoshop. As the small portion of this image should confirm, resolution and the definition of fine detail are impressive in a print of this size. (Image file size increased to 15MB for 8x10" print at 260dpi; Unsharp Mask applied.)
In spite of the nit-picking, I can highly recommend the oversized, bright and contrasty LCD monitor. After shooting with the Finecam L4v for two weeks, I found even the 2" monitor of my digital SLR camera to be too small.

At the $449 street price, the Kyocera Finecam L4v offers good value in an easy to use 4-Mp camera, considering its metal body and the surprisingly wide range of features. Available for $50 less, the 3-Mp Finecam L3v would be a fine choice for those who do not often make large prints. Because the autofocus system is most reliable in outdoor image making, either camera will primarily appeal to those who do not frequently shoot in low-light. If you find the LCD monitor of most digital cameras to be too small, be sure to check out one of these Kyocera models while shopping.

Peter K. Burian, a stock photographer, and long time eDP and Shutterbug contributor, is the author of a new book, Mastering Digital Photography and Imaging (Sybex), to be published in May 2004. Covering all aspects of the topic--the technology, equipment and techniques--this book provides 300 pages of practical advice for photo enthusiasts.
Camera Features, Operation And Image Quality
While the most impressive feature is the huge LCD monitor, the Kyocera Finecam L4v is a desirable camera in general. It's a great looking digicam, encased in metal and small enough to fit into a large shirt pocket. Like most models targeting families, this one includes few analog controls so it's unlikely to intimidate even the novice. Access the setup menu or the operating menu, and you find many other capabilities. The camera can be fully automatic in its default modes, or you can select the desired settings to achieve an intended effect.
Response Times
In terms of speed, I found the Finecam L4v to be average. Start up time was five seconds, and the time between shots was two seconds. The shutter lag--delay between pressing the shutter button and the instant of exposure--was about one second. This is a bit long so I missed the occasional smile or gesture when first using the camera. The solution was simple. For subsequent shots, I pre-focused on my subject and pressed the button at the desired moment; the camera then responded almost instantly, taking the picture that I had intended. Autofocus was not reliable in low-light; presetting the estimated subject distance in manual focus mode produced better results.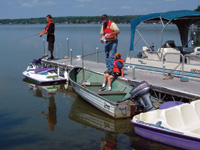 When I used the camera's "normal" Sharpness level and auto white balance (top), it generated images that were slightly soft and often exhibited a slight green color cast. After a 30 second correction in Photoshop, (bottom) the images are close to perfect. (At f/8; 1/250 sec; f/8; 10mm zoom setting.)
Image Quality
Because the camera produced images with high color saturation, especially in the red spectrum, I found no need for the "chroma" (color saturation) adjustment control. The images were a bit soft, so I tried increasing sharpness with the in camera control; this did produce higher sharpness, but the effect seemed artificial. I was able to produce superior images with the Unsharp Mask filter in Photoshop. Some images made in auto white balance exhibited a slight green cast, easily solved with the "Auto Color" correction tool in Photoshop, or with a 10 point increase in magenta using the Color Balance option.

In the Fine image quality mode, at the 2304x1728 resolution setting, the Finecam L4v produced JPEG images with high (roughly 8:1) compression for small 1.47MB images that did not consume a great deal of space on an SD card. When opened (uncompressed) in Photoshop, the files expanded to 11.4MB in size. Jagged edges were visible only at 200 percent or higher magnification on my monitor and these artifacts did not degrade print quality. Skin tones were very pleasing; most colors were quite accurate, although reds were a bit orange; overall, the images were smooth with good definition of fine detail. After adjusting contrast, color balance and sharpness, I was able to make very good 8.5x11" ink jet prints and excellent
8x10" glossies.
Facts
· Sensor: 1/2.5" 4.23-Mp CCD; 4 million recording pixels; 24 bit RGB color depth
· Capture Formats: Four JPEG resolution options from 640x480 to 2304x1728 pixels and two quality settings; two AVI movie modes with audio
· Storage: SecureDigital (SD) or MultiMedia card
· White Balance: Auto and Custom white balance; also, Sun, Cloudy, Tungsten, and Fluorescent settings
· Lens: Kyocera 7.3-21.9mm (35-105mm equivalent); up to 4x digital zoom
· Focusing: Wide area and spot autofocus; manual focus with seven distance options from 24" to infinity; macro and infinity focus; minimum focus distance 24" and 8" in Macro mode
· Sensitivity: Auto, and 80, 160, and 320 ISO equivalent
· Operating Modes: Program mode; Aperture Priority AE for selecting widest or smallest aperture; long exposure mode; movie modes
· Exposure Control: Multi-Segment, Center-Weighted and Spot metering; Exposure Compensation; AE Lock
· Shutter Speed Range: 1/2000 to 8 sec
· Flash: Built-in Auto flash with redeye reduction, Auto, Fill In, Off, and slow-sync Night Portrait modes
· Dimensions/Weight: 4.4x2.1x1.4"; 6 oz plus battery
· Street Price: $449
Contact
Kyocera Optics
(800) 526-0266
http://www.yashica.com

LATEST VIDEO

SPONSORED VIDEO
Testing Tamron's SP 150-60mm G2 lens while capturing birds and alligators in Apalachicola, Florida.