Konica Minolta's DiMAGE X60; A Must-Carry Digital Point-And-Shoot
For some time my favorite pocket camera has been Konica Minolta's DiMAGE Xg; I never go anywhere without it being tucked into its matching leather case. One of the features of the Xg that I like best, besides its ability to make great photographs, is its compact size. Then along comes Konica Minolta's DiMAGE X60, which delivers higher resolution images, better macro capabilities, and the darn thing is smaller than the Xg!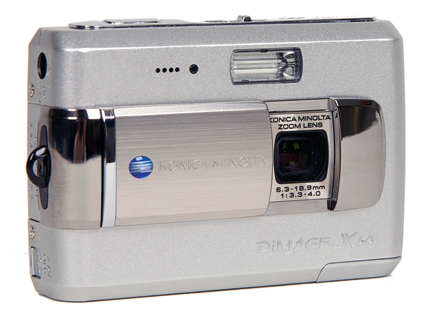 Getting To Be A DiMAGE To Me
The X60 is a 5-megapixel digital point-and-shoot that features a 2.5" LCD preview screen, 3x optical and 4x (mostly useless) digital zoom capabilities, along with Macro and "Super Macro" capability. Because of its big screen, the X60 has no optical viewfinder. Come to think of it, I don't remember the last time I used the optical viewfinder on my Xg. The large LCD provides excellent clarity for on-the-spot playback or sharing images with others, but can occasionally be hard to see in bright light outdoors in spite of its anti-reflective design. The downside of the big screen is increased battery usage; that "great sucking sound" you hear while chimping is the sound of its lithium ion battery being drained. Based on Camera & Imaging Products Association (www.cipa.jp/english) measurements, Konica Minolta estimates you can capture approximately 150 frames using the standard battery and a Secure Digital memory card. As with EPA gasoline MPG ratings, your own mileage may vary.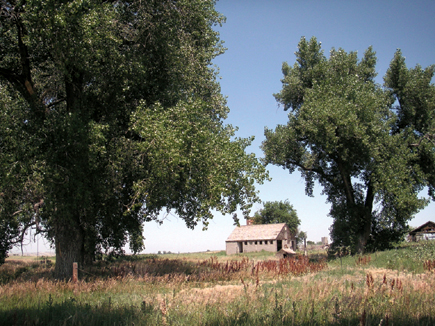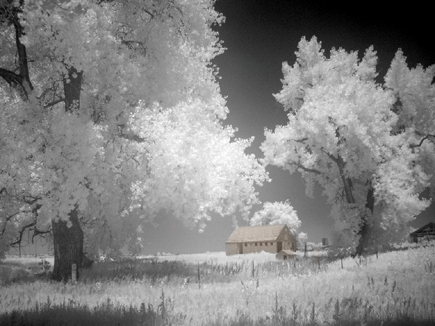 (Top): Most previous Konica Minolta digital cameras have been infrared sensitive so I decided to check out how well the new DiMAGE X60 did. With the camera mounted on a sturdy Manfrotto tripod I made this reference shot in Automatic mode with the built-in zoom lens set at the equivalent of 38mm. The camera exposure was 1/1000 sec at f/3.3 at ISO 100. (Above): With the Konica Minolta DiMAGE X60 still on the tripod, I held a Singh-Ray (www.singh-ray.com) I-Ray infrared filter in front of the lens and made another exposure. Because of the density of the I-Ray filter, the exposure was 2 seconds at f/3.3 at an ISO of 160. The X60 has a black and white mode and I set it to Monochrome so the image would not have to be converted later. Except for the sepia-toned layer over the building, what you see here is exactly what came off the Secure Digital card.
All Photos © 2005, Joe Farace, All Rights Reserved
Like its X-type predecessors, the X60 stores JPEG files on a Secure Digital/MultiMediaCard memory card but this new model also offers 15MB of internal memory so you can shoot photos without a card or, even better, continue shooting after the card is full. I inserted a SanDisk (www.sandisk.com) Extreme 256MB card in the side-mounted slot and after just a few uses the cover fell off. Like Humpty Dumpty I was never able to put it all back together again--at least permanently. Many other small digital cameras have similarly flimsy covers over their memory card slots but this is the first time I've had one fall off.
(Left): Those of you who have heard me speak about making photographs "right in your own backyard" know that I am an advocate of taking a small camera with me on my daily walk. This image was made just off a bike path that follows a creek near my home. I liked how these grasses were blowing in the breeze and knew that with high ambient light the exposure would produce some soft blur, and it did. Who said photographs have to be sharp all the time? Autoexposure was 1/60 sec at f/4 at ISO 100. (Right): Mary and I were walking through the Canon City station getting ready to board the dinner train, when I saw this couple from Leadville, Colorado, who were taking the train to celebrate their 33rd wedding anniversary. They agreed to pose for me in front of the station building. Since this image cried out for an "Old West" look, I used the DiMAGE X60's built-in Sepia mode to create a monochrome image.
Boot N' Shoot
After sliding the lens cover open, the camera starts (boots up?) in a fast 0.5 seconds. Compared to the Xg, which had a small on-off button next to the shutter release, this sliding lens cover is a major improvement if only because you won't accidentally turn the camera off when you think you're making a picture. The X60 has 0.08 shutter-release time lag that sounds fast unless you're photographing butterflies. With its non-protruding 38-114mm (equivalent) zoom lens, the X60's zoom lens covers everything from wide angle shots to close-ups as near as 4". If you want to get even closer, the X60's Super Macro mode gets you to 2".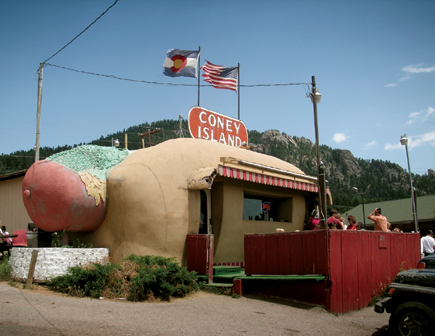 Like its predecessors, the DiMAGE X60 is so compact that you can take it with you on all your travels. It's so small that you can take it when going out for a gourmet meal, such as a visit to Coney Island's hot dog-shaped building for the best hot dog in Conifer, Colorado. While Mary was standing in line to get a jumbo dog (we shared it) I walked around looking for the building's best side; tough, since they built a little patio with a fence in front. The camera exposure was 1/500 sec at f/3.3 at ISO 50.

LATEST VIDEO

SPONSORED VIDEO
Testing Tamron's SP 150-60mm G2 lens while capturing birds and alligators in Apalachicola, Florida.