Kodak Professional DCS Pro Back Plus Digital Camera Back
16 Million Pexels And A Whole Lot More
In case you haven't heard, there's a new sheriff in town who just rode in from Rochester. This new sheriff has 16 megapixels, pro-oriented software, gorgeous color, and fits virtually any medium format camera--what's not to like?
When Kodak introduced the DCS Pro Back in 2001 they turned a lot of heads. Not only did they introduce the first big square 4000x4000 pixel one-shot color digital camera back since the late, great ($48,000!) Dicomed Bigshot, but they added total portability via on-board CompactFlash storage, a built-in LCD screen, and the ability to shoot without being tethered to any computer. Nice.
While speculation in the pro photo world was that the price would be in the unprecedented sub-$30,000 range, Kodak shocked once again with a list price of $21,995. While that may seem awfully steep compared to a Nikon CoolPix 5000, a machine of this quality, capability, and pedigree was shocking news indeed.
In the year since its debut Kodak has improved the back, officially renamed it the Kodak Professional DCS Pro Back Plus Digital Camera Back, and actually held the price steady. Instead of a two-camera application, as in the Pro Back, the Plus model adds the ability to interface with a number of other cameras, including fully manual cameras. Since I shoot digitally with Megavision and Better Light cameras for still life work and Canon D30 and EOS-1D SLRs for everything else, the Pro Back Plus was high on my list of pro digital devices to check out.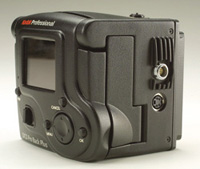 Stick your fingernail in the indent and pop open the CompactFlash slot cover. The DCS Pro Back Plus offers dual CompactFlash slots, both of which can accommodate 1GB IBM microdrives for a staggering 2GB of on-board storage.
Staggering Specs
The specifications are staggering: a 4080x4080 pixel color CCD chip, compatibility with most Hasselblad, Mamiya, and Bronica medium format cameras as well as full compatibility with manual devices like 4x5 view cameras and the Horseman Digiflex. There's even a beefy 16-bit, 96MB RGB file and a burst rate of one frame every 2 sec. For product and people shooters like me, wedding and portrait photographers, and any pro who needs a big gorgeous image but doesn't need really rapid shooting, the Pro Back Plus seems perfect. Thanks to the good folks at Kodak I was given 30 days with the Pro Back Plus to really run it through its paces.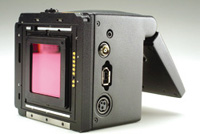 Here's the business end of the back: the pink glass is the 16Mp CCD, the ports are for power, FireWire, and flash sync.
The $20,000 back shows up in a relatively pedestrian brown cardboard box. Inside you'll find the back with adapter for the camera of your choice, a nifty little cordura carrying bag for the back, a rechargeable power pack, studio-based AC adapter, and FireWire cable for use with a PC or Mac computer. My review sample did not include any sort of professionally printed manual, just the Owners Manual for both hardware and software that is also included in PDF files on the install disk.
Color balance, saturation, and shadow detail on this yellow rose image are simply outstanding--clearly the equal of film.
Photos © 2001, Jay Abend, All Rights Reserved
Handsome Design
The back itself is a really beautiful piece of industrial design. Size and heft-wise it's similar to a Phase One LightPhase, about the same as a Hasselblad 70mm back. The back features outlets for DC power, IEEE 1394 (FireWire) connection, sync to your lens flash terminal and then an ancillary flash sync terminal for connection to your strobe pack. Once the back is bolted to your camera you need to hook up the flash sync of your camera or lens with the Pro Back Plus, and then the Pro Back Plus triggers your strobes. I hooked everything up, plugged in the battery pack and the back came to life. A beautiful touch is that the panel that houses the LCD screen and control panel tilts up for easy viewing. On a 21/4" camera this makes for very easy transition between shooting and reviewing. While playback isn't super fast, you are afforded a 100 percent zoom mode for instant sharpness evaluation, something I'm desperately missing on my EOS-1D. Kodak also includes an instant review histogram mode for accurate exposure checking, and a nifty digital spot meter.
Here's a wide shot of the Boston skyline. Even a blowup of a small section of the file stays sharp.
The CCD Array
As with the Kodak SLR cameras, the CCD array is manufactured by Kodak, employs a Bayer pattern color filter matrix, and can be configured with either an Infrared filter or an Anti-Aliasing (AA) filter. Since I used to shoot with a Kodak DCS-560 I knew all about the filter debate. Shoot without the AA filter and you'll get tack-sharp images with some color fringing and aliasing. Install the AA filter and the color artifacts are gone, along with some of the sharpness. On the 560 the aliasing was a problem but I persevered, since the loss of sharpness with the AA filter was unacceptable.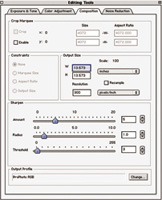 Kodak's software offers a rather complete array of on-the-fly enhancements, like unsharp masking.
The Pro Back Plus doesn't present you with quite the same dilemma. The AA filter certainly eats away at some of the native sharpness of the chip, but it still renders a reasonably sharp file and does a tremendous job of taming color artifacts. Even when shooting a catalog of very intricate embroidered handbags I found almost no color aliasing or moir problems, a much better performance than either of my Canon D SLRs.
Learning Curves Ahead
Now that I decided to shoot exclusively with the AA filter installed it was time to figure out how to use this thing. If you plan on buying one of these do yourself a favor and allow some time to learn its operation. This is no point-and-shoot camera. Kodak's manuals and installation instructions are cryptic at best, and you'll be using up plenty of free tech support phone time. Not wanting to damage an expensive piece like this, I struggled with the back, software, cabling, and power requirements for about a day, but the tech folks at Kodak really know their stuff and by day two I was up, running and ready to rumble!
Color balance, curves, and even digital exposure adjustment are a snap.
Onto The Hassie It Goes
I bolted the Pro Back Plus to a Hasselblad 553ELD motor driven camera, which is an ideal camera for this back. This is a perfect solution since it requires no additional adapter plate--the back just bolts on like a regular Hasselblad back. You can choose to shoot either totally portable by plugging in a freshly charged battery pack, which is supplied with the camera, or you can shoot tethered by utilizing the Pro Back Plus' FireWire connection. In a brilliant move by Kodak the FireWire cable actually carries power to the camera, allowing really elegant one-cable studio shooting.
Since I was in the midst of some product work at the time I went for the FireWire arrangement. While Kodak offers software for both PC and Mac computers, DCS Capture Studio 1.6, the software that allows you to shoot and capture on the fly is only available for the Mac, although Camera Manager and DCS Photo Desk are cross-platform. I powered up Capture Studio, plugged the camera in and everything worked, first time out of the box. Kodak requires that you install a viewfinder mask, since the Pro Back Plus captures a 1.5" square chunk of the Hasselblad's 21/4" square format. The resulting 1.5 multiplier factor makes my wide angle 50mm lens a normal 75mm, and turns my normal 80mm into a short tele 120mm. I'm used to this multiplier factor on everything else I shoot with, so it's no big deal for me.
Another extremely powerful tool is the ability to apply a series of customized color settings called "Looks." While the extra Looks CD isn't a free upgrade, it's well worth the $200 charge.

Kodak Software
It's been a few years since I've operated within Kodak's Capture software, and they've really done some fine work here. You're initially presented with a blank screen that looks like just about any other image browser. Once "Capture" is clicked you're ready to shoot.

Kodak knows how pros work, so you can either capture an image directly by pressing the shutter of the camera or by clicking the little shutter release icon on the screen. Once an image is captured the raw data DCS file is immediately written to your hard drive and is presented on the screen as a thumbnail image. To see a larger preview you simply double-click on the thumbnail and the image-editing window opens.

Unfortunately, Capture Studio is no speed demon. Clicking on the small image window to view at 100 percent doesn't just zoom in, but opens another window with a larger view. This seems clunky and certainly slows the entire process down.

Since Kodak knows that photographers need to very accurately color manage images, Capture Studio is a deep and powerful color management tool. Kodak recommends "Pro Photo RGB" as your default colorspace, and this creates images that open in the Adobe RGB colorspace with exceptionally good color. Kodak not only allows for multiple working colorspaces, but finally answers the pleas of pro shooters by including a color profile creation tool within the software. This allows you to accurately create a profile not only for the camera back, but for the camera back working under your lighting conditions. Infinitely more powerful than a simple gray balance, Kodak allows you to shoot the industry standard Macbeth Color Chart at the start of every session, create a working profile and then apply this profile to every image in your shoot folder. It works very, very well.

Working on an image in Capture Studio allows you to edit 16-bit color for maximum dynamic range, and allows you to perform color, tone, sharpness, and noise reduction on raw camera data rather than a processed RGB image. The advantage is that manipulations made within the Kodak software should produce a cleaner, better file. The downside is that the software is slow and clunky when compared with batch processing RGB files in Photoshop.

The Power Of Looks
Perhaps the greatest tool that Kodak includes in Capture Studio is the "Looks" palette. This is a way to apply a predetermined color profile to the raw image data. Kodak includes a couple of Looks with the software but a "must-have" add-on is the Kodak Looks CD-ROM. This includes a bunch of other profiles that allow you to shoot an image once, then instantly preview how the image would look if it were shot with a bunch of different film stocks. It sounds too good to be true but it works incredibly well.

"Portrait Hi-Color Hold" looks like saturated transparency film but holds detail in the highlights and shadows. Want full-out Kodak Ektachrome E100VS saturation? Simply apply Portrait Hi Color. Want color neg smoothness? Just apply "Portrait" for perfect Kodak PortraVC every time. Want that classic even Portra 160NC look? Just dial in "Portrait Reduced." Want the classic black and white look of Pan-X with a Wratten #25 filter over your lens? It's in there.

The power of the Looks palette is staggering, and makes the Pro Back Plus a nearly universal back for product, portrait, and wedding photographers. Unfortunately, the software does impede the workflow a bit, since every time you need to change Looks you need to find the colorsync folder, since the software doesn't automatically default to this folder (as it should).
One of the most powerful tools in the Kodak Capture software is the ability to create custom color profiles using a standard Macbeth Color Chart.
A Workflow That Works
Capture Studio also allows for very detailed adjustments in color, tone, sharpness, and colorspace, but it is no substitute for a full-fledged image editor like Adobe Photoshop. Because of this I think you'll find that a suitable workflow will involve creating a folder on your disk for your DCS raw files. Kodak likes to think of these files as the negative--the original untouched, unaltered representation of the scene you shot. Then you can set your colorspace, your color "look," your default sharpening, toning, and neutral balance, and then batch all of your images to create big fat 16-bit RGB files in a new folder. Then from your entire shoot the individual images that you have selected for use will be opened in your image editor, manipulated to your satisfaction, and then saved as 8-bit RGB or CMYK files in a third folder.
Once you get used to this workflow it makes perfect sense. Getting in the habit of burning CD-ROMs of your raw files creates an archive of images that can be used in the future without any changes or manipulations.
Taking Your Images In Hand
As you no doubt have gathered, working with a high-end digital camera is an involved process. While in the old days you may have dropped your film off at the lab and you were done, now you have both the creative freedom and the responsibility of taking your raw image data and crafting color managed finished images. As long as you're being compensated for this work it's an excellent tradeoff, but don't expect the purchase of a digital back like this to somehow simplify your life. Speed, control, and profitability--yes; lazy afternoons waiting for your processed film to arrive--no.
Image Results
Once I had captured a mix of people, products, and scenics it was time to put the pedal to the metal and see what this camera back could really do. Going into this I needed to remember that we are talking about a one-shot color chip here--not the three-shot color of my Megavision T32 or the trilinear scanning CCD of my Better Light 6000. That said, results obtained with the Pro Back Plus were quite impressive (16 million pixels does the job quite nicely, thank you). I made some 20x24" prints from Pro Back Plus files and they were really sensational. When viewed at an average viewing distance there was virtually no noise, excellent sharpness, perfect color, and a general "film-like" appearance. I have seen Matchprint proofs of a few jobs I shot with the Pro Back Plus, and they also looked extremely crisp and didn't have any of the "digital" quality that I felt my old DCS-560 files had. When viewed at 100 percent on screen the images still retained their detail. While not as crisp, clean, and well-defined on a pixel-level basis as the Canon EOS-1D files I've been shooting, the larger file size and more saturated color rendition make the Pro Back Plus images really outstanding.
Dust Magnet
The one problem that kept rearing its ugly head was dust. Not the kind of sharp white dots that you used to retouch out of your black and white prints, but small and large dark spots representing dust on the CCD. I encountered this with my DCS-560, D30, and EOS-1D, but never as bad as with the Pro Back Plus. As with other Hasselblad mounted digital backs you really need to do a thorough cleaning of the back before it is mounted, and then clean the CCD quite often. Even if the CCD starts clean the big mirror banging around inside a Hasselblad creates lots of static and swirls a fair amount of dust as well. It's easy enough to clean, but a pain nonetheless.
Worth Its Weight
The Kodak DCS Pro Back Plus is a wonderful imaging tool. Believe it or not, I feel that at $20k this is a tremendous value. While commercial photographers are finding it harder to get their clients to pay for a "digital capture fee" these days, portrait and wedding photographers making the transition from film to digital are realizing savings measures in the tens of thousands of dollars every year. If you shoot weddings and need the kind of detail and professional-level color management tools to sell large profitable enlargements, the DCS Pro Back Plus is custom made for you.
In my tests I found large prints made on a Fuji Frontier digital "C" printer were better than images optically printed from color negative stock. You heard me--better. In general I found that DCS Pro Back Plus files shot with the Portrait Hi-Color Hold Look enabled were very close to 21/4" Ektachrome transparencies that have been drum scanned. While I felt the files weren't quite as crisp and alias free as my scan back files for studio product photography, this camera produced images that are better than all but a handful of very expensive dedicated digital backs.
If shooting is your business and you can justify the purchase price, the Kodak DCS Pro Back Plus should represent a serious tool for making money. As a commercial photographer I'm tempted to buy one, but if you shoot portraits and weddings you should immediately contact your Kodak Professional dealer and arrange for a trial of one of these beauties. While the Phase One H 20 back features the same chip and some pros feel it delivers even better images, it does not at this time offer the seamless portability of the Kodak unit, nor the sub-$22,000 price. Kodak even offers refurbished units from time to time, so check the Kodak Professional web site. (At the time of this review Kodak still had several original Pro Backs for $16,995 available.)
For more information, contact Kodak Professional at (716) 724-4903, fax: (716) 724-4148; www.kodak.com.

LATEST VIDEO