Kenko Puts Exposure On The Right Track; You Still Need A Handheld Meter In The Digital Age
The digital camera in your hands provides you with loads of technology. It allows you to bracket automatically in a series of three or even five exposures, depending on model and user settings. But given the limited space on a memory card (notably when shooting raw at high pixel counts), the time spent to shoot all those frames, the limited buffer memory that you might fill up in the process, and the fact that you could--and should--instead be moving on to your next picture, do you really want to devote all those exposures to that one subject? In addition, those bracketed exposures are no guarantee of getting one usable exposure. Wouldn't it be better to take the guesswork out of exposure with just one tool? And what happens when you use studio flash, something the camera's metering system was never designed to deal with? Even using multiple shoe mounts can be tricky, unless you have the right tools.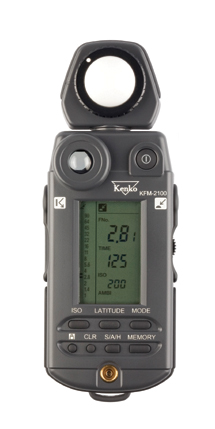 The Kenko KFM-2100 is a versatile and powerful handheld meter capable of reliably delivering both incident and spot readings, with ambient light and flash. It holds its own both in the field and in the studio.
The answer is a handheld exposure meter, notably one that reads both ambient light and flash, and Kenko offers two, the KFM-2100 and KFM-1100. There's also a color meter, the KCM-3100. But we'll focus on the top-of-the-line KFM-2100, and you'll soon see why.
The KFM-2100: The Swiss Army Knife Of Meters
A good Swiss Army knife provides you with the tools to do many things, and to do them well, without compromise, so does the KFM-2100. I worked with this meter long enough to be assured that it's a very capable handheld meter--in any hands. Despite its many advanced functions, this meter is easy enough to master with regular usage--and once it's in your hands, you'll want to use it regularly.

The beauty of the KFM-2100 is that it offers incident and true 1° spot readings. You would use incident readings (with the meter held at the subject position and the white dome facing the camera) with portraits, whether outdoors or in the studio. Incident readings avoid undue influences of bright tones, deep shadows, and bright lights in the background. In the studio, I used the meter in Incident mode with still life as well. The meter also has an Analyze function that takes the guesswork out of outdoor fill flash, giving you a measure of control beyond what even TTL flash provides.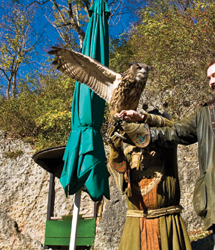 Once you make the highlight/shadow calculations with the Kenko meter you can react with more spontaneity in similar lighting situations. Moments before this shot I had made an average highlight and shadow spot reading with the KFM-2100. When I suddenly came upon this scene, under identical lighting conditions, time was of the essence, so I made this exposure by relying on the previous reading with the camera in Manual mode--and glad I did.
All Photos © Jack Neubart, All Rights Reserved
Putting Exposure On The Spot
When you come across a scenic landscape or urban setting, especially a scene with a confusing array of tonalities, then you'd use the 1° spot meter for reflected-light readings.

Target a key highlight or shadow value (where detail is important to the picture), press a button, and the meter automatically delivers the required exposure (you can customize how this function works). Or you can read both highlight and shadow, and the meter will average the two (or up to 10 readings). Depending on the situation, I found both approaches useful.

I can't tell you about all the benefits of owning one of these handheld exposure meters, but you can easily get that information by checking out the THK Photo Products, Inc. website (www.thkphoto.com), and looking for "What's New" on the opening web page. Only you can decide which exposure best suits your subject, but you need the right tools to help you reach that decision. If you carry the Kenko KFM-2100 in your camera bag, you can leave the guesswork behind.
It was important to hold detail in the marshmallows for this high-key exposure made with studio flash inside a softbox. To achieve this effect and produce a good overall exposure, I made an incident reading, with the camera in Manual mode.
Jack Neubart is a contributor to Shutterbug magazine and the author of Photographer's Exposure Handbook (Amphoto, 2007).


LATEST VIDEO