Keep Your Camera & Yourself Dry with This Wearable Umbrella from Canope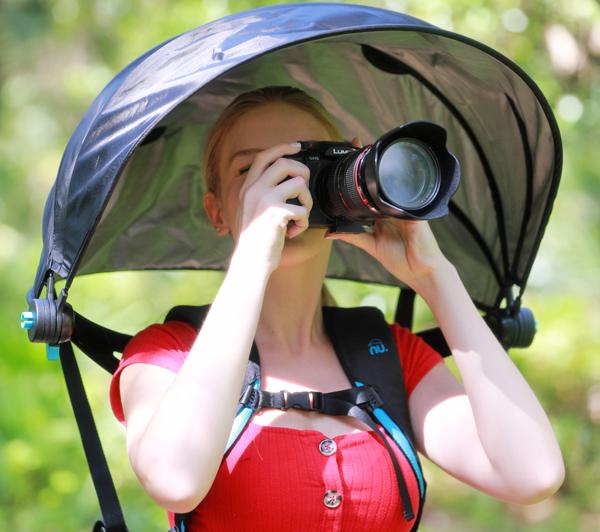 It's not often we come across a useful accessory that's unfamiliar to many of our readers. But this wearable umbrella from Canope is an extremely interesting and unique product for outdoor photographers shooting in bad weather.
Constructed from waterproof rip-stop nylon fabric, the device weighs just three lbs. and features a lightweight backpack-style frame with comfortable shoulder straps. Designed to withstand 40mph winds, the aerodynamic Canope has a retractable canopy that stores on the users back when the weather improves—ready to instantly redeploy when needed by pressing buttons on the side.
The key to this unusual approach to weather protection is that it leaves both hands free while protecting you and your gear from the elements. And the 26-inch width permits you to walk through standard doors without taking off the unit.
We first learned about this wearable umbrella about four years ago when it was known as Nubrella. Since then the product has evolved under the Canope name, with several recent improvements. While the earlier unit featured a clear plastic front panel, it now has an all-fabric design.
One of our favorite enhancements is that the underside of the canopy is now lined in silver fabric, said to keep the user 20% cooler. Equally important, the canopy now offers SPF 40 sun protection and blocks 90% of the sun's rays. The new Canope also boasts a larger front opening than the original model, for greater convenience when framing a shot.
By now you've no doubt conjured up a variety of other uses for Canope. It's ideal for wet outdoor activities like walking the dog, fishing, or hiking in the rain, and attending outdoor events when you need protection from the sun.
You can find more details on the $79 Canope on the company's website.

FEATURED VIDEO