Introducing the Photographic Faculty
For over 30 years Petersen's Photographic Magazine has been recognized as the leading instructional magazine for photo enthusiasts. Our goal has been to inspire readers with dramatic imagery, and to offer clear and simple instructional articles to help photographers improve their skills.
To further this mission, we have created the Photographic Faculty; a team of seven acclaimed men and women who are accomplished professional photographers as well as esteemed educators. Beginning next month, each issue of Photographic will include a tutorial feature contributed by one member of the faculty. These illustrated seminars will truly enable you to emulate the techniques of some of today's best photographers.
While we've chosen faculty members with a wide variety of photographic specialties and teaching styles, these individuals all share two common characteristics; a passion for creating great imagery and a willingness to share their vision with others. Faculty members include:
Vincent Versace
Vincent Versace is a recipient of the 2001 Shellenberg Fine Art Award and the 1998 Computerworld Smithsonian Award in Media Arts & Entertainment. A long-time contributor to Photographic, Vincent's recently completed a commission for the San Francisco Presidio National Park to create a permanent collection of art for the institution. His work is part of the permanent collection of the Smithsonian Institution's Museum of American History.
Vincent is co-founder of the Digital Landscape Workshop Series and he recently conducted a 27-city seminar tour on digital output techniques for the Epson Print Academy. He is currently working on his first book, Welcome to Oz: Following the RGB Road. A Cinematic Approach to Digital Still Photography. To be published by New Riders in the winter of 2004, Welcome to Oz is an instructional book exploring all aspects of Vincent's creative digital workflow.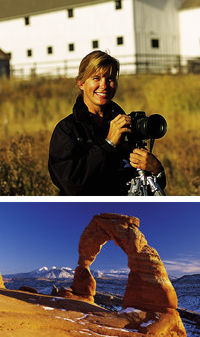 Cheyenne Rouse
Cheyenne Rouse is a highly acclaimed adventure sports photographer whose images are represented globally by top stock photo agencies. She is published internationally, and her images have appeared in numerous magazines including National Geographic Adventure, Climbing, Petersen's Photographic, Sunset, Sierra, Men's Journal and others. Her magazine articles are are also widely published.
Cheyenne's work reflects her love of the mountains and the great outdoors. She is passionately committed to using her images to inspire people to visit wild places and find their spirits through adventure. She co-authored a book entitled Camping: An Outdoor Action Guide (Western Publishing, 1998) and she is currently working on her next book; "60 Hikes Within 60 Miles of Salt Lake City" (Menasha Ridge Press) which is due for release in Spring, 2005.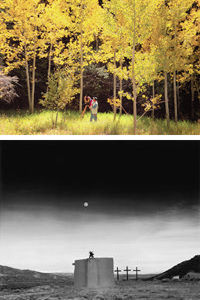 Craig Varjabedian
Craig Varjabedian is a fine-art photographer specializing in the enchanted lands and peoples of the American West and Southwest. Craig works almost exclusively in black-and-white, and his luminous photographs have been collected by many private and public institutions including the William Benton Museum of Art at the University of Connecticut, the Colorado Springs Fine Arts Center and Southern Methodist University.
Craig teaches hands-on workshops at the prestigious New Mexico Photography Field School in Santa Fe, where he shares his passion for photography with students from around the world. He is currently working on a book featuring his photographs of the famed Ghost ranch in northern New Mexico, to be published by the University of New Mexico Press in 2006.
Dennis Keeley
Dennis Keeley has worked as an artist, teacher, photographer and writer for over 20 years. He began his career in the field of music portraiture with clients including Warner Records Group, Sony Music, Geffen Records, Universal Music Group and others. Over the years he has worked with a diverse group of artists including Neil Young, John Cage, Tom Petty, Herbie Hancock, Tina Turner, Tom Waits, Alice Coltrane, Ozzy Osbourne and Elvis Costello.
Author of our popular B&W Portraiture column, Dennis has taught photography at California Institute of Arts, Santa Monica College, and the Academy of Arts College in San Francisco. In 1999 Dennis was commissioned by the Los Angeles Department of Cultural Affairs to document their public arts program, and the resulting body of work was published in Los Angeles Times Magazine and compiled in a book by Balcony Press.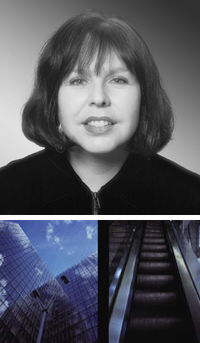 Judith Pishnery
Judith Pishnery is a successful commercial photographer working with corporate, editorial and advertising clients for whom she has created striking images for brochures, magazines and a wide variety of other printed materials. She also creates imaginative still-life photographs that capture the beauty, mystery and splendor of many locations throughout the U.S. and abroad. Judith's fine-art images have been collected and shown internationally.
Her company Pisconeri Workshops provides dynamic, creative learning experiences for aspiring photographers. Limited to no more than 10 students, her workshops provide on-site shooting instruction in locations like Florence, Italy, and the Tuscan countryside, Paris, Provence, and the Southeast United States.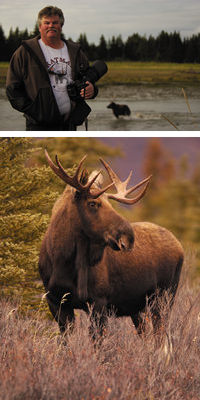 Moose Peterson
Moose Peterson is a widely recognized photographer dedicated to documenting the life history of our world's most endangered and enchanting wildlife. Moose combines an extensive background in biology with a comprehensive knowledge of the latest photographic technology. Moose has been published in numerous magazines, including National Geographic, Audubon, and Petersen's Photographic and has authored 18 books on wildlife and photographic equipment and techniques.
Co-founder of the Digital Landscape Workshop Series with Vincent Versace, Moose shares his photographic skills in workshops, on his popular website, and in his quarterly BT Journal which is read by photo enthusiasts in some 23 countries.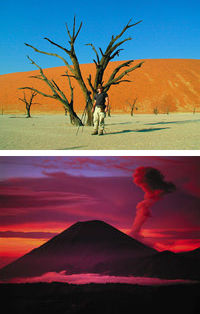 Jim Zuckerman
Jim Zuckerman is an accomplished writer/photographer whose work has been used for advertising and editorial layouts in over 30 countries throughout the world. A popular columnist and feature writer for Petersen's Photographic, Jim is the author of 10 photography books, and has lectured and taught creative photography at many universities and private schools, including UCLA, Kent State University, the Hallmark Institute of Photography and the Palm Beach Photographic Center.
Jim is well known for the international photo tours he has led for over 25 years to such exotic locales as Africa, Asia, South America and the American Southwest. Jim's articles, images and photo features have appeared in scores of books and magazines, including several Time-Life Books, publications of the National Geographic Society, Omni Magazine, Conde Nast Traveler, Science Fiction Age, Australia's Photo World, and Greece's Opticon.

FEATURED VIDEO