Intriguing Gadgets: From Clever Devices To Unusual Objects
As part of our coverage of a large trade show we send a reporter out to explore the aisles to discover what others might pass by. We look to reveal how clever minds come up with gadgets and gizmos that often have more utility than you might imagine. This year at CES our intrepid reporter Robert E. Mayer took on the task.—Editor
Undoubtedly the most unusual new product I saw was the PowerTrekk, a small fuel cell that generates electrical energy instantly—from a tablespoon of ordinary water! You can use this charger for any USB-compatible device such as a camera, mobile phone, or GPS unit anywhere—high in the mountains or deep in the forest where no electricity is available. It uses fuel-cell technology to convert hydrogen gas into electricity. The unit measures 5x2.3x1.6" and weighs 8.6 oz. You simply remove the watertight green lid top section, drop a Pukk in one end and place about a tablespoon of water in a container on the other end, replace the snap locks and it starts charging immediately, downloading the power into a built-in internal battery. After the Pukk is used once, it's discarded and replaced by a new one. The entire unit lists for $229 and the one-time use Pukk lists for about $4 each.
Probably a close second of the most memorable, unusual items seen was the Tamaggo 360-Imager. This egg-shaped handheld digital recording unit is said to be the first picture-taking device with built-in 360˚ technology that enables you in one click to capture not just what's in front of you but also what's around you. This record can be revisited, navigated, and explored in 360˚ on a monitor, then you can crop out anything you like to print high-quality images or share on social networks. A patented panomorph lens fronts a 14MP sensor with an LCD touchscreen. It "knows" if you are holding it to record 360˚ or if you are taking a horizontal or vertical panoramic image. It will sell for under $200 along with needed software when it gets to the market this summer.
There were a range of accessories, including brackets for cameras and camera phones at the American Recorder booth. Their offerings include a heavy-duty, dual-design tabletop camera stand with a built-in pole clamp ($69.95) with multiple angle adjustments and a ball head with 1/4"-20 threading. The maximum height is 10". They also offer a smartphone bracket with a universal adapter ($24.95) that allows you to mount just about any brand of smartphone and attach to any photo tripod. It features an all-metal design with a threaded locking clamp that holds the phone securely in place. What most caught my eye was their Smart Bracket C-shaped Camera Bracket ($19.95). Mount a camera and you can add up to two shoe-mount accessories; the shoe mounts are adjustable for easy positioning. Made from lightweight aluminum, this bracket can be used as a handheld unit or can also be attached directly to a tripod with a 1/4"-20 thread.
The Samigon Mirror, Mirror (on the camera) from Argraph is a small round (3/8" diameter) self-adhesive mirror you can attach to the front of any camera body or cell phone, then when you hold the device at arm's length you can see yourself in the reflection. It sells for $5.99. Argraph also offers the Samigon Bottle-Top Pod ($9.95) that makes it easy to place and properly support your small camera most anywhere by turning a water, soda, beer, or wine bottle into a camera tripod. It weighs just 1 oz, is very pocketable, and has a ball head that tilts up to 15˚ in any direction.
Belkin featured the LiveAction Camera Grip that transforms any iPhone or iPod touch into a more traditional digital camera for quick, easy comfortable operation. The grip attaches to the charge connector and fits over most cases. A tripod mount gives more stabilized control. Separate buttons permit rapidly switching from still photos to recording live action. It sells for under $50. The LiveAction Camera Remote wirelessly activates an iPhone or iPod touch camera shutter from up to 30 ft. It, too, sells for under $50. A LiveAction Camera Mic attaches to the iPhone's audio jack for improved audio recording, has two different settings for optimum clarity in different situations, and will sell for under $50.
New from Beta Shell is a line of extremely rugged, rigid, waterproof, and shock-resistant small equipment cases that are constructed differently than any other case I've ever seen. They are intended to offer extra protection for single items such as SLR, rangefinder, and video optics or camera bodies without lenses. A rigid cylindrical designed outer shell made of tough ABS polymer offers protection from moisture and temperature changes. A twist lid offers rapid access to the softly cushioned interior made of 1.5" thick, durable neoprene foam that supports the contents to protect them from impact. Lugs on one end let you connect a provided bungee strap or attach a custom shoulder strap. Prices range from $40 to $83.
BlackRapid offers three lines of interesting camera straps with prices ranging from $30 to $45. The new SnapR line consists of a small padded camera bag with a sling strap that combines R-Strap functionality with a shoulder strap, plus there's a woman's version that curves over the chest more comfortably. A double strap with two padded shoulder straps accommodates two cameras, which are suspended at waist-level on each hip for rapid access.
Cool-Lux (from PromarkBrands) offers a small light and sound bracket that attaches to a D-SLR or video camera shoe to provide two shoes, one for an auxiliary light and the other for an external microphone for improved sound recording. The MSRP is $30.
Discovered is the name of the firm offering custom-fitted easy cover skins, skintight soft protective coverings specifically designed for Canon and Nikon D-SLR cameras that leave the camera controls fully accessible and include an LCD screen protector. Prices start at $35.
Dot Line Corp. has a new Carry Speed Strap featuring a broad padded neck strap, a mounting plate with a quick-release to fasten to the camera base, a safety connector, and a wrist strap. It lists for $55. A new bracket system for holding a shoe-mount flash unit off-camera offers an anatomical grip and electronic shutter release at under $79.
At HP Marketing Corp. new items include two small Gepe Pro Acrylic Levels. The two-way version has two mounting shoes so it can be used in either vertical or horizontal orientation on a camera hot shoe. Enclosed in crystal clear acrylic it's filled with bright neon yellow fluid for reading. A three-way level has just one mounting shoe because two of the levels will always be readable no matter what the camera position. The two-way lists for under $16 and the three-way for under $25.
The Novacon NovaFlip flash bracket is made in the U.S.A. Constructed of thin stainless steel, the vertical arm is against the camera grip when you hold it so no other grip is needed. The vertical arm supports the flash arm that pivots to position the flash from horizontal to vertical as needed, thus the flash always stays over the lens. It incorporates a flash cord control feature that stops the cord from dangling between the camera and flash because the cord is threaded between two L-slots on the arm.
I saw an interesting item from Novoflex, a prototype combination of a rain umbrella that has a reflector inside to reflect light when it's folded inside out. It's quite versatile; an extendable center rod has a 1/4"-20 thread on the base.
I believe multipurpose accessories are especially helpful since they are space saving. Lenmar accomplishes this double-duty task with the SolVive Lantern, a portable battery and solar charger. It's usable with smartphones and most USB-powered devices, is fully charged via micro USB cable and up to 50 percent chargeable via solar energy for emergency power. A built-in LED lantern and flashlight with multi-settings also includes an SOS signal. It lists for under $50.
The LensPen SideKick (from Parkside Optical Inc.) is a brand-new cleaning tool designed to remove fingerprints from iPads, tablet touchscreens, and e-book readers. It uses no tissues, cloths, sprays, or liquids. It features a carbon technology used in other LensPens and is a compound similar to what's found in printer's ink—that's why newspapers have been effective for cleaning windows for generations. The 1.5" square cleaning pad stores in a protective case, pops open for use, has no liquids to dry out, lasts for about 150 cleanings, and you can replace just the cleaning pad, which is sold separately. The basic kit lists for about $20. The old standby fountain pen-shaped LensPen now comes in new stylish shapes and utilizes a new two-step cleaning process for lenses, filters, digital displays, etc.
A broad array of portable electronics such as cameras, smartphones, tablet computers, portable music and video players, and gaming systems all may be typically handheld during use—but it's often necessary to support them for picture taking, viewing, data entry, and similar tasks. The spider-like Life-Phorm not only tightly clasps and holds your device, but it offers six multi-flexing legs that bend to cling, grab, and secure the device to almost anything, simply angled on a flat surface or around a tree branch or most anyplace else. An adjustable clamping system easily adapts for most any size and shaped device while the legs, each with rubber grips for comfort and hooked ends, make it simple to affix the unit to most any pole, tree, or similar surface. Lethal Protection is the firm offering this item. The latest, smaller version sells for $69.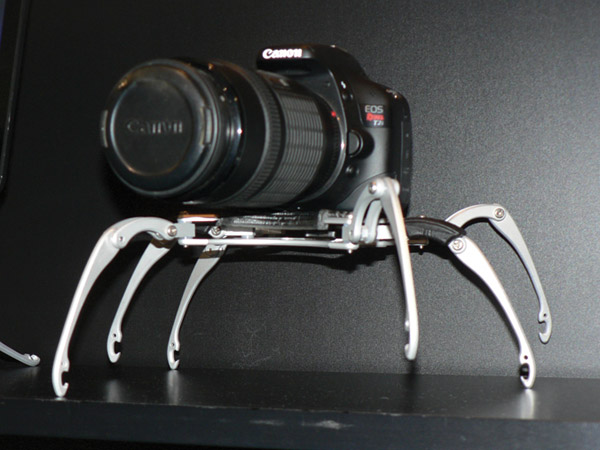 Manfrotto Distribution showed the Snake Arm, a twistable and lockable accessory support system that's adjustable and lockable with just one hand. This enables the user to accurately position small lights, cameras, and accessories almost anywhere. It consists of four curved aluminum tube sections that move freely. It's offered with two spigots on one end or a Super Clamp. Pricing starts at $220.
DADO is a universal junction that consists of a sphere with 18 threaded holes (somewhat like old Tinker Toys fit together on a central hub) and a group of threaded straight shafts that screw into these holes. This permits placing lights, supports, monitors, and cameras just where needed. Two kit versions are offered starting at $70. Three sizes of Always-On supports are unique and practical. You simply attach this unit to the tripod socket on the base of your camera and then leave it there where it's ready to fold out to spread the three independent feet for placing the camera on any flat surface. It is all-metal with nonslip rubber feet.
The unusual Minox DTC 500 weatherproof wildlife camera is now offered in the DTC 600, a black filter IR-flash version with a flash range of 50 ft. This rugged, outdoor, self-contained digital camera is discreet and inconspicuous for mounting anywhere you want to record any type of animal in the wild environment. Since it is infrared there is no visible light emitted to startle the subject. It has a trigger speed of 1 second and an adjustable IR sensor to exclude recording of unwanted movements caused by twigs, grasses, or similar irrelevant objects. It has 8MP resolution, records along with the image pertinent details such as date, time, temperature, and lunar phase, in addition to the animal it captures. It uses 10 AA-size batteries, has a battery life of six months, is lockable and password protected. Suitable for wildlife or security situations, it lists for $250.
Among the many photo-oriented accessories from Neil Enterprises is a new photo snow globe with a built-in motion detector that is kid safe with a soft globe, and has an on/off switch. This unit has three colors of LED lights that change and will accept any small print you want to display. Two sizes are offered with different types of bases and prices range from $5 to $8. A mini wallet-sized photo frame has an LED light around the print and a base that can be custom imprinted. It sells for $3.
OmegaBrandess showed the ioShutter, which provides an interesting and useful method of controlling your D-SLR from an iPad or iPhone. Cables are available for most major cameras so you can operate the camera remotely, including programming for time lapse sequences, time, bulb, and even "clap to snap" by simply making a noise or shaking the unit to trip the shutter. It offers far more functionality than the typical cable release and it sells for under $70.
The new Tiffen Variable ND filter grabbed my attention because it is seven ND filters in one, making much less to carry along when you need a range of different special effects. For instance, you can use very slow shutter speeds with fast ISO speeds to create intentional movement or blur, decrease depth of field by using wider apertures, and use fast ISO settings in bright sunlight. Simply rotate the filter to adjust the amount of light coming through the lens from two to eight (ND 0.6 to 2.4) stops using an index on the side. This optical glass filter has a thin 9mm profile, and is available in threaded sizes from 58 to 72mm.
Also new is the Steadicam Merlin 2 camera stabilizer system from Tiffen which is designed for specific cameras in the 0.5- to 5-lb category and is ready to use right out of the box with little or no balancing or counterweighing needed. When attached under a camera this stabilizes the handheld movement for smoother pans and zooms primarily on video cameras or D-SLRs used in video mode. It includes a "Folding-Caliper" hinge for quickly folding for shoulder-mounted shooting then can be returned to the original position for handheld operation.
T-Reign showed their new ProCase with a retractable tether for the contents while the case attaches either to your belt or onto wide shoulder straps on a bag. Suitable for small cameras or other electronic gear, they are strong and durable, made of rugged 36" Kelvar cord body with a weatherproof cover. They feature one-handed operation with a hook and latch operation on the cover. Three sizes and colors are available at prices from $35.
Vanguard offers the Nivelo 244BK ($139) and 245BK ($149), a 2.5-lb tripod capable of holding 6-lb cameras that collapsed is only 16" but extends to 63" and has a tiltable center column for low-angle camera positioning. What sets this tripod apart is the leg extensions on each leg are all controlled by merely twisting the end of that leg's foot.
This wraps up another search for interesting small gadgets and accessories for photographic applications. Hopefully there are a few that will be of interest to your style of photography. A few are brand-new so they might not be immediately available in stores, but you can find out more about the item by checking the manufacturer/distributor websites, listed below.
Contacts
American Recorder: www.americanrecorder.com
Argraph Corp. (Samigon): www.argraph.com
Belkin: www.belkin.com
Beta Shell: www.betashell.com
BlackRapid Inc.: www.blackrapid.com
Discovered: www.discovered.nl
Dot Line Corp.: www.dotlinecorp.net
HP Marketing Corp. (Gepe, Novacon, Novoflex): www.hpmarketingcorp.com
Industrial Revolution (PowerTrekk): www.industrialrev.com
Lenmar: www.lenmar.com
Lethal Protection: www.lethalprotection.com
Manfrotto Distribution Inc.: www.manfrottodistribution.us
Minox: www.minox.com/usa
Neil Enterprises: www.neilenterprises.com
OmegaBrandess (ioShutter): www.omegabrandess.com
Parkside Optical Inc. (LensPen): www.lenspen.com
PromarkBrands (Cool-Lux): www.cool-lux.com
Tamaggo Inc.: www.tamaggo.com
The Tiffen Company: www.tiffen.com
T-Reign: www.t-reign.com
Vanguard: www.vanguardworld.com

FEATURED VIDEO