The Inside Scoop
A Look At A Traveling Commercial Photographers Gear Part 1
Here's the whole location system: film cameras, digital cameras, battery powered studio strobe, AC-powered studio strobe, light stands, tripod, softboxes, accessories, computer--the whole shooting match. Not the smallest or lightest setup, but everything I need in the trunk of a car.
Face it, you like your equipment. You started reading Shutterbug for the ads, and there isn't an issue that comes where you don't check out the price on some photo item you must have. I started my obsession with all things photographic roughly 20+ years ago, and it has hardly abated since.

While I love to check out all of the photo technique articles in this here magazine, I really want to know what the other guys are using. I want to peek inside their bags and cases and check stuff out.

Well, I'm not alone. After chatting with Editor George Schaub we both realized that one of the things that readers mention quite often is their interest in traveling and location photography. Nobody wants to shoot pictures in their home all the time, so how do the pros go on the road? To really get a good handle on the camera bag issue we'll take a look at three different disciplines; first, the location commercial photographer, secondly, the travel and editorial shooter, and lastly, photojournalists. This month we look at the commercial shooter.
Defining "Commercial"
The term commercial photographer is used and misused quite a bit. To me, a commercial photographer is an advertising shooter. They shoot for ad agencies, design shops, corporate graphics departments, and occasionally for magazines. Commercial photographers own lots and lots of gear, usually have studios from which they operate, and try and charge hefty "day rate" sums for their services.
Unlike a photojournalist who may work every day of the week for a fixed salary, most commercial shooters are entrepreneurs. If the phone doesn't ring they don't get paid. A good month might only involve five or six days of actual shooting. The rest is spent on production, billing, postproduction (Photoshop), and other support tasks. Every job is different, and every challenge unique. Shooting on location for a magazine ad, for example, can involve anything from a Domke bag with a couple of 35mm bodies all the way up to a full movie-style production with trailers, production trucks, and a bevy of assistants.
I've shot all kinds of location jobs. In some cases I've shown up with a camera and shot the job, in others I've rented makeup trailers, stylists, location scouts, film trucks, and other expensive stuff. My typical job, however, is a lot more mundane. In the studio I tend to shoot a mix of people and products, catering to the technology-oriented clients I deal with. Location shoots vary according to the client, the Art Director, and the eventual usage.
On Location
As I write this I'm preparing to shoot a series of outdoor location shots all around greater Boston. The project is for a very high-end medical client, and the eventual usage is a mix of an oversized glossy "capabilities brochure," images for their web site, and images for a "slide show" that will run on Plasma TV sets at all of the client's locations. We're going to shoot models in front of well-known locations--Fenway Park, The Old North Church, the USS Constitution. The tough part is that the client wants the models lit with big, soft studio lighting, yet have the scenery in the background perfectly lit. What follows is a breakdown of the gear I brought.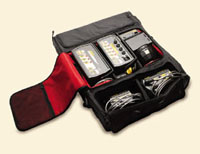 Here is my location strobe setup. All packed up this Pelican PCS 104 rolling flip out case is holding about 80 lbs of Balcar strobe gear, but it's got great wheels!
The Flash Case
I was just recently made aware of these excellent soft-sided bags from Pelican. I've always used their hard cases, but for non-flying gigs like this location shoot, the new Pelican PCS 104 is just perfect. It has all of the features that make location shooting more efficient: lightweight due to its soft-sided construction, heavy-duty casters, a really good retractable handle, heavy-duty rubber "feet" so it stands up straight, plenty of space for everything, lots of external zippered pockets for filters, tools, cables, etc. The really cool thing about the 104 is the inclusion of two flip out, full-length pockets. This allows you to put all of the really heavy stuff, like strobe packs, chargers, etc., in the main compartment, and then put your flash heads in the flip out compartments.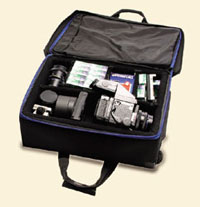 The camera bags. Yes, I bring medium format film and digital SLR cameras with me on practically every shoot. The Lowepro bag on the right holds my D30 and D60 systems, the Tenba on the left my Mamiya RZ stuff. About a quarter of the Tenba bag is taken up by film storage. (No such problem in the digital bag!)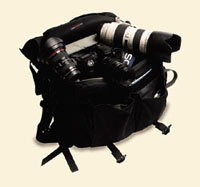 I can squeeze a ton of stuff into the 104. Here's what I brought on this shoot: Balcar Concept P2 battery-powered strobe pack; Balcar Concept P4 AC-powered strobe pack; Balcar Concept B3 battery charger; Balcar Concept CB3 external battery pack; Balcar Concept Z2 800 ws strobe head (x2); Balcar concept Z4 1600 ws strobe head; Balcar extension cables (x3); Balcar FX70 reflectors (x3); Chimera speed rings (x3); GVI radio slave system.

Yes, all of that stuff squeezes into the Pelican case. It weighs a ton, but the wheels on the case are pretty substantial and it rolls like a dream. Why the battery and AC-powered packs? Frankly, plans often change on location, and while the Concept P2 is certainly capable of shooting in any situation, when there is power available I always prefer to plug in.
Film Cameras
I guess we now have to call cameras "film cameras" as opposed to digital cameras. I always travel with one medium format film outfit and one digital SLR outfit. Both outfits have changed over the years, with my medium format outfit of choice lately being a Mamiya RZ67 system. While I own and use a Hasselblad system, I do like the bigger chrome and it makes scanning that much easier. If I'm flying I pack everything in one of those massive Pelican 1654 hard cases. I like the one with the padded dividers, rather than the break-apart foam cubes. (Never cared for those.) For local stuff I use a large Tenba soft-sided case, similar to the Lightware cases. Here is what I pack: Mamiya RZ67 Pro II body; Mamiya Polaroid back; Mamiya 120 film back (x4); 127mm lens; 65mm lens; 55mm lens; 180mm lens; prism finder; waist-level finder; Polaroid type 669 (lots); Fuji Provia 120 (lots and lots).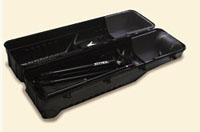 No fancy light stand case for me, I use a golf bag carrier. You can see how much space these things have. They're also cheap, sturdy, and have wheels built-in.
The Lighting Case
Now that we've got the flash covered it's time to pack up the lighting and grip gear. For years I used the great Tenba PAT 50, the large hexagonal cordura light stand case. Recently a fellow pro gave me a great tip--golf bag carriers! It's strange but true, for under $100 you can get a very heavy-duty ABS plastic golf bag carrier with wheels, carry handles, and locking latches. Into this carrier you can pack a ton of stuff, and it won't get banged up, even on airplanes. I found a Golf Guard case for $69 at my local golf shop and it has worked out well. Here is what I pack in it: black Tiltall tripod; Manfrotto Avenger light stands (x3); AlienBees mini light stand (x2); Chimera large striplight; Chimera small striplight; Photoflex XL Silverdome; Photoflex Large Silverdome; Photoflex Small Silverdome; Westcott white umbrella (x3); Rosco color gels (assorted); black gaffer tape; extensions cords (x2).

That's a decent amount of stuff for most average one-day shoots. The Tiltall? What can I say, it's lightweight, rigid, and I'm used to using it. The Avenger light stands are a new thing for me. I used to use those smaller "travel" light stands, but now I'd rather just bring out the big guns and be sure that my $1000 light heads won't be meeting the pavement during a shoot. Even though I only bring three flash heads with me I always bring at least a half dozen umbrellas, light boxes, and reflectors. You never know what you're going to need.
This new Lowepro Stealth Reporter 650 AW is a brilliant piece of bag design. Not only does it hold a complete SLR system and really cradles everything beautifully, it's totally weatherproof and it holds a laptop computer and keeps it safe. (Yes, it's passed the "drop test" several times.)
Digital Cameras
Why, you may ask, would I bring both digital and film cameras with me? Simply because for many jobs digital is all that is required, and shooting digitally allows me to review the files instantly on the camera's LCD screen, review the files on my laptop with the client, and bill the client for ancillary services like CMYK conversion, Photoshop editing, and other postproduction type items. Sometimes I am also paid to scan film, but for clients who request a disk of images, in many cases a digital camera is the best way to go. Until recently I had some very, very expensive digital cameras. I used to use a Kodak DCS-560 and a Megavision S2 with the batpac for location shooting. You're talking about $50k worth of stuff. Recently I sold off those units and replaced them with Canon EOS D30 and D60 bodies. Shot in RAW mode and carefully handled, the D60 files can make excellent CMYK files, ready for four-color printing.

For a while I stuffed my SLRs into different Domke and Tenba pro camera bags. No problem but I always had to bring along a briefcase with my laptop. I just recently picked up a very slick Lowepro Stealth Reporter 650 AW bag. "AW" stands for "All Weather," and they really aren't kidding. There are numerous nylon coverings that fold out and cover the bag, so you really can protect your gear in poor weather. The best feature of the 650 is the laptop pocket inside the case. My Compaq laptop slips in perfectly, with room for two additional battery packs. Look for laptop compatible bags from several other bag makers as more and more pros go digital. Here's what is in my Lowepro: Canon EOS D30; Canon EOS D60; Canon 70-200mm f/2.8L lens; Canon 17-35mm f/2.8 L lens; Canon 24-85mm USM lens; Canon 100mm f/2.8 Macro lens; Sigma f/2.8 Macro lens; Canon 380EX flash; Compaq Armada laptop computer; laptop power adapter; IBM Microdrive (x4); Canon A2E film camera body.

OK, a film camera body in the "digital" bag? Sure--you never know what's going to break, plus if I need a really wide angle shot the 1.6 multiplier factor of the D30 and D60 makes it hard, plus I don't own any really wide glass for the RZ. I always bring at least four Microdrives, and while I've heard of horror stories they've been as reliable for me as standard CompactFlash cards.
The last piece of gear that any good location photographer needs is a good folding cart. All of the pros I know own and use Ruxxac carts, and I swear by mine. I can flop the Pelican 104 down sideways, then put both the Tenba and Lowepro bags on top and simply pull the golf case behind me. This allows me to travel without an assistant if needed, and roll all four bags together, single handedly. That's efficiency!
The whole idea is to bring just as much as I can humanly drag with me, so I have a wide palette of tools to choose from.

Next time we'll take a look at the world of editorial/travel photographers, and peek inside their cases.